Chicharito and Carlos Vela set to face each other for first time in MLS
This Sunday Los Angeles FC and LA Galaxy will face each other at the Banc of California stadium for the last time before the regular season ends.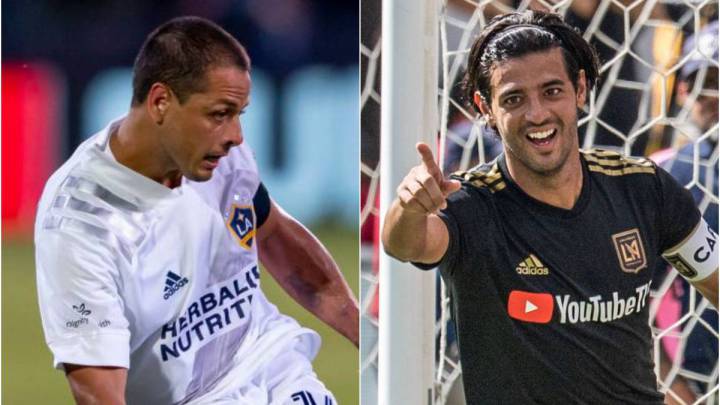 Since LA Galaxy announced the signing of Javier Hernández many fans around Major League Soccer have been wanting to see the duel between the striker and Los Angeles FC captain Carlos Vela in the El Tráfico derby. But injuries have kept both players from meeting each other during the 2020 season.
Since the league announced the continuation of the campaign amid the coronavirus pandemic, LAFC and LA Galaxy have faced each other twice already. The first game was on 22 August, where Chicharito couldn't play due to a calf injury, while Carlos Vela got injured during the second half of that match at the Banc of California, which LA Galaxy won 2-0.
10

The second time the two sides met was on 6 September at the Dignity Health Sports Park, with LA Galaxy claiming a 3-0 victory. On that occasion Javier Hernández and Carlos Vela didn't play because they were both injured.
Third time lucky for Vela and Hernández
Both teams will meet one last time prior to the end of the regular season on Sunday at the Banc of California stadium. The good news for LAFC is that Carlos Vela has recovered from his knee injury and coach Bob Bradley said he could play some minutes tomorrow. Meanwhile, Chicharito is also available to play but coach Guillermo Barros Schelotto hasn't confirmed if he will be part of the starting XI.
So on 25 October both teams will have their most important players available and for the first time this season they look set to face each other in the MLS.
LAFC is currently in the fifth place of the Western Conference with four games left of the regular season. LA Galaxy is in the last place of the Western Conference with five games left of the regular season and they are fighting to make a late playoff-run. If they lose on Sunday in another edition of El Tráfico, it would be very difficult for them to make it to the post-season.



MLS
*Update 24 de octubre de 2020