BARCELONA-REAL MADRID
Sergio Ramos was fortunate with Clásico penalty, says AS referee
Former top-class referee and AS contributor, Iturralde González, spoke about the two big decisions made for and against the Real Madrid captain in the Camp Nou win.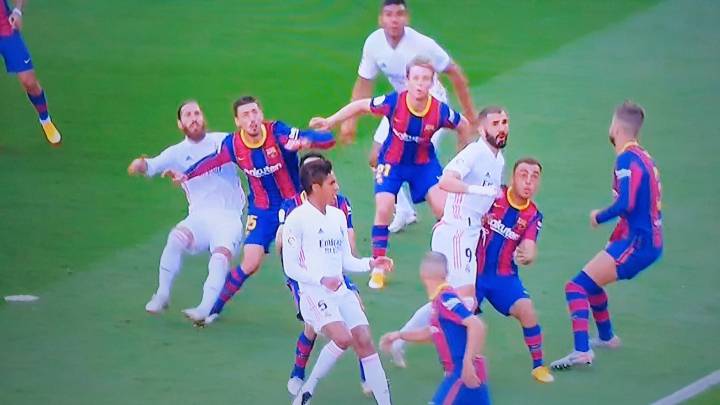 It was the first Clásico of the season and there's rarely an encounter between Spain's big two rivals, Barcelona and Real Madrid, that ends without some controversy. This one was no different with eyes focused on the decision to award the visitors a penalty when the sides were level at 1-1. There was another one not were two very different incidents and both ruled correctly according to out in-house official.
Clásico controversy: Sergio Ramos penalty
The second half had barely taken shape, in the 48th minute, when Real Madrid were handed a corner. From that Sergio Ramos tried to get to the delivery at the front post and appeared to go down after a knock from Lenglet.
As is now customary, we turned to former top-class referee and AS contributor, Iturralde González, for an opinion. He was in no doubt that there was contact.
"Ramos is looking to get an effort off at the front post, Lenglet goes in behind and with his right leg he knocks him over. VAR does not check it because it would not be deemed a clear and obvious error, but a penalty is not given," says Iturralde. Martínez Munuera waved for play to continue but would soon have another big call to make.
Later, however, in the 61st minute, the captain was again looking to get himself into position to attack the delivery, this time at the back post, but his shirt was clearly tugged by Lenglet as he made his move. There was a slight delay to the fall, but fall the captain did. After a pitchside review, the referee awarded a spot kick. Ramos slotted home and set Los Blancos on their way to an impressive Camp Nou win, Modric adding a third late on.

"There is a grab to the shirt, but it is not prolonged, it doesn't last," said an unconvinced Iturralde afterwards. "The one in the first half is more of a penalty than this one. In my opinion it's a really tight call."
So, Madridistas may feel that the third goal removes some of the controversy in this huge result and will be celebrating as much as they can given coronavirus restrictions, but Barça fans may feel slightly aggrieved.