$300 weekly unemployment benefits: situation in states across the US
As people wait for the new stimulus deal being hashed out between the White House and House Democrats some states still offer $300 unemployment benefit.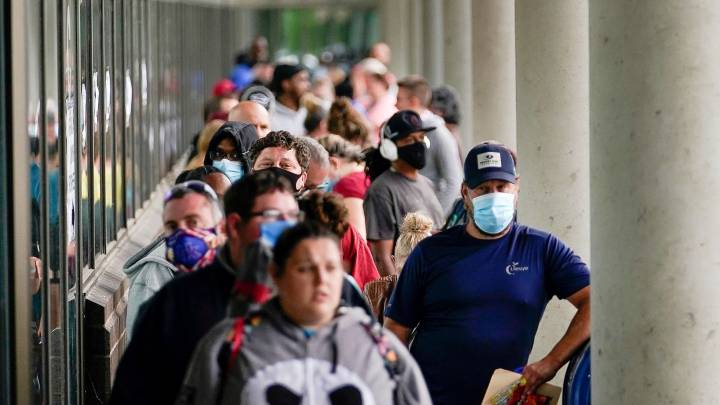 The last of the extra $300 weekly unemployment payment is being paid out in a handful of US states, leaving citizens waiting for news on further relief funds for the stalling US recovery. The scheme referred to as Lost Wage Assistance (LWA), a program approved by President Donald Trump with FEMA funds, was created to help Americans who were left unemployed due to the covid-19 pandemic after funds from the Cares Act ($600 weekly) expired in July.
Negotiations for more stimulus money have been ongoing between Democrats and Republicans in the run-up to the election. Trump had tweeted at the start of October that he was ending any further talks until after the election, but shortly after changed his mind and called for a bigger relief package. Despite that move from the president, there appears to have been no progress on further pandemic relief, and most experts now believe it is unlikely there will be any package signed into law before the election.
"The only thing that's keeping us from passing it is politics," says @AndrewYang on the latest stimulus bill. "Right now, Nancy Pelosi has maximal leverage where Pres. Trump's last offer of $1.8 trillion was so high that Senate Republicans didn't like it. It's a good deal." pic.twitter.com/r44k8rkjKm

— The Situation Room (@CNNSitRoom) October 12, 2020
Which states are ending the $300 bonus?
The Trump-backed LWA benefits were approved to run for six weeks starting retroactively on 1 August. Arizona was the first state to send out the $300 bonus on 17 August but has now depleted its funds. A total of 49 states were approved for the LWA.
The states that already received and sent out the funds to unemployment recipients have now reached their six weeks, meaning they will soon run out of funds.
The government also called on each state to provide an additional $100, for a total of $400 per week in enhanced unemployment pay, but most states rejected the option to pay the $100 top-up, only 3 states Kentucky, Montana and West Virginia paid out the extra funds.
These are the states that announced the end of the $300 bonus: Texas, Utah, Iowa, Florida, California, Arizona, Alabama, Georgia, Montana, North Carolina, Tennessee, Louisiana, West Virginia, Oklahoma, Idaho, New Hampshire, Missouri.
The last states to distribute the $300 federal benefit will be sending the payments over the coming weeks, either in weekly deposits or in one lump-payment of $1,800. South Dakota was the only state to choose not to apply for the assistance.
States that are still paying $300 benefits
Will there be more money coming in?
So far both sides have struggled to agree on the cost of a new bill. Negotiations have dragged on over the past weeks the White House increased the stimulus package to $1.9 trillion. Trump said then he wanted to see even more stimulus money and tweeted that negotiations were moving along. Nancy Pelosi and Steven Mnuchin were set to agree on language about testing on Monday one of the major sticking points between the two sides.
The amount is still less than the $2.2 trillion put forth by the Democrats, but it's more than the $1.6 trillion the Republicans were offering.
What's not clear is what the road map is going forward, with Senate Republicans desperate not to write a bigger check for the American people than they had planned, while Trump is expected to push for help, as a last-gasp action to try and turn things around at the polls, where he is trailing badly to Joe Biden in the presidential election as people are already voting in large numbers.
The number of poor people in America has grown by 8 million since May.
- About a third of the unemployed still do not receive unemployment checks
- Among individuals eligible for stimulus checks, about 30 percent failed to receive them https://t.co/4o4SAqdxn9

— Shreeya Sinha (@ShreeyaSinha) October 15, 2020
Who is eligible for the additional unemployment check?
Not every unemployed person in every approved state or territory will receive LWA funds. In order to get the extra $300:
- You must have been eligible for unemployment as of 1 August, 2020.
- Your regular weekly unemployment benefit must be at least $100.
- You must have become unemployed or had hours reduced due to covid-19 pandemic.
Beyond stated eligibility standards, it's up to each state or territory to decide what you need to do to receive the money. Some states, such as Colorado and Rhode Island require no action on the part of claimants. Best advice is to check with your state unemployment office.
Who is eligible for unemployment benefits?
Normally, unemployment benefits are reserved for full-time employees who lose their jobs. With the expanded coverage, part-time and self-employed workers may now qualify.
The Cares Act created the Pandemic Unemployment Assistance program (PUA), which provides benefits to citizens who would not normally be eligible for unemployment benefits from the states, including gig workers, freelancers, independent contractors and small business owners whose income has been affected by covid-19. For now, PUA funding is set to run through 31 December.
You may also be eligible to collect unemployment benefits if:
- You or a family member have been infected by covid-19 and cannot work.
- You have been advised by a doctor to self-quarantine.
- Your workplace closed due to the coronavirus.
- You're not working because you have to care for children or other family members who would otherwise attend school or another facility.
- For college students who worked a job last year - even a part-time one.