Real Madrid: Isco's Zidane complaints caught on camera
Before Saturday's Clásico, Spanish TV channel Movistar+ caught Isco on camera discussing his relationship with the Real Madrid head coach.
TV cameras caught Isco hitting out at Real Madrid head coach Zinedine Zidane on Saturday, the midfielder complaining that the Frenchman is quicker to substitute him than to bring him off the bench.
The images, filmed by the Spanish channel Movistar+ ahead of Madrid's 3-1 Clásico win over Barcelona, show Isco talking to several club-mates about his relationship with Los Blancos' boss.
Isco on Zidane: "If he has to take me off, it's in the 50th or 60th minute. Sometimes at half time"
The Spaniard can be heard saying: "If he has to take me off, it's in the 50th or 60th minute of the game. Sometimes at half time. If he has to bring me on, it's in the 80th minute."
Isco's words can be seen prompting laughter from Marcelo, while Luka Modric smiles in response.
Isco struggling for game time at Real Madrid
The 28-year-old, who joined Madrid from Málaga in 2013, has started just two of the Spanish champions' seven matches this season, against Real Valladolid and Cádiz in LaLiga.
He was substituted in the 57th minute of September's 1-0 win over Valladolid, and was withdrawn at the break in Madrid's shock 1-0 defeat to Cádiz a week ago.
Isco has also made two substitute appearances, coming on in the 46th minute of September's 3-2 league victory over Real Betis and in the 89th minute of a 2-0 top-flight win over Levante in early October.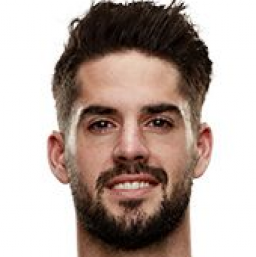 Isco not involved as Madrid beat arch rivals Barcelona
He was an unused substitute at the Camp Nou this weekend, as goals by Fede Valverde, Sergio Ramos and Modric saw Zidane's men get back to winning ways after consecutive defeats to Cádiz and Shakhtar Donetsk.
The result leaves Los Merengues second in LaLiga, one point behind Real Sociedad.