Covid-19: Dodgers defend Turner despite World Series celebrations after positive test
Justin Turner left Game 6 with covid-19 but returned to the field for the Los Angeles Dodgers' World Series celebrations, removing his mask.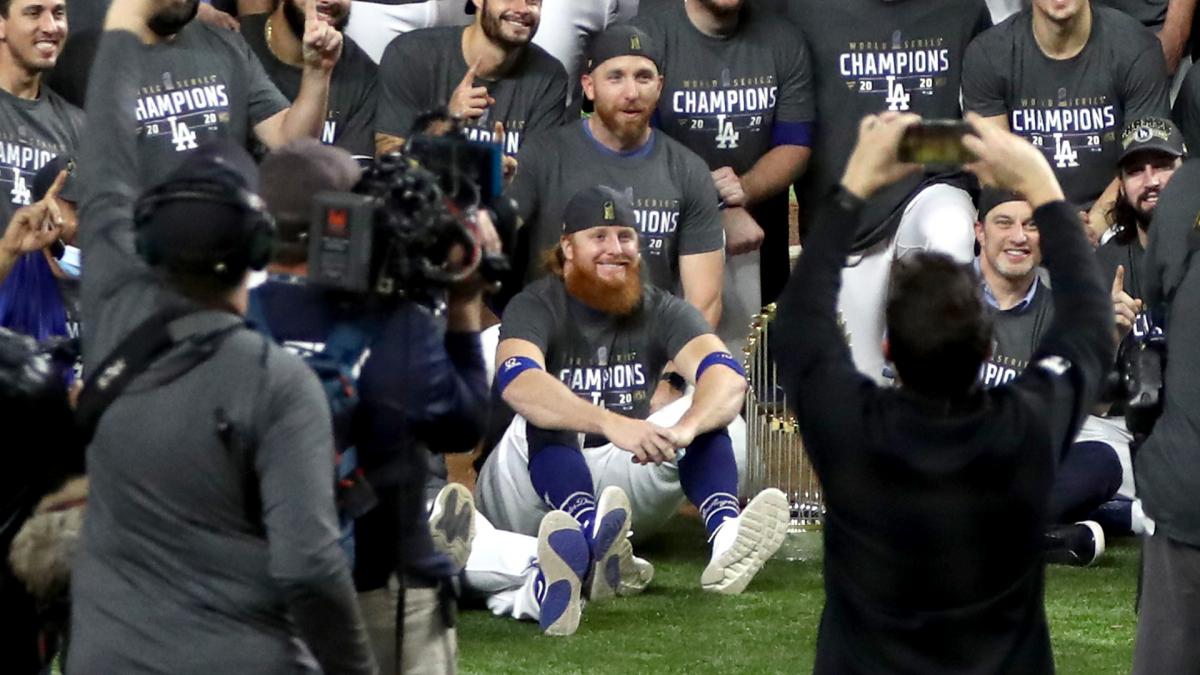 Justin Turner deserved the opportunity to celebrate the Los Angeles Dodgers' World Series success despite contracting coronavirus, according to the team's president of baseball operations Andrew Friedman.
Turner returns to field to celebrate with Dodgers team-mates despite covid-19 positive test
Third baseman Turner was pulled from Tuesday's Game 6 against the Tampa Bay Rays to start the eighth inning.
It was later revealed the 2017 NLCS MVP had tested positive for covid-19, with the result only returned after the game had started.
The Dodgers sealed a 3-1 win in Turner's absence, but the 35-year-old returned to the field to join his team-mates in celebrating their first World Series championship since 1988.
Turner seen maskless amid celebrations
Friedman suggested Turner should be allowed to take to the field in a mask, yet the player - now a free agent - was pictured among his Dodgers team-mates without his face covered.
Images also showed Friedman sitting next to Turner with neither wearing a mask, although the LA president later insisted he was "definitely wearing a mask" but recognised "if there were people around him without masks, that's not good optics at all".
"I get the questions, but a lot of this will be for another day," Friedman told reporters, with the majority of questions in his news conference focused on Turner.
"He wanted to come out and take a picture with the trophy"
"Post-game, I think having a mask on and staying socially distanced, he wanted to come out and take a picture with the trophy. I can't state strongly enough how big a role he's played in the success of this organisation.
"For him, being a free agent, not knowing how the future's going to play out, I don't think there was anyone that was going to stop him from going out.
"At least from my perspective - not watching it super closely with everything that was going on - I think he was mindful of other people, especially other people he hadn't already been in contact with.
"This is something we're going to wrap our arms around tonight, then in the morning figure out where we're going from here."
Pushed on the pictures without masks, Friedman suggested Turner had already made contact with those he was socialising with.
"I think the people that were on the field were people he had been around," he said. "From his standpoint, having the chance to take a picture with the trophy was incredibly important and meaningful from him.
"From our standpoint, the contact tracing and working out who's been around him and the test results are incredibly important from this point moving forward."
Asked if the team would now have to quarantine, he added: "Not sure yet. We're going back [to the hotel] tonight. We're going to all take tests, figure out what the results are from that and go from there."