US elections: What's Biden's plan to deal with coronavirus?
Having attacked Donald Trump over his lack of coronavirus planning, Joe Biden has laid out his own plan to combat covid-19 ahead of the US election on 3 November.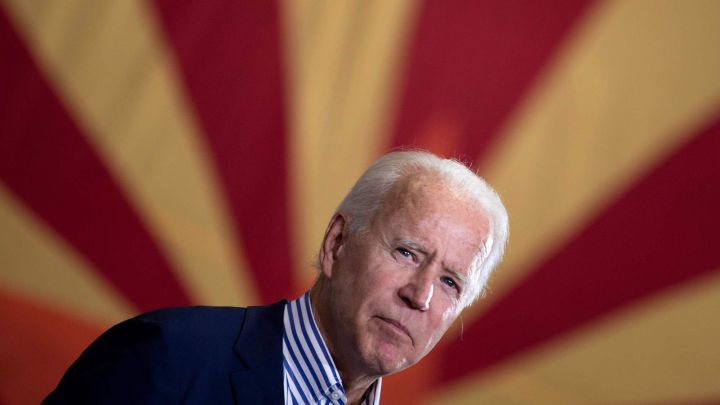 The coronavirus crisis has naturally been one of the most important issues in the run-up to the 2020 US presidential election between Donald Trump and Joe Biden.
As covid-19 cases in the US have surpassed 8.83 million, many Americans are anxious to know what the candidates' plans are to deal with the pandemic before they cast their 3 November ballot.
President Trump has come under intense criticism over his administration's handling of the pandemic, with almost 2 in 3 Americans disapproving of the President's response to the unprecedented health crisis that has so far caused millions of jobs losses and close to 228,000 deaths.
Though Trump has continuously claimed his administration has done a "great job" with its management of the coronavirus crisis. Earlier this week, the White House's science policy office released a statement in which it listed "ending the Covid-19 pandemic" as one of the president's top achievements of his first term.
Biden: Trump "has quit on America" over coronavirus
"You can't make this up," was Biden's response to the White House's claims. Biden, who has enjoyed a commanding lead over Trump in polls over the past few months, continues to attack the president over his perceived mismanagement of the crisis.
"We're more than eight months in to this crisis and the president still doesn't have a plan," said Biden in a speech last week in Delaware.
"He's given up, he's quit on you, he's quit on your family, he's quit on America. He just wants us to go numb and resign ourselves to the horrors of this death toll and the pain it is causing so many Americans."
Biden also laid out more details of his own coronavirus plan, stating: "I'll reach out to every governor in every state, red and blue, as well as mayors and local officials, during the transition, to find out what support they need and how much of it they need.
"I'll ask the new Congress to put a bill on my desk by the end of January with all the resources necessary, so that both our public health response and our economic response can be seen through to the end."
You can't make this up: Yesterday, the White House science office put out a statement listing "ending the COVID-19 pandemic" as the top accomplishment of President Trump's first term. https://t.co/46VkWJE0GN

— Joe Biden (@JoeBiden) October 28, 2020
Biden's lays out five-step coronavirus plan
In his speech, Biden described the five steps of his plan regarding masking, testing, personal protective equipment (PPE), reopening guidelines and treatments & vaccines. In particular, Biden said his administration would:
Ask all governors to impose mask mandates, while implementing a mask mandate in all federal buildings and on all interstate transportation.
Launch a national testing plan aimed at carrying out 7 million tests per day, which is the amount the US is currently conducting on a weekly basis.
Use "the full power of the Defense Production Act" to drive the domestic manufacturing of PPE, including masks, gloves, gowns and other equipment.
Provide "consistent, reliable, trusted, detailed nationwide guidance and technical support for reopening safely and the resources to make it happen."
Work to ensure widespread delivery of treatments on the short-term and eventually a vaccine that would be provided free to all. Although Biden recognized that "it will still be many months before any vaccine is widely available."
Biden's manifesto to deal with coronavirus
While Biden and his Democratic colleagues have continued to highlight Trump's lack of a coronavirus planning at a national level, the presidential candidate has laid out his plan to combat covid-19 in a wide-ranging manifesto on his campaign website, which outlines both a health and economic response.
The manifesto outlines five pillars of Biden's coronavirus plan, namely:
Restoring trust, credibility, and common purpose.
Mounting an effective national emergency response that saves lives, protects frontline workers, and minimizes the spread of COVID-19.
Eliminating cost barriers for prevention of and care for COVID-19.
Pursuing decisive economic measures to help hard-hit workers, families, and small businesses and to stabilize the American economy.
Rallying the world to confront this crisis while laying the foundation for the future.
"The American people deserve an urgent, robust, and professional response to the growing public health and economic crisis caused by the coronavirus (COVID-19) outbreak," states the manifesto.
"Biden believes we must spend whatever it takes, without delay, to meet public health needs and deal with the mounting economic consequences.
"The federal government must act swiftly and aggressively to help protect and support our families, small businesses, first responders and caregivers essential to help us face this challenge, those who are most vulnerable to health and economic impacts, and our broader communities – not to blame others or bail out corporations."
If elected, Biden's "decisive public health response" would include "the wide availability of free testing; the elimination of all cost barriers to preventive care and treatment for COVID-19; the development of a vaccine; and the full deployment and operation of necessary supplies, personnel, and facilities."
In terms of the economic response, the former vice-president's plan will start "with emergency paid leave for all those affected by the outbreak and gives all necessary help to workers, families, and small businesses that are hit hard by this crisis."
"This will require an immediate set of ambitious and progressive economic measures, and further decisive action to address the larger macro-economic shock from this outbreak."
More coordinated coronavirus response expected under Biden
With infectious disease expert and former head of the White House coronavirus task force, Dr. Anthony Fauci, highlighting the US's "disparate response" to the pandemic under Trump, many commentators have claimed that the US would see a much more coordinated plan to combat the virus under Joe Biden.
Biden has said that if he were elected, he would begin carrying out his national coronavirus emergency plan even before his inauguration.