LeBron after 17 years: how much further can NBA Finals MVP go?
Seventeen years on from LeBron James' debut, he is still one of the NBA's leading men. But can he keep going? We look at the numbers.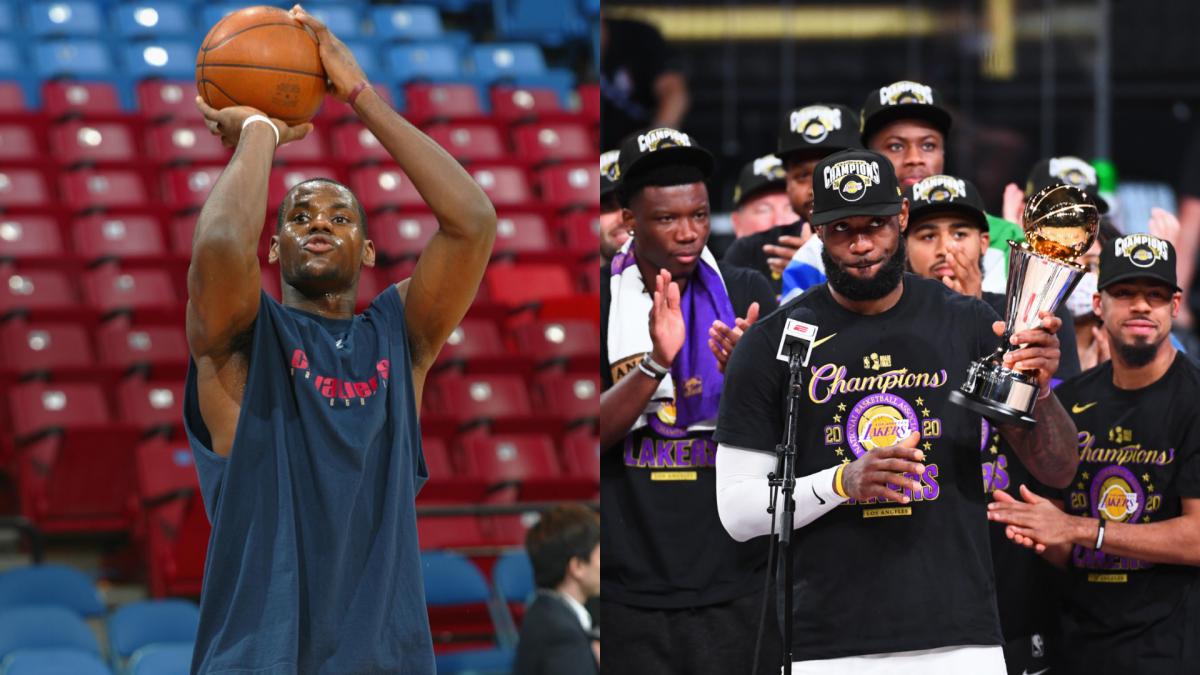 Thursday marks 17 years to the day since LeBron James made his NBA debut with the Cleveland Cavaliers against the Sacramento Kings.
The number one overall draft pick, who had 25 points in his first game, went on to win the Rookie of the Year award in 2003-04 and has been at the forefront of the league ever since.
James has been MVP on four occasions and earlier this month collected his fourth championship ring, also winning Finals MVP for a fourth time at the age of 35.
Only three other players have been named Finals MVP after their 35th birthday: fellow greats Wilt Chamberlain, Kareem Abdul-Jabbar and, of course, Michael Jordan.
But how did they fare in the final years of their careers after being the main men on title-winning teams as veterans? And how might that colour what we can expect from LeBron beyond year 17?
We use Stats Perform Data to take a look.
WILT CHAMBERLAIN - 1972 Finals MVP, aged 35
The Finals MVP award was not introduced until the 1969 series when Chamberlain was already in his 30s – by then an NBA champion with the Philadelphia 76ers and a four-time MVP – but he was belatedly recognised as he guided the Lakers past the New York Knicks three years later, winning their first title since moving to Los Angeles.
But Wilt would not then go on to add to his honours as he played just one more season before retiring.
The veteran still played all 82 regular season games in 1972-73, averaging more minutes (43.2) than in the championship-winning campaign, but he endured the lowest scoring year of his career, with 13.2 points per game. He had peaked at 50.4 points 11 years earlier.
Shooting less regularly, there were still flashes of Chamberlain's old magic as he remarkably had the NBA's highest all-time field-goal percentage across a season (minimum 500 attempts) with 72.7 per cent made. Only DeAndre Jordan in three straight seasons with the Los Angeles Clippers – between 2014 and 2017 – has shot above 70 per cent.
The Lakers will certainly hope James does not go down the same path, having been backed to play into his 40s by LA assistant Jason Kidd and former Miami Heat team-mate Dwyane Wade.

KAREEM ABDUL-JABBAR - 1985 Finals MVP, aged 38
Abdul-Jabbar won his first Finals MVP with the Milwaukee Bucks the year before Chamberlain's but, despite collecting two more rings in the interim, had to wait until 1985 to be hailed again as the postseason's outstanding player. Kareem outperformed Lakers team-mate Magic Johnson – 12 years his junior – as they beat the Boston Celtics and he became the oldest NBA Finals MVP.
And yet his career was not over, with the support of Johnson surely an example the 2020 Lakers would like to follow as Anthony Davis aids LeBron.
Abdul-Jabbar's production actually improved in the season he turned 39 – scoring 23.4 points per game, up from 22.0 – but that would be the last year he averaged at least 20.0, ending a record 17-season streak that has since been matched by Karl Malone and James, who can surpass that mark in 2020-21.
The Lakers kept winning as Kareem's numbers understandably dropped, though, taking the title in 1987 and 1988 – led by Johnson and James Worthy.
A 42-year-old Abdul-Jabbar retired in 1989 after seeing his field-goal percentage dip below 50 per cent in a season for the first time at 47.5. His astounding 19-year stretch of making more than half of his attempts stands as a record, later tied by Shaquille O'Neal.

MICHAEL JORDAN - 1998 Finals MVP, aged 35
Jordan might be considered the clear rival to James in the 'GOAT' debate, but LeBron is not likely to follow in MJ's footsteps after his 'Last Dance' with the Chicago Bulls in 1998. Beating the Utah Jazz, he won a third straight title and a third straight Finals MVP for the second time yet was done at the top level thereafter.
The 35-year-old retired from the sport again, only to return once more in 2001 with the Washington Wizards.
Jordan would donate his salary to relief efforts after the 11 September terror attack but struggled to deliver on the floor as he battled injuries.
The statistics when MJ did appear in 2001-02 – he made 53 starts in 60 regular season games – did not make for great reading. The five-time MVP ranked worst in the league for three-point percentage (minimum 50 attempts) at 18.9 per cent, making just 10. He was 41st of the 48 players who attempted at least 1000 field goals that year at 41.6 per cent.
Jordan quit the sport for good in 2003.

LEBRON JAMES - 2020 Finals MVP, aged 35
If Abdul-Jabbar provides the best example of how a superstar should treat the final years of his career, LeBron appears well placed to similarly profit.
With the arrival of Davis from the New Orleans Pelicans last year, James' game changed to incorporate a second elite scorer, becoming a passer as he logged a career-high 10.2 assists per game.
LeBron became the oldest player in NBA history to average 25.0 points and 10.0 assists. No rival has ever managed such a performance past the age of 30, let alone 35.
Crucially, the former Cavs man was also more protected. He visited the foul line less often (down from 7.6 free-throw attempts to 5.7) and recorded fewer rebounds (down from 8.5 to 7.8)
And his 34.6 minutes per game – a career-low – represented the fewest in league history while scoring 25.0 points and 10.0 assists.
With a gruelling next season just around the corner, James is likely to play even fewer minutes again but, alongside Davis, still looks primed to make the difference when it matters most.