The UK goes back into lockdown as covid-19 cases rise
Bars and restaurants in England will close for four weeks with Wales and Scotland having already imposed their own rules, although schools remain open.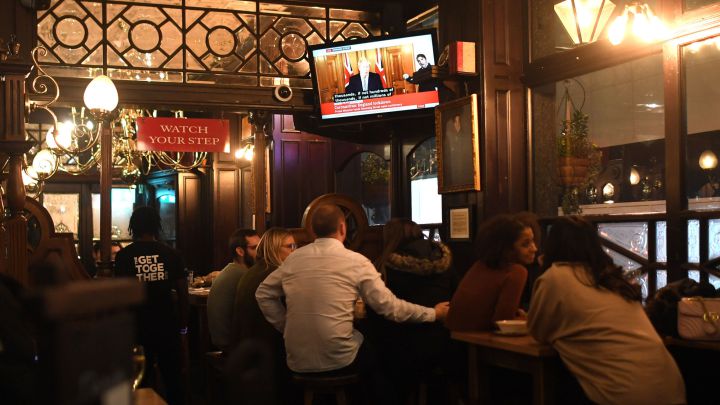 The Prime Minister of the United Kingdom Boris Johnson has today announced that England will begin a second period of lockdown from Thursday 5 November, to last a minimum of four weeks. People in England will now only be able to leave their homes:
for education

for work (if you cannot work from home)

for exercise and recreation outdoors

for medical reasons

to shop for food and essentials

to care for others
"From Thursday until the start of December you must stay at home, you may only leave home for specific reasons"

Boris Johnson announces an England-wide lockdown, saying "Now is the time to take action, because there is no alternative"https://t.co/Aq1IbHukyq pic.twitter.com/WbJXnlAhE9

— BBC Breaking News (@BBCBreaking) October 31, 2020
Johnson addressed the country live from Number 10 Downing Street to say: "Now is the time to take action, because there is no alternative.
As part of the new tougher measures, bars and restaurants will be forced to close although takeaways are permitted. School and universities will be able to stay open to avoid the chaos caused by the disruption to education last spring.
In the first UK lockdown those over 70 were told to 'shield', meaning to avoid any contact and to not leave their homes. That rule has not been reinstated today but those in the most vulnerable age bracket have been told to be particularly careful.
As part of the new restrictions the government will be reintroducing the furlough scheme that allowed businesses to temporarily lay off workers, with the state covering a percentage of their salary. For those in the hospitality industry who will not be able to work for the next four weeks these payments will be vital.
"I'm under no illusions about how difficult this will be for businesses."

Boris Johnson announced an extension of a furlough scheme for workers during a new lockdown period across England pic.twitter.com/jWaKAY0MdN

— Bloomberg QuickTake (@QuickTake) October 31, 2020