Barcelona player ratings after Koeman's side draw 1-1 at Alaves
An error from Neto gifted Alavés an opener that Griezmann cancelled out. Messi stormed down the tunnel after a frustrating evening for Koeman's side.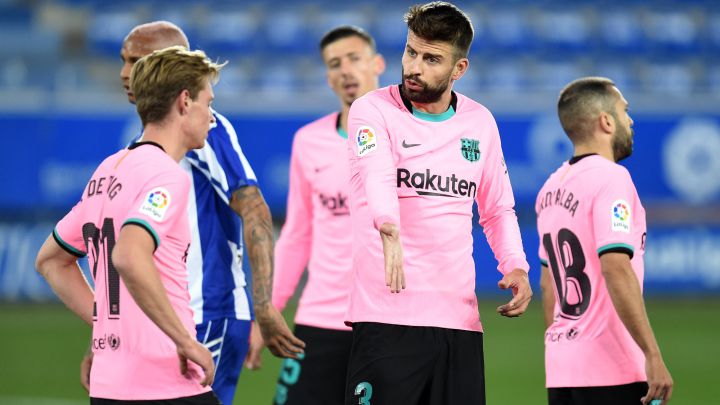 Ronald Koeman's Barcelona were held to a 1-1 draw in Mendizorrotza by a resolute Alavés side reduced to 10 men when Jota saw red in the second half. Despite mustering 25 shots the visitors were unable to break Alavés' resistance with keeper Fernando Pacheco in excellent form for the hosts. Starting with Leo Messi, Antoine Griezmann, Ansu Fati and Ousmane Dembélé, the Barça boss made three changes at half time, bringing on Miralem Pjanic, Pedri and Francisco Trincão in an effort to break down Pablo Machín's solid game plan.
Here's how Barça's players fared in Vitoria.
Neto. After an excellent start to the season the Brazilian made a dreadful error to hand Alavés their goal, getting the ball tangled in his feet from a Gerard Piqué back pass to allow Luis Rioja to sneak in and poke home.
Sergi Roberto. Was under the cosh in the first half with Alavés breaking regularly down his flank. After the break he was more involved and put in a couple of searching crosses in a battling display.
Gerard Piqué. Did Neto no favours with a soft back pass after a series of Barça errors in the lead-up to the goal. Tried to make amends with a foray into the area late on but skewed his shot well wide.
Clément Lenglet. A surprise substitution at half time as Koeman rolled the dice. He had had a decent first half with the ball at his feet, a wonderful pass to Ansu a highlight, but suffered when called on to match Alavés' breaks for pace.
Jordi Alba. Loose in possession in the first half, misplacing several passes, like Busquets he seems to drop off when called upon to play in successive games. His innate connection with Messi, one of Barça's fail safes in recent years, seems to have disappeared.
Sergio Busquets. The defensive midfielder was out of sorts throughout as the accumulation of games catches up. Without him at his best the team lacks rhythm. He was too ponderous in possession and wasted a decent chance in the area by hesitating when poised to shoot. Pjanic gave the side a different impetus.

Frenkie de Jong. Was better acing as a makeshift defender than a midfielder, although he did manage to get forward into some decent attacking positions in the first half and had a decent penalty shout waved away when he stole into the area. Drove Barça forward in the second half and is improving with more games under his belt.
Ousmane Dembélé. You never know quite what Dembélé is going to do when he gets the ball, but more often than not it ends in a cul-de-sac. Without space, he makes too many mistakes. He has the ability to throw defenders off balance but rarely picks the right final option.
Antoine Griezmann. Less active than he was against Juventus and is missing too many decent chances. However, his equaliser was well-taken. He needs to get more involved with the ball but is still useful for opening up space for his colleagues. At least he ended his barren run in LaLiga and offered a focal point for the attack while showing the right attitude for a game like this.
Ansu Fati. Off the pace compared to recent games, missing a chance early on that he normally would have buried. Still has a tendency to make the wrong choice after getting on to a good position but he is still one of Barça's best players at the moment and was denied a birthday goal by the excellent Pacheco
Leo Messi. Up against a brick wall in every sense. The Argentinean is not in form and his first touch as well as his aim have deserted him. He used to win this sort of game with one leg and now the whole side is suffering as h struggles to rediscover his spark. He remains the best player on the pitch but currently lacks that ability to turn a game with a moment of magic. His free kicks are not threatening and he is losing the ball too often in front of goal where he would normally skip through challenges.
Substitutes

Miralem Pjanic. Offered much more than Busquets. Barça were much more dynamic after his introduction at half time. Tested Pacheco with a decent effort but is a little too lax when playing the ball backwards, leading to some dangerous errors. If he can fix that issue, he will be undroppable soon.
Francisco Trincão. Willing, but without a final product. He was positioned too far back and didn't stretch the game like he did against Ferencváros. Needs to look up and take stock of the whole pitch, not just the five metres in front of him
Sergiño Dest. The US international has a lot of energy and likes to get forward, which is useful for an ageing side but he still tends to make the wrong decision. He can and Will get better though with time on his side.
Pedri. Already shaping up to be a sure-fire starter, Barça were much more coherent after he came on. He moves the ball with style and can pick a pass that few others even see. However, he needs to trust his instincts and take the occasional shot as well as playing his natural game.
Martin Braithwaite. If he wants to score the decisive goal from the bench, he has to start to pay more attention to the offside trap. His role at Barcelona is to resolve games like this one with some direct forward play but he was anonymous.