Covid-19 has penetrated Real Madrid's training complex in Valdebebas
While Real Madrid have bunkered down during the pandemic, several Castilla players have tested positive for Covid-19, including two who trained with the first team...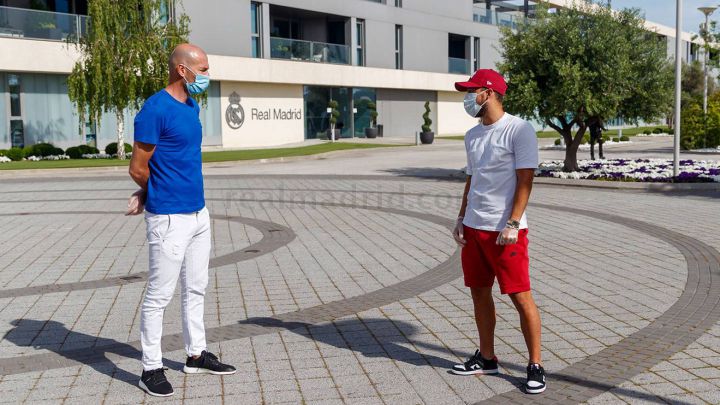 Four Castilla players tested positive for coronavirus on Saturday and the whole squad has undergone fresh PCR tests as health concerns at Real Madrid's Valdebebas training ground were raised this weekend. Covid-19 has somehow managed to penetrate the sports complex in spite of the club's best efforts to ensure Real Madrid City is a safe haven for playing staff, coaches and employees. The reserve team shares the facilities but since the start of the pandemic, the club has made a point of ensuring that Zidane's squad and Raúl's squad are kept apart. But despite that, Castilla players - Blanco, Gutiérrez and Sergio Santos who regularly are called to train with the first team squad while two others - Marvin and Arribas, made their first team debut in the opening game of LaLiga. Santos meanwhile, was included in the squad list for the Borussia Mönchengladbach game as Zidane was without injured defenders Carvajal, Odriozola and Nacho, and trained alongside the senior players on Friday...

Castilla's meeting with Rayo Majadahonda which was due to be played today has been postponed. In Valdebebas, the players day-to-day routine has been strictly monitored since they returned from confinement in May - especially in shared, communal areas.
In the dining area, players have to keep double the recommended distance; they are not allowed to serve themselves food as they had done before March - they are individually served so that none of them are near to where the food is prepared. The dressing room remains closed. "It's nothing like the life of a professional football - it's more like a NASA expedition to Mars," someone noted.
Real Madrid's strict Coronavirus protocol
Madrid have an extremely strict protocol which is designed to keep risks of infection at the bare minimum. From the players' residence to how they move around the facilities, everything is designed to cut the risk of transmission. After leaving their cars in the parking area, the players walk to their assigned, individual room at the residence - and all the time keeping a safe distance. They change into the training kit inside their own room wearing gloves and face masks. Out on the practice pitches, every player has their own private locker for storing their boots and other training equipment - all which is sterilised daily. The masks and gloves are left inside their personal lockers.
The players also have limited contact with physiotherapists and club medical staff. When in contact with other employees a distance of six metres must always be obeyed. The same six-metre rule applies in the gym where sanitiser must be used on entry and before using any of the training apparatus. One the session is over, players shower in their own rooms and leave their clothes in a biodegradable bag before making their way home.
For now, Madrid are taking a cautious approach to the situation and prefer to plough their energies into determining just how far coronavirus has affected the Castilla squad and get an exact number of those how have been infected. This morning, the squad underwent more tests in hospital. Those who have tested positive will be carefully monitored, will undergo quarantine and all contacts will be traced and tested. Yesterday's new in Valdebebas came as a shock but Madrid believe they have maintained a very strict hygiene routine (Mariano and Lunin are the only members of the first team squad to have tested positive) and that has so far allowed them to avoid large-scale spread of Covid-19 among players, coaching staff and other club employees.