USA election 2020: where do I vote?
Today, 3 November, is the presidential election in the US. Here's the lowdown on how and where you need to go to vote.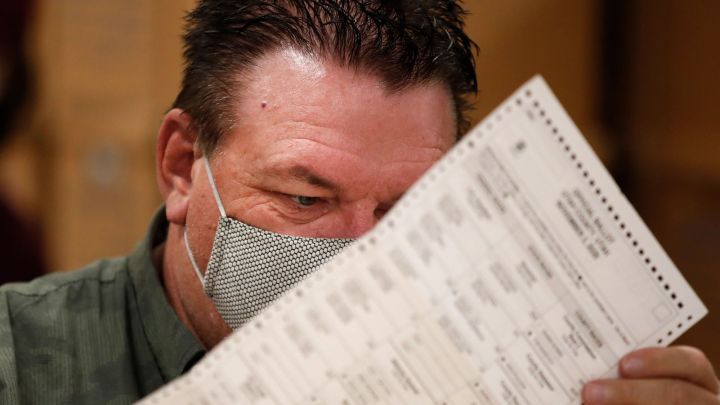 Today, 3 November 2020, is the US presidential election, with voters deciding whether to give Republican President Donald Trump a second four-year term or replace him with Democratic presidential nominee Joe Biden. Record numbers of eligible Americans have already cast their vote by early voting and mail-in ballot ahead of election day, and to join them it is important that you know how and where you can vote. Allow us to help - with the aid of usa.gov - by answering some of the most common questions…
US elections: what do I need to have?
First things first, it is important that you know the identification requirements before you attempt to vote. In the majority of states - around two thirds you'll need to show ID before you can register your vote. Check our the laws regarding this in your state. (Note that federal law states that any first time voters who didn't register in person or show ID before must show it).
Photo or non-photo ID:
About half of the states with voter ID laws accept only photo IDs. These include
driver's licenses
state-issued ID cards
military ID cards
passports
Many of these states now offer a free voter photo ID card if you don't have another form of valid photo ID.
Other states accept some types of non-photo ID. These may include
birth certificates
Social Security cards
bank statements
utility bills
Each state is specific about the documents it will accept as proof of identification. Be sure you know your state's voter ID requirements before Election Day.
How to vote without ID:
Even if you don't have a form of ID that your state asks for, you may be able to vote. Some states require you take extra measures after you vote to make sure that your vote counts.
Some states may ask you to sign a form affirming your identity. Other states will let you cast a provisional ballot. States use provisional ballots when there is a question about a voter's eligibility. States keep provisional ballots separate until they decide whether they should count. To do so, they will investigate a voter's eligibility. They may also compel you to show an acceptable form of ID within a few days. If you don't, your provisional ballot won't count.
Name or address mismatch:
Even with the right ID, you may have to cast a provisional ballot. This can happen if the name or address on your ID doesn't match the name or address on your voter registration. For instance:
You get married, change your last name, and update your voter registration. But your driver's license, which you present as ID, still has your unmarried name on it.
You move and for your voter ID, you present a current utility bill. Unfortunately, you've forgotten to update your address on your voter registration beforehand.
Some states require that you notify your local registration office of any name change.
Avoid problems. Always update your voter registration when you move or change your name.
US elections: where is my polling place?
OK, so you've sorted out all your ID. So next you need to find out where you can place your vote and at what times you can do so.
The location of your polling place is based on your residential address and you should go to the one you've been assigned as your name will not be on the roster at any other location.
Schools, community centers, and other public facilities are generally used but note that your place may have changed since the last time you voted. It's always best to check with your state's election office before the day of the election.
If you have any special needs then check with local election officials. The coronavirus pandemic has also had an effect so find out useful information related to that.

US elections: can I vote online?
It's now the year 2020 and many people believe that there must be a way to simply place their vote through an online system. Well, that's not the case just yet, at least for this type of election.
In US federal elections, you must vote in person at an official polling station or by casting an absentee ballot.
US election: the dates you need to know
Here are the important dates in the 2020 presidential contest:
3 Nov: Today, Election Day. This will include voting for president and vice-president, 1/3 of the Senate, and all of the House of Representatives. State and local elections will also be on the ballot in many areas. Due to an expected widespread use of mail-in voting, it is possible a winner will not be known for days as states tally ballots.
14 Dec: Members of the Electoral College cast their ballots for president. Under the U.S. system, the winner of each state's popular vote earns that state's electoral votes, which are apportioned by population. The candidate who receives a majority of the 538 electoral votes available, or 270, wins the presidency.
6 Jan 2021: Congress meets at 1 p.m. in Washington to count the electoral votes and declare a winner.
20 Jan 2021: Inauguration Day. The winner and his running mate are sworn in as president and vice president at the U.S. Capitol in Washington.