Hazard struggled at Chelsea under Conte
Eden Hazard grew frustrated with Antonio Conte for his approach and his training methods at Chelsea. The Belgian lost his love for the beautiful game.
Antonio Conte spent two years in the dugout at Stamford Bridge as Chelsea head coach - a spell that saw the club's finest player, Eden Hazard, become frustrated and angry. Under Conte, Chelsea won a league and FA Cup, but the Italian's rigid and repetitive training methods led to the Belgian publicly speaking out about his feelings towards the approach taken. On March 4, 2018, in a 1-0 defeat against Manchester City, Hazard decided enough was enough.

Chelsea were totally outplayed, and not even the deficit on the scoreboard forced Conte into changing things up. Hazard, who played as a striker on the day, despite the fact that it is a position in which he has never felt comfortable, exploded and pointed out to Conte: "If Giroud or Morata had played up front, it would be easier to win the balls long, with me it is a bit more complicated, although I tried to do my best. You leave the pitch with the feeling that you ran, but that you did not play a football match. It is a pity. Even if we had played for three hours, I wouldn't have touched the ball."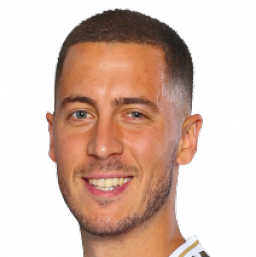 This complaint made headlines and created television debates across the UK. The interest of Real Madrid and Zidane lingered in the background and Hazard's criticism fueled speculation about his future. Sky Sports analyst, Jamie Carragher, a former Liverpool player, spoke on Monday Night Football about the Hazard just after the City game: "I have no doubt that at the end of the game, as soon as he got on the bus or was home, he called his agent to tell him, 'Get me out of here.' He may have been frustrated thinking, 'I should play for this team, they have the ball. I should play for a team that dominates the game. Tony Cascarino, a former Chelsea player, went further: "If Hazard has the ambition to be the best player in the world, then there is no way that he will stay if he is being asked to play like a League One striker. His idol is Zidane. Yes Conte remains as Chelsea manager, why would Hazard stay if Real Madrid called him?"
Madrid and Zidane
Hazard ended up staying on for one more season at Chelsea until on June 7, 2019, he fulfilled his dream and signed for Real Madrid. His arrival in Valdebebas and his first taste of the Zidane method was a breath of fresh air for his football. The presence of the ball in training sessions was the difference the 29-year-old was looking for. He recovered his love of football, admitting in an interview with Sport/Foot Magazine, in which he also had a go at Conte: "Our training is always with the ball. The pleasure of playing, above all. The movements, the games...when you meet Italian coaches, you have much less pleasure. It is more repetitive. You find pleasure in victory. I spent three years with Italian coaches. Rediscovering this pleasure does me good."
Zidane gives Hazard the freedom a player of his calibre craves. Now all that remains is for the Belgian to kick on, having returned from injury to make his first start of the season at home to Huesca in a 4-1 victory that saw him score open the scoring for Los Blancos thanks to a 30-yard left-footed screamer.