Pedri: "We cannot get involved in Messi's private business"
The Barcelona promise spoke ahead of Wednesday's meeting with Dynamo: "We just have to enjoy Messi as much as we can while he's with us".
Pedri, one of great promises of Spanish football during these first few weeks of the campaign, attended the media to look forward to Barça's Champions League meeting with Dynamo.
Do you think Dynamo will be extra motivated by Barcelona's recent form?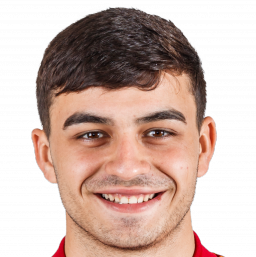 "We've got to take it as we would any other game. We will be trying to improve and finish off our moves by scoring. We need to win this game to boost our chances of making the next round".
Your career is moving at a great pace. How are you taking it?
"Right from the first moment, I've tried to take it all in my stride and keep going as normal. I'm still young and I have to work hard and learn off the best players. I'm handling it well, living my life as normal, like my family have always said".
How does Messi help the younger players? Are you ?
"He helps us in lots of ways. On the pitch he gives us advice. With Messi, we have to enjoy him and leave him to decide what he wants to do - we shouldn't get involved in his business".
Where do you feel most comfortable out on the pitch?
"It's good to be able to help the team in different positions but where I feel best is playing just behind the striker. I can play in other positions but I don't mind as long as I am helping the team".
What kind of advice do they give you?
"Keep your feet on the ground and work just as hard as everyone else. I try to learn of the best players and for me, the best ones are here".
Koeman has said that your high levels of concentration is one of your best attributes. Is that something you have been working on since you were young?
"In training, there is a lot of emphasis on physical work because I have to drop back to help out the full-back. Keeping a cool head and staying focused is more of a mental thing than something you cam develop in training. I've always been like that and it's something I need to make the most of".
How did it feel to score in the Champions League? 
"When a young person realises a dream, you feel happy and can't quite believe it. I still think about it and I'm just very happy as it was a wonderful experience".