USA Elections 2020 results in Florida: who has won the popular and college vote?
Current president Donald Trump has beaten Joe Biden in the Sunshine State, taking the 29 electoral college votes.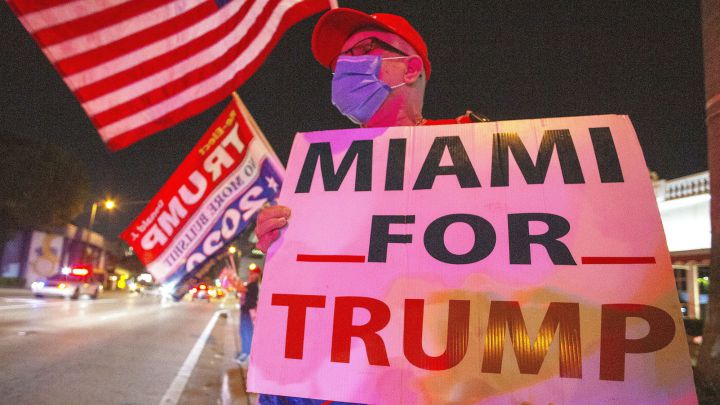 US Election 2020 live: Trump and Biden results | Nevada, Arizona, Pennsylvania, Georgia...
President Donald Trump has held the battleground state of Florida. Despite a fierce challenge from Democratic nominee Joe Biden, he failed to get out certain vital groups of voters in key counties and ended up losing by more than most had predicted. Donald Trump's win is worth 29 electoral college vote.
Florida popular vote result
At 5:45 p.m. reporting is at 96%, according to AP, and the position in Florida is as follows:
Donald Trump: 51.2% - 5,658,388
Joe Biden: 47.9% - 5,283,879
AP called the state of Florida for Trump
Florida electoral college result
The Associated Press has called Florida for Trump meaning he takes the 29 electoral college votes available from the state of Florida. In 2016, Trump took Florida with 49% of the vote to Hillary Clinton's 47.8%.
The popular vote tallies were Trump: 4,617,886, Clinton: 4,504,975.
Florida early voting
Florida saw a huge amount of early voting, with some nine million votes being cast prior to today's polling. That's a full 93% of the 2016 turnout.
What's more, Florida allows absentee ballots to be counted from 22 days before Election Day, which led to us getting a result from Florida on election night.
Importance of Florida for Trump
It was considered that for Trump to win the presidency he really needed to hold Florida, his home state. He won it by just over one percentage point in 2016, and this time around the race appeared to be so tight it was within the margin of any polling error. In the end though there was a difference of close on 400,000 votes, meaning Trump held on comfortably to his home state.

Turnout, and turnout in specific demographics, appears to be key - in 2016 Trump relied on two things: major turnout from rural voters in his favour and Black and Latino voters, who tend to favour the democrats, staying at home.