Barcelona 2-1 Dynamo Kyiv - Champions League: results, summary and goals
Barcelona 2-1 Dynamo Kyiv: Champions League as it happened

Barça within touching distance of next round
So, despite a far from impressive showing tonight, Barcelona's win over Dynamo Kyiv leaves them with nine points from a possible nine in Champions League Group G, and with their place in the knockout stages almost secured.
Juventus' win over Ferencváros means Kyiv and and the Hungarians both end the night eight points behind the group leaders, who will be assured of a last-16 place if they win in Ukraine on 24 November. If, as seems fairly likely, Juve avoid defeat against Ferencváros next time out, a draw will also do Ronald Koeman's men.
That's all from me - thanks for reading!
(Image: uefa.com)
Koeman: We lost control of the game
Barcelona boss Ronald Koeman has also spoken, agreeing with Piqué and Ter Stegen that his side lost its grip on the match after starting well.
Barça fade after good start:
"I think we started the game well, taking the lead early from the penalty spot, and we then had chances to score the second, but bit by bit we lost control of the game.
Kyiv chances to score:
"We allowed them to create quite a lot of dangerous moments, but thankfully Ter Stegen was brilliant in those situations […]. We have to talk about it and improve."
Praise for Ter Stegen:
"Once again Ter Stegen has shown what a top goalkeeper he is."
Piqué: To be expected that we're not being tipped to win Champions League
Gerard Piqué has spoken to Movistar+, conceding that Barcelona didn't play well and that Kyiv boss Mircea Lucescu is right to say Barça shouldn't be viewed among the frontrunners to win the Champions League.
Assessment of the match:
"We started well and could have scored a couple of goals, but then the game got more complicated and we lost control […]. They scored [in the second half] and made life difficult for us, and the best thing about the game is the three points."
Defensive problems:
"There were moments when the pressure on the ball wasn't the best, because we weren't totally coordinated."
LaLiga struggles:
"In the Champions League we're on a good run, but in LaLiga we need to turn things around."
Resignation of Barça board:
"The club right now is in the situation it's in. It's in a process of many changes, it's something I think we needed. It was obvious we were going in the wrong direction and every year it was worse."
Mircea Lucescu says Barça aren't good enough to win the Champions League:
"It's to be expected that we're not considered as contenders after what's happened in recent years […]. It won't be easy this year but we still believe we can achieve big things."
Juventus thump Ferencváros
In the other match in Group G tonight, Juventus ran out comfortable winners over Ferencváros in Hungary, Álvaro Morata scoring twice as the Bianconeri triumphed 4-1.
Ter Stegen: We shouldn't have given them so many chances
Barça man of the match Marc-André ter Stegen speaks to Spanish TV channel Movistar+.
Assessment of Barcelona's performance:
"We started well, but ended up struggling. In the first half we played well, and in the second there was a period that we played well and dominated, but we lost control and the going got quite tough."
Kyiv opportunities to score:
"They had a number of chances, and that's something we have to improve and talk about."
Peeep peeep peeep! All over at the Camp Nou!
Barça make it nine points from nine and place one foot in the next round... but they've won in far from impressive fashion, scraping past a coronavirus-hit Dynamo Kyiv.
They have the returning Marc-André ter Stegen to thank for the fact that they came out on top tonight; the German pulled off several stops to deny clear-cut chances for Kyiv.
At the other end, special mention should go to 18-year-old Kyiv keeper Ruslan Neshcheret, who was also hugely impressive between the sticks in what was only his second senior appearance.
Kyiv set off on a quick break that has Barcelona's back four back-pedalling furiously. Can the Ukrainians find a last-gasp leveller?
No. The ball is worked to Kedziora in crossing space on the right, but his delivery can't find a white shirt.
Three minutes of time added on at the Camp Nou.
Kedziora looks to swing a ball into the box from the right, but his cross deflects behind off Alba - who is briefly hurt in the process. Tsygankov's corner comes to nought, however.
Those opening minutes when Barça looked like winning by a street feel an awfully long time ago.
Kyiv bring off Buyalskiy for Lednev.
De Pena isn't happy. As Kyiv break, the Uruguayan's initial forward pass is half cut out by a Piqué hand, but falls back to the Kyiv man. Oliver plays the advantage, but De Pena can't make the most of it and plays his attempted through ball straight at a Blaugrana shirt. He wants the play brought back for the Piqué hand, but the ref is having none of it.
Pedri is brought off for Carles Aleñà, who is on for his first Barcelona appearance of the season.
Save No.12,945 of the night from Neshcheret. Dembélé lets fly from just outside of the box, but the Kyiv keeper is across quickly to parry!
Kyiv finally make a chance count, and pull one back! You can't say they don't deserve it. When the ball comes into the Barça box from the left, Ter Stegen looks to have saved the day once more when he parries Verbic's close-range effort, but the loose ball falls to Tsygankov, who turns it into the empty net!
Kyiv are well worth a point - but can they get it? They have 15 minutes.
Here comes that double Barça substitution, Busquets making way for Lenglet and Trincao replacing Fati. De Jong will step up into the midfield position vacated by Busquets, with Lenglet slotting into his customary position at the heart of the defence.
Kyiv make a double change, bringing on De Pena and Verbic for Supryaha and Rodrigues.
Barça are preparing to make a twin substitution too.
Bukalskiy picks up the first yellow card of the night for a robust challenge on Busquets.
Kyiv should pull one back! Nescheret has starred in goal for Kyiv, and so too has Ter Stegen for Barcelona. The visitors get Tsygankov in behind the Barça defence and in on the keeper, but yet again the German parries! Kyiv have now had a host of clear-cut chances to score.
Ter Stegen reacts to the save with a very clear 'sort it out, lads' gesture, and well he might.
This time Nescheret is beaten, though! Ansu Fati cuts in from the left and whips an inswinging ball towards the penalty spot, where Piqué glances past the Kyiv keeper and into the far corner!
Barça could easily have found themselves level, but now have a two-goal cushion.
There's yet another top stop from Nescheret! Jordi Alba whips a ball into the box towards the back post, where the freshly-introduced Sergi Roberto gets his head to it at point-blank range, but can't beat the 18-year-old keeper!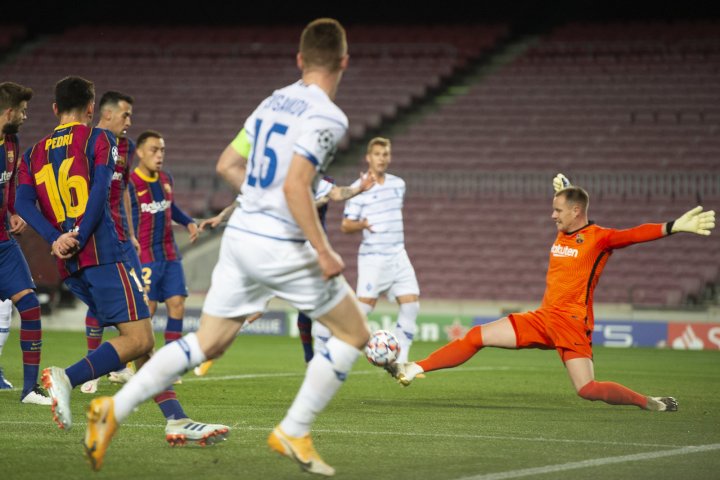 Ter Stegen clears a dangerous Kyiv ball into the box during the first half at the Camp Nou.
(Photo: Diario AS/Rodolfo Molina)
Double change for Barcelona. Griezmann and Pjanic are off for Ousmane Dembélé and Sergi Roberto.
Busquets is brought down outside the Kyiv box and Barcelona have a free-kick in prime Messi territory.
The Argentine curls his effort towards the top corner, but Nescheret is very quickly across to beat out it out! A really fine save; that shot was heading just inside the post.
The Kyiv keeper has been fantastic tonight.
Again Ter Stegen rescues Barça! Rodrigues scampers forward towards the Blaugrana box and threads through a lovely little diagonal ball that meets Supryaha's run into the area. The striker looks to slip his finish across Ter Stegen and into the far corner, but the German makes himself big and the visitors are denied once more!
Barça are very lucky not to have had their lead wiped out in the opening 10 minutes of this second half.
Over in Hungary, by the way, Juventus are leading Ferencváros 1-0 courtesy of Álvaro Morata's first-half strike. So as things stand, Barça will end the night eight points ahead of third place and with a place in the knockout stages all but secure. As things stand, that is...
And from the corner, Kedziora heads into the net... but it's ruled out! The outswinging cross had drifted behind before the defender nodded in past Ter Stegen.
Two let-offs in two minutes for Barça. On this evidence, Koeman won't waste much time about dipping into his substitutes' bench.
Peeeep! Back up and running in Catalonia.
No half-time changes for either side.
Peep peep peeeep! Half time at the Camp Nou.
Barça initially looked like they were going to crush Dynamo Kyiv, but the Ukrainians slowly gained a foothold on the game as the half wore on, and might have levelled when Buyalksiy drew a fine stop from Ter Stegen.
Despite somewhat losing their control on the game for a chunk of the first half, though, the hosts could easily have scored more than just the one.
As things stand, Messi's early penalty separates the sides.
Another good save by Nescheret! Messi exchanges passes with Pedri on the edge of the box, before the ball is cleared only as far as Fati - who cracks a low shot towards the bottom corner. However, Kyiv's young keeper, who is only making his second senior appearance, gets down quickly to grab hold.
Close from Barça! Messi jinks between a pair of white shirts before slipping it to De Jong, who threads Dest into crossing space on the right byline. The American's fizzed ball into the box finds Pedri, but the teenager can't beat Nescheret!
Moments later, Messi bursts into space inside the box and fires towards goal, but his effort flies wide, via a slight deflection off a Kyiv boot.
Barça look to be waking up from the mid-half slumbers. Koeman will be having a stern word with his charges about that, I'd wager.
Perhaps chastened by that close call, Barça create an opening for the first time in a while. Fati picks it up on the left and cuts inside, but sends an attempted curler-into-the-far-corner well wide.
That's a fine save from Ter Stegen. Kyiv are starting to push for an equaliser, and when Buyalskiy connects with a cross from the right, the Barça goalkeeper has to show fine reflexes to divert the effort over the bar.
"Koeman's face is a picture right now," says pitchside reporter Ricardo Rosety on Spanish television. After 15 minutes, it looked like Barça were going to run up a veritable cricket score; now, however, a Kyiv leveller seems likelier than anything else.
Back come Kyiv, but Rodrigues' left-wing cross is overhit.
Moments later, Shabanov is asking for a penalty after tumbling under Dest's challenge in the box, but Michael Oliver says no, nein and non.
Gerson Rodrigues brings the ball into the Barça half and slips it out to the right to Kedziora, but just when the visitors look like carving out a threatening attack, the Pole gives it straight back to Barça.
Up the other end, Dest wafts a cross in from the right that Kyiv deal with easily.
Dyamo Kyiv boss Mircea Lucescu is looking a shade more content with how things are going now. In the first 20 minutes or so, Barça looked like scoring every time they crossed the halfway line, but the visitors appear to have settled down a bit now, and have finally managed to start stringing a few passes together.
Messi on the spot to make Champions League history
Here's an interesting one from Spanish football-stats guru Mister Chip: Messi has become the first player ever in the Champions League to score a penalty on each of the first three matchdays of the group stage.
Also worth noting that Messi has now scored four goals for Barça this season, all of which have been spot-kicks.
Shepelev leads a very promising counter for Kyiv, slipping it right for Tsygankov to cut the ball back into the middle of the box - but Piqué gets it behind.
The visitors then work the corner back to Tsygankov, who speeds towards the byline and fires a low cross into the danger area, forcing Ter Stegen to clear with his feet with white shirts lurking.
Better from Kyiv.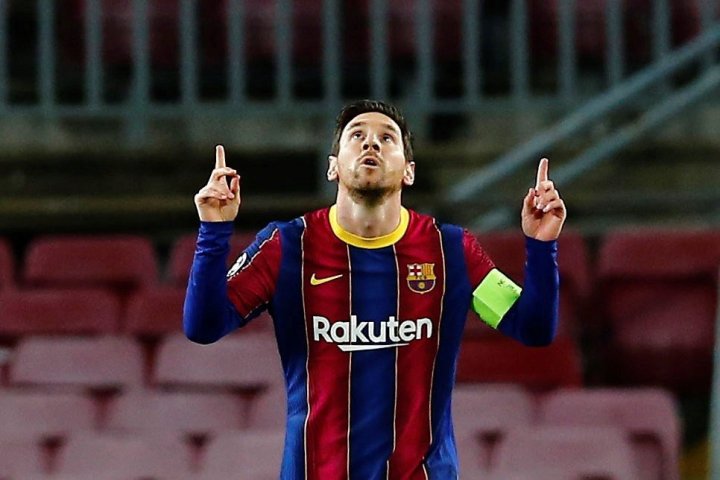 Messi celebrates after scoring from the spot.
(Photo: EFE/ Enric Fontcuberta)
That's a fine save by Nescheret. Fati slips a cute little ball into Messi's scuttling run into the box, and the Argentine pings an angled shot towards the far corner - but the Kyiv keeper gets enough on it to divert it behind.
Fati heads the resulting corner behind, and Kyiv survive. For now. It doesn't look like another Barça goal will take too long to come.
Tsygankov's delivery is cleared for a corner, which Barça deal with comfortably.
Ansu Fati is making hay on the left. He skips inside Kedziora and Tsygankov and into shooting space in the box, and is only denied by a smart stop by Nescheret with his legs.
Up the other end, Kyiv mount their first attack of any substance thus far, Gerson Rodrigues tearing down the left and winning a free-kick off Dest on the left-hand corner of the penalty box.
If things carry on this way, this game is looking like turning into an absolute massacre. Twice Barça go so, so close to doubling their lead.
First, Dest pulls it back from the right to find Pedri's run into the box, where the 17-year-old leathers a shot against the underside of the bar - but replays show the ball does not bounce over the line.
Seconds later, Nescheret can only parry Fati's shot straight at Griezmann, who somehow manages to direct the rebound wide from six yards out, with the goal gaping.
Kyiv haven't had a sniff of the ball yet.
Penalty to Barcelona! Messi is fairly halfed just inside the box, and Michael Oliver has no hesitation in pointing to the spot.
It's all been Barça ball so far. Jordi Alba can't quite pull down a delicious diagonal into the box from Lionel Messi before Messi himself then pulls a ball back towards the penalty spot, but can't find a Blaugrana shirt.
Moments later, Ansu Fati absolutely burns Kedziora on the right wing before fizzing a low cross towards Antoine Griezmann at the near post, where Nescheret has to look alive to turn the Frenchman's shot behind.
Peeep! Underway in Catalonia!
Teams out!
Out come the teams and we're almost ready to go at the Camp Nou.
Tonight's referee is Englishman Michael Oliver, whose video assistant will be compatriot Chris Kavanagh.
Koeman involved in memorable Kyiv win for Barça's 'Dream Team'
Ronald Koeman played for Barça in a memorable 4-1 Champions League win over Dynamo Kyiv in November 1993, which is widely considered to be among the finest ever performances by Johan Cruyff's 'Dream Team' of the early 90s - if not the finest.
"I don't know if it was the best game, but it certainly was one of the best that the 'Dream Team' played," Koeman told reporters on Tuesday. "Hopefully we can repeat that performance."
Some pre-match stats for you…
- Barcelona have gone 22 Champions League group-stage games without defeat, and can make it five group wins on the trot for the first time since October 2017.
- Dynamo Kyiv haven't beaten a Spanish side in European competition in their last 14 attempts. Their last win over a LaLiga club in Europe was against Real Madrid in the Champions League in March 1999.
- The sides last met in the Champions League in the 2009/10 group stage, Barcelona taking a maximum six points from the Ukrainians by winning 2-0 at the Camp Nou and earning a 2-1 victory in Kyiv.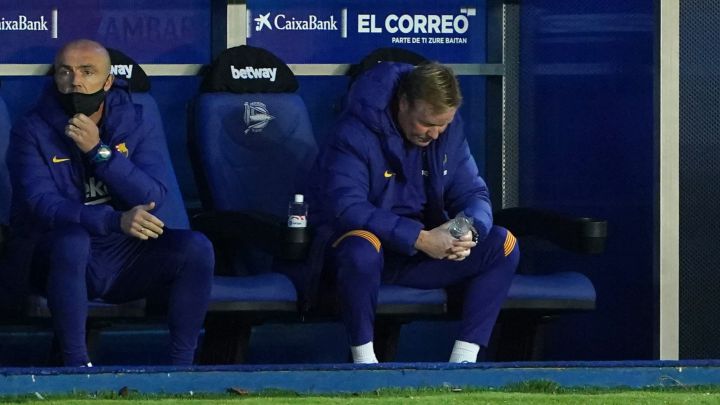 Barcelona coach Koeman faces up to 12-game ban over VAR criticism following Clásico
Koeman faces threat of lengthy ban
Meanwhile, Koeman may be about to find himself in a rather a spot of hot water, after the Spanish Football Federation opened disciplinary proceedings against the Dutchman over his criticism of VAR in Barcelona's 3-1 loss to Real Madrid late last month.
Indeed, the Barça boss could be hit with a LaLiga touchline ban of up to 12 games...
Full story:
Koeman on Setién's Messi remarks: "I don't agree"
Speaking on Tuesday, Koeman was also asked about predecessor Quique Setién's comments in a recent El País interview that Lionel Messi is "difficult to manage".
"For me, he's not a player I have difficulties with," Koeman told reporters. "I don't agree with Setién but I respect his opinion. If that's what he says, that's how it is for him."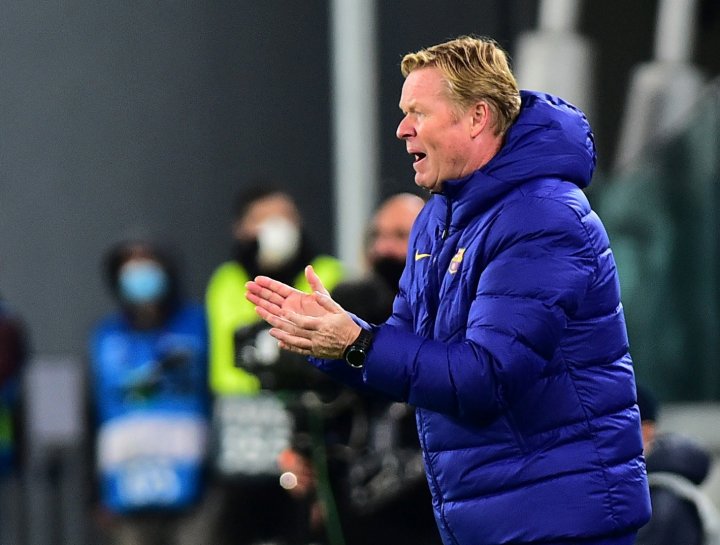 What the coaches said: Ronald Koeman, Barcelona
On tonight's clash with Kyiv:
"The objective is the same as always, play well, create opportunities to score and, above all, the Champions League matches at home must be won."
On Barça's stuttering start to the season:
"We have to be patient with this team, we know we are not doing well in terms of points in La Liga, but I think that with the changes, with the young players, we are giving a good account of ourselves."
You'll find Koeman's pre-match comments in full here.
REUTERS/Massimo Pinca/File Photo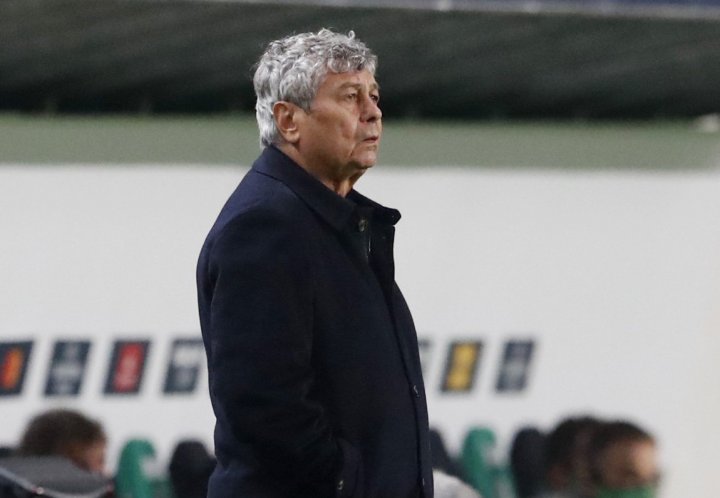 What the coaches said: Mircea Lucescu, Dynamo Kyiv
"I don't think Barcelona are at the level to win the Champions League at the moment. Bayern Munich, Manchester City or Paris Saint-Germain have more options.
"Having said that, they have a footballer in Lionel Messi, who can be very important. A new coach needs a minimum of six months and in spring they will be another team."
(Photo: REUTERS/Bernadett Szabo)
Dynamo Kyiv team news
Starting line-up: Nescheret, Kedziora, Zabarnyi, Popov, Shabanov, Shepelev, Andriyevskiy, Tsygankov, Buyalskiy, Rodrigues, Supryaha
Substitutes: Morgun, Ihnatenko, Syrota, Lednev, De Pena, Verbic, Rusyn, Clayton
Ter Stegen back in goal for Barcelona
Goalkeeper Marc-André ter Stegen returns from injury to make his first appearance of the season as Ronald Koeman makes four changes to the side that drew with Alavés at the weekend.
In addition to Ter Stegen, Sergiño Dest, Miralem Pjanic, and Pedri all also come into the side, with Neto, Sergi Roberto, Clément Lenglet and Ousmane Dembélé making way.
Frenkie de Jong looks set to play at centre-back, having filled in alongside Gerard Piqué in the second half of the win over Juventus last week.
(Photo: Manu Fernandez/Pool via REUTERS)
Barcelona team news
Starting line-up: Ter Stegen, Dest, De Jong, Piqué, Alba, Busquets, Pjanic, Pedri, Fati, Messi, Griezmann
Substitutes: Puig, Aleñà, Peña, Dembélé, Trincao, Firpo, Braithwaite, Roberto, Lenglet, Neto
Coronavirus-hit Kyiv
Ukrainian league leaders Dynamo Kyiv are in Barcelona having suffered something of a coronavirus outbreak before flying to Spain.
In all, indeed, they have had to leave nine players behind: Heorhiy Bushchan, Vitaliy Mykolenko, Denys Boyko, Mykola Shaparenko, Oleksandr Karavayev, Gueorgui Tsitaishvili, Denis Garmash, Mikkel Duelund and Tudor Baluta.
Kyiv's travelling party then all came through covid-19 tests after arriving in Catalonia.

Two wins from two for Barça in Group G
Amid a stuttering start to LaLiga and all manner of off-the-field ructions at the Camp Nou, the Champions League has been a veritable oasis of calm for Barça, who tonight have the chance to make make it three wins from three in Europe thus far.
They top Group G after thrashing Ferencváros on the opening matchday and then earning a mightily impressive win at Italian champions Juventus last week.
A win over Kyiv tonight, coupled with a more than probable Juventus victory over Ferencváros, would leave the Blaugrana eight points clear of third place with only nine still in play.
It is currently Kyiv who sit in third, having followed a 2-0 defeat to Juve with a 2-2 draw with Ferencváros.
(Image: uefa.com)
Barcelona vs Dynamo Kyiv: welcome one and all
Good evening!
Welcome to our live coverage of Barcelona's clash with Dynamo Kyiv on matchday three of the Champions League group stage, as Ronald Koeman's men look to put one foot in the last 16.