Real Madrid: Isco's darkest hour
The midfielder has been left out of Luis Enrique's Spain list once again. He has yet to play in Madrid's Champions League campaign this season...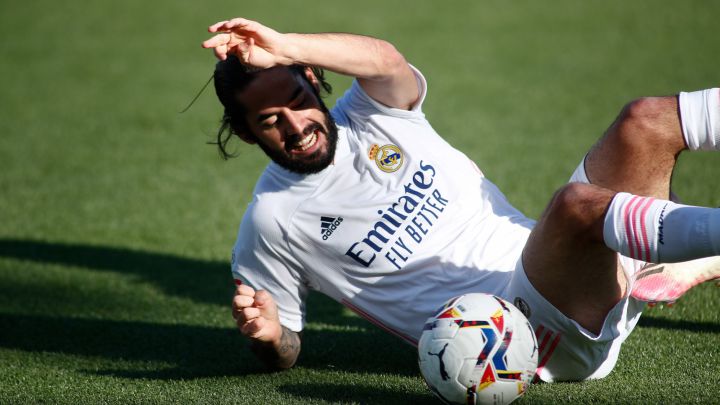 Isco has hit rock bottom. During the past few seasons, the Real Madrid midfielder has grown used to a career full of ups and downs - with some outstanding moments and others where he has found himself demoted to a lesser role within the team. But his position has never been as insignificant as it is right now.
He has spent the last four games on the bench and only came on for half an hour against Huesca when the game was already sewn up. He has watched the games against top level teams such as Barcelona, Borussia Mönchengladbach and Inter Milan from the subs' bench. So far, he has played a total of 177 minutes over five games, which makes him the 19th most used player in terms of playing time. Only Hazard, Ødegaard, Odriozola and Mariano have played less than him but in the cases of the first three, injury has kept them out of the team. Had they been fit, all apart from Mariano would have had more playing time than Isco has. In the only two games he has started this season, against Valladolid and Cádiz, he hasn't delivered and was substituted (on 57 and 46 minutes respectively). In the Champions League, he hasn't played a single minute of the first three group games.
Zidane has always defended Isco
On top of all of that were the comments he made about Zidane while on the bench at Camp Nou, which infuriated the coach, as he has always been the one who has defended Isco in the past when the player has been questioned by club directors.
Things are not going well for Isco at Madrid and as a result, he has lost his place with the national team where was once a key player and an automatic inclusion in the list. Today, he was left out of Luis Enrique's 25-man squad list and perhaps what is more worrying, is that it would be a been a big surprise if he had been included. His last call-up by Spain was on 10 June 2019, for the game against Sweden when Robert Moreno was coach. Since Luis Enrique returned to the post, the squad has more or less featured the same group of players and that makes it even harder for Isco to earn a recall. It's a situation which doesn't look like changing ahead of next year's Euros…