Luis Suárez: Atlético Madrid striker talks to AS
Atlético Madrid's Luis Suárez spoke to AS about how he has been settling in at the Wanda Metropolitano since his summer move from Barcelona.
The smile has returned to Luis Suárez's face since he joined Atlético Madrid. The striker sat down with AS to discuss his first few months at the Wanda Metropolitano and why he chose to accept Los Rojiblancos' offer this summer. He also looked back on his difficult departure from Barcelona, who Diego Simeone's side come up against in LaLiga later this month.
Suárez feels Atlético are in a position to challenge for every major honour this season, particularly in light of the good form being shown by Joao Félix, and speaks of the warm welcome he has been given at the club, from the president to the fans.
What is your assessment of your opening months at Atlético?
Really positive. To begin with, there was everything that goes with a change like this for your family - looking for a new school for your kids, looking for a new house - but the club were a fantastic source of support and made things really easy for me. I feel settled and I'm enjoying every moment.
Atlético boss Simeone has said that the team's switch to a more attacking style is in no small measure down to your characteristics as a player, to get balls supplied to you in and around the area. Do you feel key to Atleti's system?
I have to adapt to what the coach wants and what comes with the circumstances of each game, but if you're surrounded by top players who can penetrate the opposition and get balls into you in the box, that's great news. It's down to the coach how we play; I feel key in the sense that I've come here to help, to do my bit for a great club that aims to achieve big things. I hope that I can live up to expectations.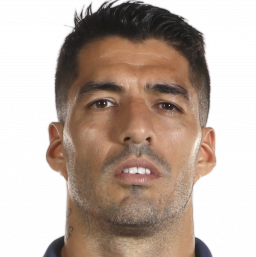 Do you think this team is capable of challenging for the top trophies and competing with Real Madrid and Barcelona?
The fact is that Atlético have been up there and challenging for major silverware for years. They've had the bad luck of losing finals, they won LaLiga a few years ago and in recent seasons they have challenged Barça and Madrid. If we believe in ourselves and keep in mind that we have a good squad, with competitive players…
What have you been most impressed by at Atleti?
Just how competitive the players are day in, day out. But in a positive way: they also really get behind whoever's in the team. You feel that and it's really important for the good of the group. If we have faith in ourselves, we can achieve big things.
Have you been surprised by Joao Félix and the understanding you two have struck up?
No, he hasn't surprised me, because back when he was at Benfica he had already set about showing what a class player he is at a very young age. It's not easy when you move abroad, but in his first year, which was about settling in here, he produced moments of real quality. I think that this season he's really starting to get the fans excited. He feels full of confidence and if the rest of us give him the help and support he needs, he can be a match winner. But we can't place all the responsibility on his shoulders: if we work as a team and everyone does their bit, that'll have a beneficial effect on him and everyone around him.
Atlético are due to face Barcelona after the international break. Would you celebrate if you scored?
No, I wouldn't celebrate, out of respect for my former team-mates and for a club that gave me so much. It's obviously a special game for me, coming up against so many friends. But I'm going to give my all for this shirt, just as I have at every club I've played for. I'm really enjoying myself and I'm raring to keep on showing to the world the quality player that I am.

You'll come up against your great friend Lionel Messi. What's your relationship like now?
We still talk regularly. But we talk about life: what's happening in our day to day. The other day it was my kid's birthday and it was also his kid's recently, and so we also talk about those types of things. We have a good relationship and we don't only talk about football. We try to support each other when it comes to personal issues and how we're feeling.
It seems like Messi isn't having the best of starts to the season and perhaps looks a bit low on morale.
He's 33 years old and he knows how to deal with any situation. To me he looks like he has the same desire that he did before, is enjoying his football and is still fighting as hard as ever, which is the main thing. He keeps on trying even if the ball doesn't want to go in. That says a lot about him.
What do you make of Quique Setién's remarks that Messi is difficult to manage?
I'd rather not get into that, because it only helps to turn it into a bigger issue than it should be. Any team-mate who has worked alongside Leo will talk highly of him, of what a class player he is and what a top guy he is away from the pitch. He really helps the youngsters, giving them pieces of advice… Every player who has worked with him talks highly of him. That says a lot about the kind of player and person he is in that dressing room.
Gerard Piqué has said that Josep María Bartomeu's resignation as president was necessary. What did you feel when Bartomeu announced his departure?
To be honest, I'm not really concerned about what goes on in Barcelona. I'm now an Atlético player and I'm giving my all for this shirt. I'd rather not get into what's happening there.
What was your relationship with new Barcelona boss Ronald Koeman like after he told you to find a new club?
My relationship with Koeman was professional. He told me [I wasn't in his plans] and I told him that until I was able to find a solution I had the right to continue training at the club. I spent three weeks training with the complete professionalism that should be expected of me, no questions asked. I was sent to train away from the group and I trained. Koeman was understanding; he appreciated my situation.
Was there ever any chance of you staying at Barcelona?
He told me that if if the situation arose where we couldn't find an outcome that I'd be a member of the group like anyone else, but I wanted to find a solution, to find my path and thankfully I did. What we had was mutual respect: from me to him for the decision he made and from him to me for fulfilling my role as a professional and continuing to train without creating problems or complaining about the situation I was in.
And how did Simeone persuade you to join Atlético?
I don't think there was a lot of persuading to do. When you feel wanted, when the coach shows interest and the club too, that shows you that you still have what it takes as a player. They value you in a way that wasn't the case elsewhere and that's important. And then to arrive and be treated the way I have is fantastic and that makes me feel good and leaves me raring to go and full of confidence as I take on this wonderful challenge.
If Messi leaves Barcelona, do you reckon you and Simeone could convince him to come to Atlético?
I'll always say it: Leo is mature enough to make the decisions he needs to make by himself. I'll never try to influence what he does; wherever he's happy, I'll always support his right to make the decision that's best for him. If at any point the possibility arises, then he should say so as obviously I'm going to talk very highly of him to the club. But as far as suggesting things to him is concerned, I think he's the one who has to make such decisions and wherever he's happiest is the best place for him to be.
You've made a very good start to the league season. Do you reckon you could challenge for the Pichichi Award?
The figures I've managed help to put the team up there and contribute to the ultimate objective, which is to win big things. If I can further the team's cause by scoring goals, that's great because a striker lives off goals, but I don't set myself any personal aims. My goal is to help the team, be it with goals, assists or even if I go through a dry spell, which can happen to strikers. But hopefully it doesn't come to that this year.
You are sharing the Atlético dressing room with fellow Uruguayans José Giménez and Lucas Torreira. Have they made the bedding-in process easier for you?
It's very important, because Giménez is a player who has grown up at Atlético. He arrived from Uruguay when he was very young, and has shown his personality and how important he is for the team and for the group. We were unlucky to be without him for two or three weeks because of the coronavirus, but when he returned with Lucas now here, he obviousy had a positive effect. Torreira and I are both adapting and getting used to life here, but I'm really enjoying this wonderful experience at Atlético.
They can't be in the stands right now, but have the Atleti fans made you aware of the excitement your arrival has sparked among them?
The situation we're experiencing in the world really is unfortunate. It's the way things are and that means we have to make sacrifices in football, too. It's a shame not to have the fans shouting you on, not to be able to play at a full Wanda Metropolitano and feel the passion the Atlético supporters get across. I'm not out on the street often, but when I am I'm left in no doubt about how much the fans appreciate me. You feel proud of the fact that the fans can see that you're giving your all to perform well and that they're really excited.