Real Madrid: Hazard, Casemiro test positive for coronavirus
Real Madrid's Eden Hazard and Casemiro are now isolating after the LaLiga club confirmed that the pair have tested positive for covid-19.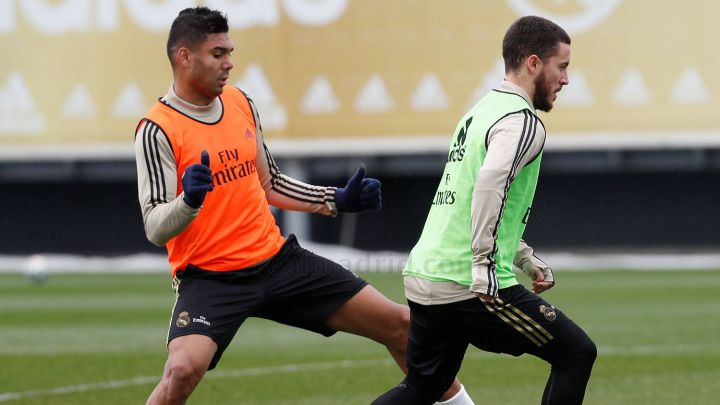 Real Madrid's Casemiro and Eden Hazard have been ruled out of Los Blancos' weekend clash with Valencia after testing positive for the coronavirus.
Casemiro, Hazard tested positive on Friday
In a statement released on Saturday morning, Madrid said the pair had come back positive in covid-19 tests carried out on Friday.
The club added that the rest of the squad and Madrid's backroom team all tested negative both on Friday and in subsequent tests conducted on Saturday.
Real Madrid's statement in full:
"Real Madrid C.F. informs that our players, Casemiro and Eden Hazard, have tested positive in the COVID-19 tests undertaken yesterday, Friday, in the morning.
"All of the other first-team players and coaching staff, as well as the club employees who work directly with the squad tested negative in yesterday's tests. Meanwhile, all of them, apart from Casemiro and Hazard, once again tested negative in the antigen tests taken this morning."
Pair may only miss one Real Madrid match
The two players are now isolating after being informed of the news.
With an international break coming up after Sunday's LaLiga clash away to Valencia, they appear to have a good chance of returning to availability in time for Madrid's following game, a Spanish top-flight match at Villarreal on 21 November.
However, having been included in the Brazil and Belgium squads, respectively, Casemiro and Hazard will play no part in their countries' upcoming fixtures.
Brazil face Venezuela and Uruguay in World Cup qualifying on 14 and 18 November, while Belgium have a friendly with Switzerland on 11 November, before UEFA Nations League match-ups with England and Denmark on 15 and 18 November.