5
Ousmane Dembélé 21',
Griezmann 48',
Messi 60' (p), 81',
Pedri 89'

2
Mandi 59',
Sanabria 46',
Loren Morón 72'
Barcelona run riot against Betis after Messi half-time entrance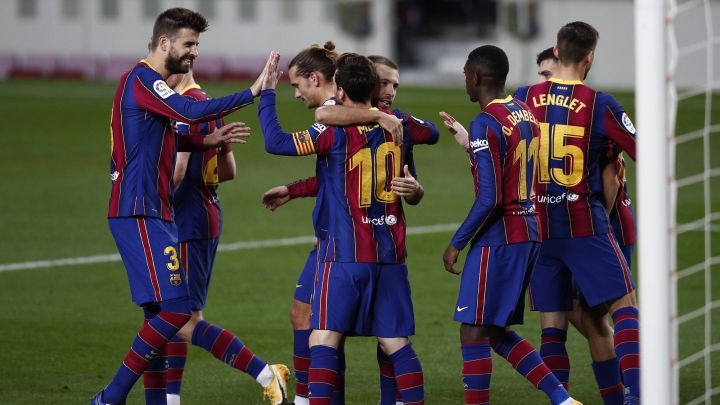 Barcelona vs Betis: match report; as it happened
Ronald Koeman decided to start Lionel Messi on the bench for his side's clash with Betis. Supposedly, the Argentine captain was not "100% fresh".
But nobody would have suspected that when the superstar come on for the second half to change the game for Barcelona, scoring twice and setting up another as the hosts cruised to a comfortable 5-2 victory.
With the score at 1-1 after Betis had matched Barca blow for blow in the first half, Messi made his entrance and only took four minutes to set up Antoine Griezmann's goal with a genius dummy. Thirteen minutes later he scored from the spot after setting up Dembélé's shot that lead to the penalty (Mandi was sent off for stopping the ball with his arm on the line).
Ten-man Betis clawed one back to put the score at 3-2 on 73', but hope of a miracle comeback were quickly dashed when Messi scored again on 83' after a cute back-heel pass from Sergi Roberto set the captain up for a one-on-one with Betis keeper Bravo, who could only watch the ball sail into the top netting.
Pedri tapped in a fifth Barcelona goal on the stroke of 90 thanks to a superb cross-the-box pass from Sergi Roberto that caught all of Betis' defenders out.
The victory was Barcelona's first in the league at home in over a month after they lost and drew their previous two Camp Nou league fixtures. The last time that happened was in 2003. But that two-game winless home streak comes to an end as Koeman's men move up to eighth.
Barcelona move from 12th to 8th after that win with 11 points from 7 games. They are one point behind their opponents today, who remain in 7th.
Pts
MP
W
D
L

6

GRA

14
7
4
2
1

7

BET

12
9
4
0
5

8

BCN

11
7
3
2
2

9

GET

11
7
3
2
2

10

ELC

11
7
3
2
2
Peep, peep, peep!! The ref calls it up and Barcelona have secured a win at home in the leage in over month.
Five mintues added time have been called as Barcelona look for a sixth. Betis will just want to hear the whistle noe.
FIFTH GOAL FOR BARCELONA!!! Sergi Roberto plays a pin perfect pass from one side of the box to the other that runs beyond three Betis defender and finds Pedri, who taps in with ease.
GOAL BARCA! GOAL MESSI!! Messi plays the ball to Sergi Roberto and continues his run while Roberto plays the quick one-two back heal to set up Messi for a one-on-one with Bravo. And who will ever bet him against him in that situation as he blasts he ball into the top netting.
To say Messi has changed the game since coming on at half-time would be an understatement: two goals, one assist, Barcelona lead 4-2!
Chance Barca! Messi tees up Trincao just outside the box, but the Portuguese's strike cannot trouble Bravo.
GOAL BETIS!!! They're down to ten men but they're not giving up. And it is that man Alex Moreno again at the heart of the play again. He's been immense today.
The left back drives past Lenglet down the left flank in the danger area before playing a low cross to the feet of substitute Loren. Eight yards out, Loren blasts the ball fiirst time past Ter Stegen to make it 3-2.
Chance Barca! Griezmann tees up Pedri in the box but he drags his shot wide of the far post.
Barca change: Trincao has come on for goalscorer Dembélé, who opened the scoring in the first half.
MESSI SCORES THE PENALTY !!!! Messi takes the penalty after creating the play that led to it. And the Argentine captain drives the ball into the top right corner. Bravo dives the right way but he had no chance. Messi has been on the pitch for 15 minutes and has already been involved in two goals. 3-1 Barca, with Betis down to 10 men.
RED FOR MANDI FOR HANDBALL! The ref goes to watch the play on the TV. Yes it was a clear and deliberate stop with his arm and Mandi has been given his marching orders after picking up an earlier yellow. Penatly for Barcelona as Messi steps up.
VAR CHECKING PENALTY! Griezmann relesases Messi in the box, who picks the ball up by the byline before pulling a pass back to Dembélé.
Betis keeper Bravo is completely out of position, leaving defender Mandi on the line to deal with Dembélé's shot. But it looks like he stopped it with his arm on the line and Barcelona's players are incensed. VAR has been called in!
GOAL BARCA!!! Messi the magician creates a goal without touching the ball. Alba plays a ball to the Argentine captain, who, using the eyes on the back of his head, geniously plays a dummy to let the ball run passed him to Griezmann.
Fourth time lucky for the Frenchman as he scores into a half-open goal. Alba will go down for the assist, Griezmann for the goal. But that goal was all Messi and he didn't even touch the ball.
Messi involved straight away with some clever link up play with Alba before he tees up Pedri, who cannot get a clean strike off.
Peep! Barcelona get the second half underway.
Messi is lacing up and will no doubt make life harder for Betis in the second half. Fati makes way for the Barca captain. Messi was left on the bench as he was not a 100%, according to Barcelona's coaching staff.
Peep, peep! And that's the end of the first half. At 1-1, the scoreline is a fair reflection of the game so far. Though Barcelona could and should have scored a second from one of Griezmann's three clear-cut chances, one of which was a penalty that he failed to score.
GOAL BETIS!!! The visitors have equalized with the last play of the first half. Betis break with four on four before Moreno plays a cross from the left which takes a slight deflection of Sergi Roberto that catches Pique off guard.
The ball flies past him as Betis' Canales tries to get a toe to it, but it is Sanabria who eventually latches onto the loose ball, blasting a first-time strike past Ter Stegen. 1-1
Yellow card goes to Betis's Alex Moreno, who has been lively down the left for the visitors. He goes in the book for a poorly time challenged that impeded the breaking run of Pedri by the touch line.
Chance Betis! In their first attack for a while, Moreno is released down the left flank with a nice through ball that cuts open the Barca defence. He looks up and plays a pass to Tello in space, who hits a clean strike but the ball drifts just over the bar.
Greizmann has missed the penalty!!! He goes to the left but Bravo saves. Chance three missed by the Frenchman. It was a poorly taken penatly.
Barcelona have a penalty! after Bartra takes down Fati in the box. That is a clear penatly and there can be no complaints. Fati is in some pain after that challenge and is receiving some attention.
Chance Barca! And what a beautiful thing it was to watch. De Jong passes to Fati, who gives a one-touch pass to Pedri, who plays a quick back heel pass to release Griezmann. But he's missed it! That move deserved to be finished off. Griezmann has now failed to capitalise on two clear chances.
GOAL BARCA! GOAL DEMBÉLÉ!!! Griezmann feeds a short pass to his compatriot on the edge of the box on the right. Dembélé cuts inside and then fires a rocket into the far corner. 1-0 to the hosts. VAR checks for something, but it's fine, the goal has been awarded. That was Dembélé's third goal of the season after goals against Juventus and Ferencvaros in the UCL.
Twenty minutes gone here and it has been an even affair so far with both sides creating a few clear chances. Betis's task has no doubt been made easier with Messi on the bench. How long he will stay on the bench is the question.
Chance wasted for Betis! The visitors break through Alex Moreno, he's got one defender ahead of him and Joaquín is screaming for the easy pass to set him up for the shot. But Moreno chooses to go it alone with his eventual strike going yards wide. Joaquín is understandably furious.
Two United States players on the bench for Barca today, 19-year-old Konrad De La Fuente and 20-year-old Sergino Dest. They may get some minutes at some point, particularly the latter.
Greizmann shoots! From just outside the box, but again he drags his low shot wide of the far post. It has been an open game over these first 10 minutes, with Barca with three decent chances, Betis with two.
Fati comes close! The Barca teenager breaks down the right, beats one defender before hitting a well-struck shot that Bravo does well to save. Barca do nothing with the resultant corner.
Chance Betis! As Busquets nearly puts the ball in his own net as he tried to deal with a short cross inside the box from Moreno. Canales comes close with his head from the resultant corner. But Ter Stegen does well to save.
Chance Barca! Betis lose the ball just outside their own box, leaving Fati to set up an unmarked Griezmann by the penalty spot. But the Frenchman drags his shot just wide of the far post.
Betis enjoy some early possession in their half before pushing the ball forward towards Sanabria in the Barca box, but Ter Stegen collects the loose ball.
Peep! Betis get the game underway at an empty Camp Nou.
Greizman, Fati and Dembélé start up front for Barcelona, it will be interesting to see how this attacking trident pans out.
The teams are emerging from the tunnel and onto the Camp Nou pitch.
Joaquin and Fati
Joaquin starts as captain for Betis today, the 39-year-old veteran is 21 years older than the youngest player lining out at Camp Nou, Barcelona's Ansu Fati.
Betis coach, Manuel Pellegirini has said: "It's strange that Messi isn't playing, we weren't expecting that".
No doubt much of his pre-match team talk was based on how to stop the almost unstoppable Barcelona talisman.
Messi doesn't start
The big surprise in Koeman's team sheet was the ommission of Leo Messi. Messi is not injured but is understood to be below 100%. The Argentine captain starts on the bench, which will go some way to help Betis's chances.
Betis come into the game after having lost two of their last three fixtures. They won their last game at home against Elche (3-1), after two straight losses against Atletico Madrid (2-0) and Real Sociedad (3-0).
Barcelona have gone two consecutive games without a win at Camp Nou (one loss, one draw), The last time that happened was in 2003 under Frank Rijkaard.
Barcelona have lost only one of their last 18 league meetings against Beits. But that defeat came in their last meeting in Camp Nou in the month of November in 2018, with the visitors winning 4-3.
Preamble
Currently sitting 12th in the league, Barcelona are looking for a much needed win at home against Betis. Koeman's side haven't won a match in the domestic competition for over a month, which is in stark contrast with their Champions League form, where they have picked up wins in all of their matches.
Barça have just accumulated just eight points from six matches put them in 12th position in the table, while Betis are currently seventh.
Welcome
Hello and welcome to our coverage of Barcelona vs Real Betis at Camp Nou on matchday 9 of LaLiga Santander 2020/21.
.