Ansu Fati facing four-month lay-off after meniscus surgery
Ansu Fati will undergo an operation on his left knee on Monday after he picked up a serious injury against Real Betis this weekend.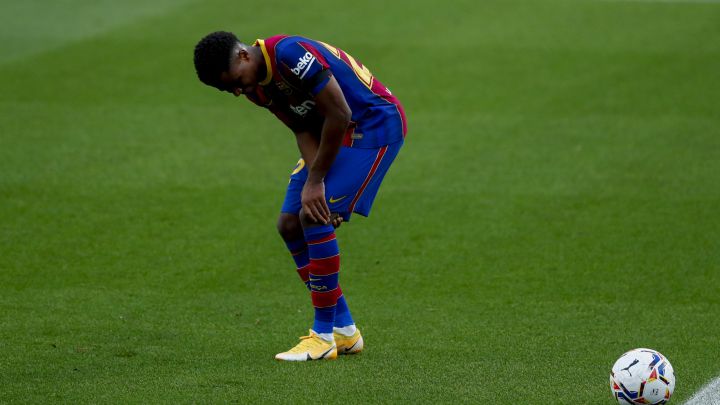 Following a consultation with renowned traumatologist Ramon Cugat in Barcelona this Sunday morning, Ansu Fati has given his ok and will undergo surgery to correct a meniscus injury in his left knee, the club announced in a statement.
Fati had to be subbed off at half time of Barcelona's 5-2 win against Real Betis on Saturday after sustaining the injury and was replaced by captain Lionel Messi.
The doctors will try to save the damaged meniscus, in which case it will need around three months to heal perfectly. Plus he will need another month to get back to match fitness, so the 18-year-old forward is facing a four-month layoff overall.
But until they open his left knee during the arthroscopy, the medical team will not be able make an accurate assessment of the state of the meniscus. If it is not excessively damaged, they may only need to remove a small part of the meniscus. In this case, the recovery time would be shortened to around two months.
Fati won't make Barcelona return until 2021
What is certain is that Fati will not play again until 2021. In the best-case scenario, he could return in early January; at worst, mid-March.
Doctors have pointed out the fact that the that demage is to the medial meniscus, and not the external one, should greatly facilitate the rehabilitation.
Barcelona have confirmed they will issue another update on the injury and approximate time the player will be out following his arthroscopy on Monday.