Real Madrid: Jovic avoids jail over coronavirus quarantine breach
Serbian prosecutors have been seeking a six-month prison sentence, but Real Madrid striker Luka Jovic will instead pay a fine of 30,000 euros.
Real Madrid striker Luka Jovic will pay a fine in Serbia to avoid jail time over his flouting of coronavirus restrictions in his native country earlier this year.
Real Madrid man pays 30,000 euros to avoid jail
Jovic had been facing a possible six months in prison but, according to Spanish radio station Cadena COPE, he has now agreed to pay 30,000 euros instead.
Jovic breaks quarantine after return to Belgrade
Having travelled back to Serbia in March after the outbreak of the pandemic, it emerged that Jovic had broken a mandatory 14-day quarantine period following his arrival when he was spotted out partying in the capital, Belgrade.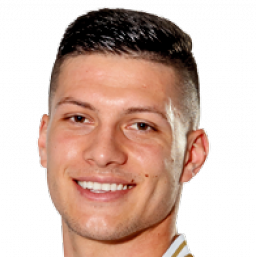 Jovic criticised by Serbian political leaders over covid-19 rule breach
His actions sparked outrage in Serbia, leading to criticism from Prime Minister Ana Brnabic, who complained of the "negative examples from our football stars, who are getting paid millions and are ignoring mandatory self-isolation upon returning home".
Meanwhile, the country's president, Aleksandar Vucic, said the player would be arrested if he was caught breaking quarantine regulations again.
Jovic initially refused to pay up after Serbian authorities fined him 30,000 euros, prompting prosecutors to open judicial proceedings against the 22-year-old and call for a six-month jail sentence.
However, the Serbia international has now agreed to pay the original fine.