NBA Draft 2020: pick order, mock draft, rumors and grades
The 2020 NBA draft big board doesn't have any standout players and with free agency on the doorstep has everyone playing GM predicting the picks.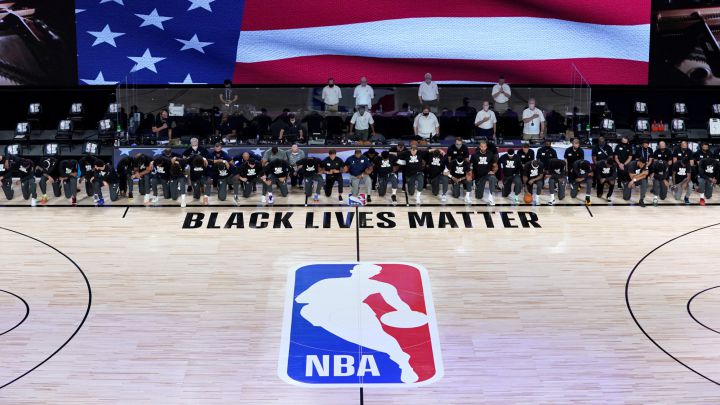 It took a while but the NBA draft is finally here with rumors swirling about who will be picked first with no real clear favorite. Due to the coronavirus pandemic the draft was postponed five months and free agency is later in the week. With that flurry of events falling so close together it has made for an interesting situation where trades are playing a bigger role in how teams are going about their possible draft picks.
Almost as soon as the new roster are set the training camps will be underway on 1 December. Then just a few weeks later we can sit down for our first tip-off on 22 of December. So, who can we expect to see taking the court and on what teams?
Here's a look at the top five picks from ESPN's list
1. LaMelo Ball
Position: Point Guard
Ball has great size at 6-foot-7 which gives him a good angle to view the play on the court. He's a team player who has great ball handling skills with great passes that he can do with either hand. His dribbling skills when combined with his foot work makes him a challenge for defenders. For a guard he is pretty good with rebounds.
On the downside he hasn't been able to score efficiently and has a questionable technic when shooting jumpers. He's good from the free throw line though. Although he has difficulty finishing what he started he is quick to find a teammate. His height would make him a good defender but he doesn't put the effort into it.
Although generally put as No.1 pick, Ball isn't seen as being a perfect fit for the Timberwolves or the Warriors, so it is thought that he could go to the Hornets.
2. James Wiseman
Position: Center
Measuring just over 7 feet tall Wiseman has an enviable wingspan and reach. His timing and quickness make him a good operator around the rim either defending or on offense. Wiseman has explosiveness and power and is able to get up and down the court combined with mobility he can create opportunities.
One of Wiseman's drawbacks is that he is foul-prone. His game still needs some molding at both ends of the court. His passing skills are average and his instincts on defense debatable. While he doesn't use his height to his advantage inside preferring to shoot from the perimeter.
This is the one pick that there seems to be some consistency, although ESPN has him at number three the rumor mill has Wiseman going to the Warriors.
3. Anthony Edwards
Position: Guard
Edwards has the most potential of any player in the draft. He has explosiveness that is hard to contain and can drive down the court. He has good scoring promise from outside to right up at the rim. He shows potential at defense as well but needs focus. He could be All-Star material.
He is still learning and isn't always disciplined. He needs to take more decisive action and use his physical strength more. His shooting is still a work in progress but there's definite promise.
Edwards is a wild card, Sports Illustrated feels that he'll be the No.1 pick for the Timberwolves, while others have him going to the Hornets.
4. Deni Avdija
Position: Power Forward
Avdija is a creative player with excellent ballhandling and playmaking skills working best out of a pick-and-roll. At 6-foot-9 this makes him a formidable forward with skills on both sides of the court. He covers ground well to block passes and shots but can also get up to protect the rim. He is an aggressive player but will need to up his game in the NBA.
Inconsistency at shooting is one of Avdija's weaknesses, he'll need to improve his outside shot to stretch the defense. He is also right-hand dominant and struggles to push out from a standstill.
Avdija is signaled to be the Bulls pick at No.4 but there is word that they may just go for Tyrese Haliburton
5. Onyeka Okongwu
Position: Center
Okongwu at 6-foot-9 is an amazing athlete, strong and mobile, able to get up above the rim. Likewise, that height and vertical reach make him a defender to be reckoned with great instincts and timing. He is a quick rebounder and although his passing requires a little work, he shows great potential.
His ballhandling like his passing needs a polish. As for his physical mobility when defending, sometimes he is lacking in energy and aggressiveness especially at the post.
Obviously, once the picks start happening the possibilities grow exponentially but it looks like Okongwu goes either as the No.5 pick to the Cavaliers or to the Wizards as the No.9, passing through the Hawks and the Knicks.
Make your own guesses at ESPN's mock draft.
2020 NBA draft order
First round
1. Minnesota Timberwolves
2. Golden State Warriors
3. Charlotte Hornets
4. Chicago Bulls
5. Cleveland Cavaliers
6. Atlanta Hawks
7. Detroit Pistons
8. New York Knicks
9. Washington Wizards
10. Phoenix Suns
11. San Antonio Spurs
12. Sacramento Kings
13. New Orleans Pelicans
14. Boston Celtics (via Grizzlies)
15. Orlando Magic
16. Portland Trail Blazers
17. Minnesota Timberwolves (via Nets)
18. Dallas Mavericks
19. Brooklyn Nets
20. Miami Heat
21. Philadelphia 76ers (via Thunder)
22. Denver Nuggets (via Rockets)
23. Utah Jazz
24. Milwaukee Bucks (via Pacers)
25. Oklahoma City Thunder (via Nuggets)
26. Boston Celtics
27. New York Knicks
28. Los Angeles Lakers
29. Toronto Raptors
30. Boston Celtics (via Bucks)
Second round
31. Dallas Mavericks (via Warriors)
32. Charlotte Hornets (via Cavaliers)
33. Minnesota Timberwolves
34. Philadelphia 76ers (via Hawks)
35. Sacramento Kings (via Pistons)
36. Philadelphia 76ers (via Knicks)
37. Washington Wizards (via Bulls)
38. New York Knicks (via Hornets)
39. New Orleans Pelicans (via Wizards)
40. Memphis Grizzlies (via Suns)
41. San Antonio Spurs
42. New Orleans Pelicans
43. Sacramento Kings
44. Chicago Bulls (via Grizzlies)
45. Orlando Magic
46. Portland Trail Blazers
47. Boston Celtics (via Nets)
48. Golden State Warriors (via Mavericks)
49. Philadelphia 76ers
50. Atlanta Hawks (via Heat)
51. Golden State Warriors (via Jazz)
52. Sacramento Kings (via Rockets)
53. Oklahoma City Thunder
54. Indiana Pacers
55. Brooklyn Nets (via Nuggets)
56. Charlotte Hornets (via Celtics)
57. LA Clippers
58. Philadelphia 76ers (via Lakers)
59. Toronto Raptors
60. New Orleans Pelicans (via Bucks)