Modric brings the old Real Madrid back together
The Croatian and his compatriot Mateo Kovacic spent time with Cristiano Ronaldo ahead of Croatia's UEFA Nations League match with Portugal on Tuesday night.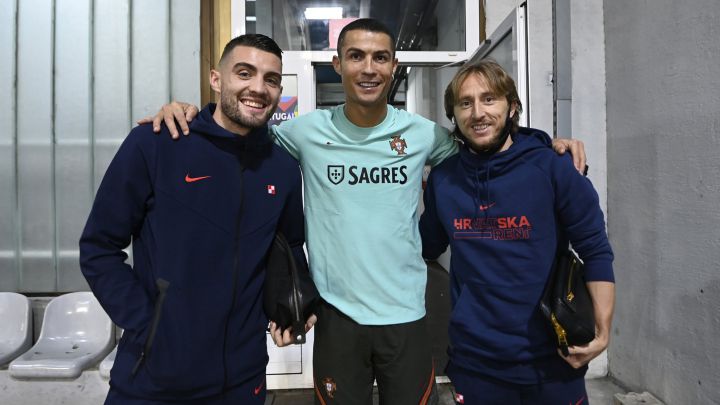 Luka Modric and his compatriot Mateo Kovacic spent time with Cristiano Ronaldo ahead of Croatia's UEFA Nations League match with Portugal on Tuesday night. The three played on the Real Madrid team that won three Champions League titles in a row.
The Croatian playmaker relived great memories on Monday night with his former Madrid teammates. The three face each other in Croatia's UEFA Nations League match with Portugal and chatted about the Madrid team that dominated Europe like no other, with four Champions League titles in five years, three of them consecutive, from 2015-16 to 2017-18.
It was an expected meeting, as Croatia and Portugal meet in the final group game of the Nations League. There is more at stake than meets the eye. France have already qualified for the final four of the tournament, but Croatia are at risk of relegation to League B if they finish last, which is still possible. They are third in a group of four, tied on three points with Sweden, and both countries have the same goal difference (-6). The only good news for Modric is that Sweden have to visit France today in Saint Denis.
Modric and Cristiano shared six successful seasons together at Real Madrid, winning four Champions Leagues, one league title, one Copa del Rey, three European Super Cups, three Club World Cups and two Spanish Super Cups. Kovacic played with them in three seasons, those of the three Champions Leagues in a row. The now Chelsea player was part of that successful Plan B that enabled Zinedine Zidane to make frequent rotations to end the 2016-17 season with a brilliant Champions League double. Along with him were James Rodríguez, Isco, Morata, Asensio, Lucas and Nacho.
Madrid memories
The Madrid team consisting of Modric, Kovacic and Cristiano overcame three group stages and twelve consecutive knockout rounds to lift the European trophy three times. Cherished memories of a very different time for Real Madrid, a team now experiencing difficulties in Europe. Los Blancos have lost in the round of 16 two seasons on the bounce, against Ajax and Manchester City. This season's campaign hasn't set the world alight either, with only one victory in three games and an embarassing defeat at home to a Shakhtar Donetsk squad depleted through covid-19. The departure of several players in the summer of 2018, such as Cristiano and Kovacic, weakened Zidane's squad greatly.
Six successful seasons together
At a press conference before Tuesday's encounter, Modric commented on the meeting that Kovacic and himself had with Cristiano. "We have great memories together, so it was great to talk to him. We remember some things from the past at Real Madrid, normal conversations between two former colleagues and good friends." During the six years that they coincided in white, Cristiano scored 304 goals, which earned him four Ballons d'Ors, and Modric provided 39 assists in addition to scoring 13 goals.