Atlético: Simeone's options to replace Luis Suárez against Barcelona
El Cholo have several alternatives to form a partnership in attack on Saturday when he will be without Luis Suárez. Diego Costa remains doubtful.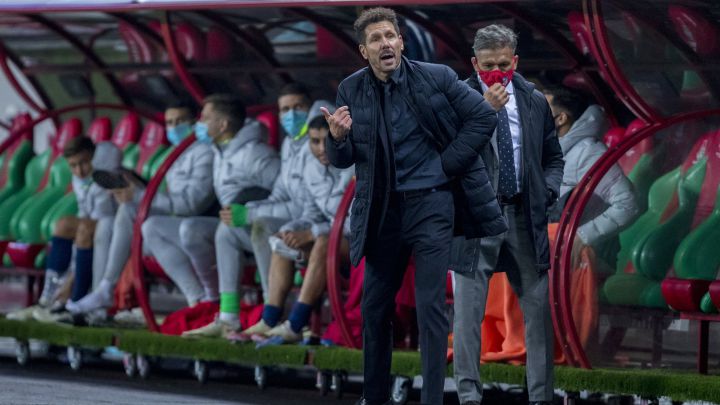 Luis Suárez's surprise positive test for coronavirus has left Simeone to ponder his options as to who will lead Atleti's attack against Barcelona this weekend. The coach was in a similar situation for the Osasuna match. The reserves and forgotten man Ivan Saponjic offer a solution from the bench. Vitolo, Diego Costa and Yannick Carrasco remain doubtful. The Belgian is back training as normal and is one possible option for El Cholo against Barça. As for the other two, it will depend on how training goes this week although it's unlikely that Vitolo will be declared fit to play. Below are the players who could form Atleti's frontline.

Marcos Llorente: power and skill
At Anfield, he showed how dangerous he can be. In his new role drifting inside from the right he has shown what a versatile player he is. He can get past players, is quick and has a decent shot - all the qualities he needs to step in as a false No.9. He's scored four goals in 600 minutes of playing time which underline he remains in fine form in his second season as a rojiblanco.
João Félix: the leader
The Portuguese forward provides the creative spark. His favourite position is just behind the centre-forward, free to roam and having a lot of contact with the ball. That's where he enjoys himself most and performs to his best. Seven goals in 750 minutes this season - decent figures for a player who is a constant threat. All eyes will be on him against Barça.
Correa: link-up play and finishing
The Argentinean has upped his game in the last couple of seasons. "Out of all of the players we have, Correa is the closest we have to an out-and-out striker - he is so good playing out wide on the right, even though he hates it because he wants to play as a centre-forward," Simeone explained not so long ago. Correa has the ability to change the course of a game and has a brilliant understanding with João and Suárez.
Carrasco: Atleti await his return
The Belgian has returned to full training and could enter the list against Barcelona. During his second spell with Atleti he has been performing better than ever and all everyone in the Atlético squad, he is one of the trickiest players for rival defenders to handle.
Saponjic: now or never
Simeone doesn't count on him and he is the least used player in the squad. Last season he made two appearances in LaLiga but we've seen nothing of him this season.
Camello: homegrown talent
An authentic killer from the reserves who is in Simeone's medium-term plans. He has been included in several squad lists but has yet to be given a run-out. It's not known when he is ahead of Saponjic in the pecking order but he could give the team enthusiasm and a surprise edge while they are without Luis Suárez although El Cholo isn't one who tends to experiment.