Nations League final four: dates, format, teams and venue
Your complete guide to the final four of the UEFA Nations League 2020/21 tournament. Who plays who, and when and where will the games take place?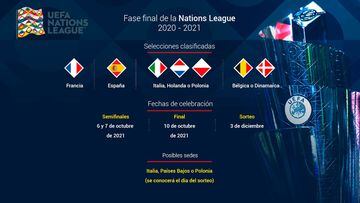 Spain's historic triumph over Germany sees Luis Enrique's men participate in the final four of the UEFA Nations League to be played in October next year for the first time. The national team became the second team to qualify after France, who top Group 3. On Wednesday night, the remaining countries will complete the group of four participants in the final phase of the UEFA Nations League.
In Group 1, Italy (nine points), Holland (eight) and Poland (seven) still have to play. Italy visit Bosnia and if they win, they will qualify. The Netherlands and Poland, meanwhile, face off in Chorzów with the need to win and the hope that Roberto Mancini's men are defeated. If the Netherlands win, a draw is enough for Italy to get through, while Poland need the Italians to lose and a win against the Dutch.
The other group that will decide its winner on Wednesday is Group 2. Belgium and Denmark play in Leuven. Roberto Martínez's men head into this fixture against the Danes with a two-point advantage, so a draw will see them through to the final four.
When and where are the Nations League Finals played?
The dates for the 2020/21 UEFA Nations League finals were set at a meeting of the UEFA Executive Committee in September. It was decided that the semi-finals will be played on October 6 and 7, 2021, and the final and third-place placeoff, on October 10, 2021.
So far, the setting chosen to celebrate the UEFA finals is unknown and it will be the group stages that decide which team will play the host role in the final stage of the tournament. However, the winner of Group 1 is the favourite to host the final four.
What happened in the first Nations League?
Portugal are the only team that have won the Nations League after winning the first edition in Porto. Cristiano Ronaldo and company beat the Netherlands in the final. England finished third and Switzerland finished fourth. Cristiano Ronaldo was the top scorer, Bernardo Silva took the award for best player and Frenkie De Jong turned was voted best young player of the tournament.
Spain began the championship with two impressive victories against England (2-1) and Croatia (6-0). However, Luis Enrique's men lost the last two games by the same result (3-2). The six points collected by La Roja didn't exceed the seven achieved by the English and they were knocked out.
Which teams are relegated?
Bosnia and Herzegovina, Iceland, Sweden and Estonia are all rock bottom of their groups and will be relegated from the league, although Estonia still have to play a relegation play-off to decide their future in the competition.