Real Madrid worried about Benzema situation
French striker Karim Benzema is normally Zinedine Zidane's go to man for goals, providing a almost a third in recent times, but there are doubts over his Villarreal place on Saturday.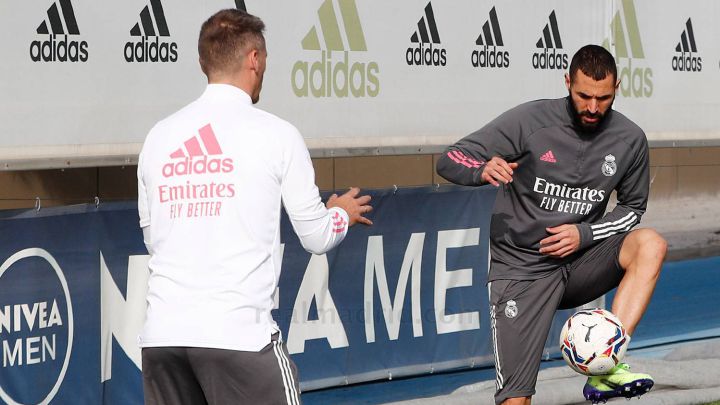 Real Madrid are concerned by the potential absence of Karim Benzema this Saturday for their away trip to Villarreal. The French striker continues to train separate from the main group despite the fact that it is not more than a week since he picked up a knock against Valencia. The results of the initial test did not reveal any serious injury, with the club not issuing a medical report, but even so Benzema continues working out alone, combining gym and ball work on Tuesday.
Benzema importance for Zidane
The word coming out of Real Madrid is they they are still unclear on the availability of the player who is less than a month away from his 33rd birthday, but they have not yet ruled him out. His place in the squad will be determined based on the next couple of days but the worry comes from him still not having taken part in the full session. That said, there is enough time for him to get involved again as the international teammates return to club duty.
The international break couldn't have come at a worst time for Zidane, following immediately on the back of the 4-1 defeat to Valencia, and this puts added importance on this Saturday's match. Add to that the reminder that on the back of the last FIFA stoppage, Madrid went down at home to newly-promoted Cádiz and they will not want to be without their most dangerous forward.
Benzema's value to Madrid has been clear: when he goes through a dry spell the team struggle for goals. In recent weeks, goals have returned and has supported a revival in attack from the team which has scored 15 in the las six games, an average of 2.5 per match. Benzema has scored six goals this season, and is on a run of four consecutive matches scoring, meaning that his goals represent almost 30% of the team's total of 21.
The Benzema alternatives
If the Frenchman is unable to play against Villarreal, Zidane has two obvious frontmen to call upon: Jovic and Mariano. Neither of them has ever been to the coach's particular liking, but one of them would be expected to be thrown in given that Zidane has not gone down other routes, such as using the likes of Isco or Asensio as a false nine.
Jovic did get a start earlier in the season and came with a €60-million price tag so is probably the one to get the nod, if required. His goal and assist against Scotland and Hungary respectively would also have been noticed, and he has another chance to shine against Russia on Wednesday. Mariano, for his part, has the potential advantage of currently being at Valdebebas working through Zidane's sessions while others disappeared for their national teams. Whether or not he's done enough to convince his gaffer that he deserves another chance only time will tell.
Either way, everything will be done to get Benzema into the starting XI when the game kicks-off at 16:15 local time.