Camavinga: "Real Madrid? The great clubs make me dream"
Rennes teenage sensation Eduardo Camavinga was asked about Real Madrid links in his first-ever press conference, but did not rule out a new deal at the French club.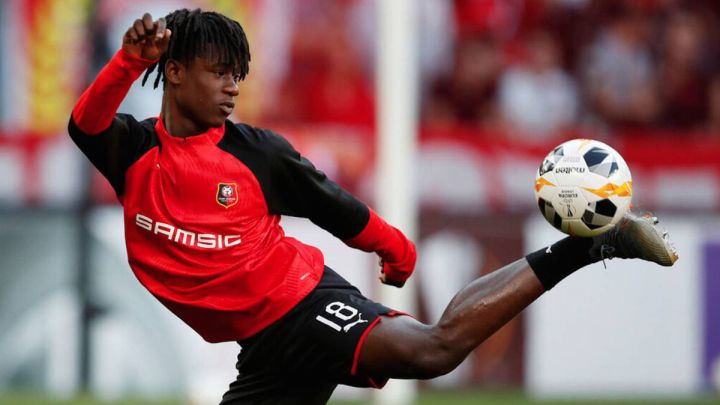 Real Madrid target Eduardo Camavinga will be one of the hottest properties on next summer's transfer market. In his first press conference as a professional, the 18-year-old Rennes midfielder gave no clues on a possible move to the Bernabéu, only admitting that he dreams of playing for Europe's great clubs.
When asked about Real Madrid, who have been heavily linked with the French international, Camavinga responded: "The great clubs make me dream, but I cannot name one in particular for my future."
Camavinga's contract at Rennes expires in 2022 and, although renewal talks have not started, he did not rule out the possibility of penning a new deal at the French club.
"We'll see. We haven't set a date to discuss my future, I'm in no rush about it. There will be negotiations to keep me here. It would be a pleasure for me to continue at Rennes. I still have two years left on my contract and we have enough time to talk about it," he told reporters.
Camavinga, who has not played since 23 October due to a muscle injury picked up against Angers, will hope to make a comeback this weekend against Bordeaux, before Tuesday's crucial Champions League tie against Chelsea.
With only one point from a possible nine in Champions League Group E, the Ligue 1 side face an uphill battle to qualify for the knock-out phase and will need Camavinga at his best if they are to have any chance of competing against Sevilla and Chelsea.

Camavinga's future: decisive months ahead
As of June, Camavinga will have one year left on his contract with Rennes. If the player has not signed a new contract by the summer, his market value could drop considerably and pressure from European giants like Real Madrid could put Rennes in a difficult position.
For this reason, both Camavinga and his agent, who put a halt to renewal talks in August in expectation of a response from Madrid, are confident that Rennes will offer him a new contract in a bid to ensure that those top clubs looking to capture one of the biggest promises in European football will pay a high price.
The coming months are expected to be decisive in determining Camavinga's future. Although, for now, the player is only focused on Rennes, despite the great offers that he could be in line to receive next year.