Nations League: Final Four finalists, host nation, promoted and relegated teams
Italy and Belgium will join France and Spain to contest the Nations League trophy with the Final Four to be played in October 2021 in Italy.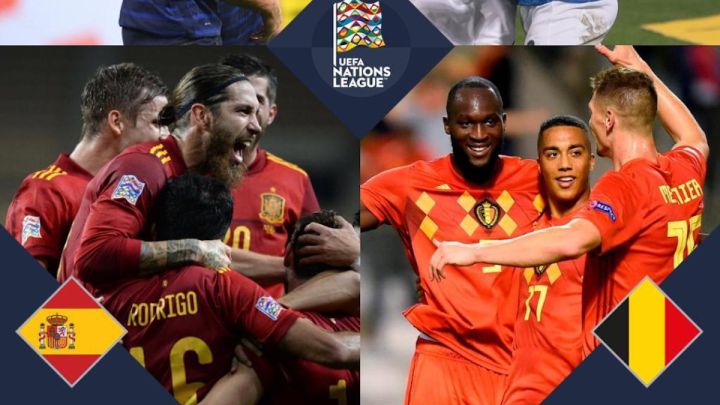 The identities of the four finalists who will contest next year's Nations League are now known after the final groups games were played on Wednesday. Italy will host the Final Four after winning Group 1 in League A. The tournament will be played in Italy from 6 to 10 October next year. Joining Italy will be France, Spain and Belgium - the four teams who will be looking to lift the trophy, which was won for the first time by Portugal in 2019.
The final round of group games also determined which countries will either be promoted to the next league up or drop down a league. In League A, the top division, Bosnia, Sweden and Iceland are relegated. Joining them in League B will be the loser of the game between Switzerland and Ukraine which had been due to take place on Tuesday but was postponed because of Covid-19. Moving up into League A are four promoted teams - Austria, Hungary, Wales and Czech Republic. All four ended top of their respective groups in League B after a dramatic final night of matches.
The nations who go down from League B to League C are: Northern Ireland, Slovakia, Turkey and Bulgaria. And those who are promoted to League B include Armenia (coached by Joaquín Caparrós), Montenegro, Albania and Slovenia.
Facing relegation from League C to League D are Estonia, Cyprus, Kazakhstan and Moldova - the teams who finished last in their respective groups although they will now go into play-offs between them with the two losers dropping down a league. In the bottom division, League D, Gibraltar and the Faroe Islands have been promoted.
2020 Nations League standings:
LEAGUE A
(Finalists: France, Spain, Italy, Belgium)
Portugal
Croatia
Germany
Ukraine or Switzerland
Netherlands
Poland
England
Denmark
Hungary
Wales
Austria
Czech Republic
LEAGUE B
Sweden
Iceland
Bosnia
Switzerland or Ukraine
Norway
Romania
Scotland
Israel
Russia
Serbia
Finlandia
Ireland
Montenegro
Armenia
Slovenia
Albania
LEAGUE C
Northern Ireland
Slovakia
Turkey
Bulgaria
Luxembourg
Azerbaijan
Macedonia
Georgia
Greece
Kosovo
Belarus
Lithuania
Faroe Islands
Gibraltar
LEAGUE C or D
Cyprus
Estonia
Moldova
Kazakhstan
LEAGUE D
Malta
Latvia
Andorra
Liechtenstein
San Marino