Joao Felix aiming for Messi crown as top LaLiga striker
Joao Felix has enjoyed a stunning start to 2020-21, but without Luis Suarez against Barcelona, he faces a whole new test as Atleti face the Catalan giants.
As recently as January, Joao Felix's Atletico Madrid career appeared to be on a rocky road to nowhere – the previously much-vaunted 'Golden Boy', the club's most expensive signing ever, appeared to be at a loss.
Another big game had passed him by in the shape of the Supercopa final against Real Madrid, who emerged victors on penalties after a 0-0 draw – one Los Blancos dominated.
Even greater burden had been placed on him from late 2019, with Diego Costa ruled out long-term due to a neck injury, but Joao Felix simply couldn't meet expectations.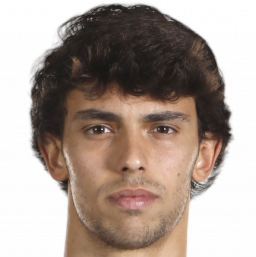 His struggles understandably led to much debate about the cause; was he finding it difficult to settle in? Was he actually the talent everyone thought he was? Or, as most people seemingly thought, was he just not cut out for Cholismo?
Media reports at the time suggested his team-mates believed Joao Felix was having problems settling in Madrid, but once football resumed after the coronavirus-enforced lockdown, encouraging signs were beginning to show.
And now, as Atletico prepare to host Barcelona and Lionel Messi on Saturday, few would consider anyone other than Joao Felix to be LaLiga's outstanding player in 2020-21.
Space? You can get lost in space
Joao Felix's arrival at the Wanda Metropolitano was met by the clamouring of Diego Simeone critics suggesting this was the signing that would finally see the renowned pragmatist cut loose and suddenly become the entertainer many hoped he could be.
It didn't work out that way. In fact, their haul of 51 LaLiga goals was the lowest they'd managed since scoring just 46 in 2006-07 – they somehow became even duller to watch.
This didn't do much to convince those adamant Simeone was to blame for Joao Felix's form – many people called for the young talent to be given a "free role" that allowed him to play without the shackles normally associated with the coach's rigid and disciplined system.
Yet, as average touch location maps show, Joao Felix generally operated largely in a less disciplined role last season than he has in 2020-21 – in 2019-20, he occupied spaces through the middle and on the left flank more than most, yet his time in the four zones within that area between the halfway line and penalty area were split fairly evenly.
This season, however, 22 per cent of his ball touches have been in a withdrawn area on the left flank, and 19 per cent in the next zone up the same wing. His role is demonstrably more structured yet he is proving far more effective as he wanders less, and this is evident almost across the board.
His tally of five LaLiga goals is second only to Mikel Oyarzabal and, at rate of 0.9 goals per 90 minutes, his frequency in that regard has trebled. His rate of 0.4 assists per 90 minutes is four times higher than the 0.1 for last term.
Joao Felix is now averaging 2.2 key passes every game (up from 0.8), while his records for passes, touches, open-play sequence involvement and goal-ending sequence involvement have all increased massively this season.
Suarez makes great players even better
Whether this clear change in role has been engineered by Simeone or Joao Felix himself is difficult to know without one of them claiming as much. Certainly, the Atletico coach has not alluded to such an alteration.
No, Simeone has instead highlighted the impact of signing of Luis Suarez from Sunday's opponents, saying earlier this month: "I believe that all this is generated from the presence of Suarez. With the likes of [Diego] Costa and [Alvaro] Morata before him, they had a lot of other characteristics, but we have been looking for other qualities.
"Luis has needed more people close to him, close to where he can hurt the opposition, and that is the team's goal."
Let's not forget, Suarez has spent years alongside the very best in the business in Lionel Messi, and the pair developed an almost telepathic understanding – as good as the six-time Ballon d'Or winner is, that doesn't happen just because of him.
Suarez is an assassin in attack, boasting off the ball intelligence like few other strikers have in the past 30 years – even if he's not as quick as he once was, the Uruguayan knows what runs to make, and when to make them.
For example, Joao Felix has created four chances for Suarez this season – that's already tied with the highest amount of key passes he played for a single team-mate in 2019-20 (Angel Correa), and one more than he laid on for Morata.
But herein lies a new test for Joao Felix.
Satruday is Atletico's first matchup with either of the 'big two' in LaLiga this term, but they will not be able to look to the finishing abilities of Suarez due to his coronavirus diagnosis.
Therefore, even greater onus will be on Joao Felix to provide the spark in attack for Atletico, potentially both as a creator and a finisher - thankfully for him, his positive xG differential of 2.4 suggests he has that capability.
Whether he inspires Atletico to a win or not, the fact such a possibility is even being considered less than a year on from him appearing utterly at odds with the club is a major triumph for Joao Felix.