PREMIER LEAGUE
Guardiola needs more than money to rebuild Man City
Manchester City resemble the flawed version Pep Guardiola inherited in 2016-17. It is damning for them to have reached this point by design.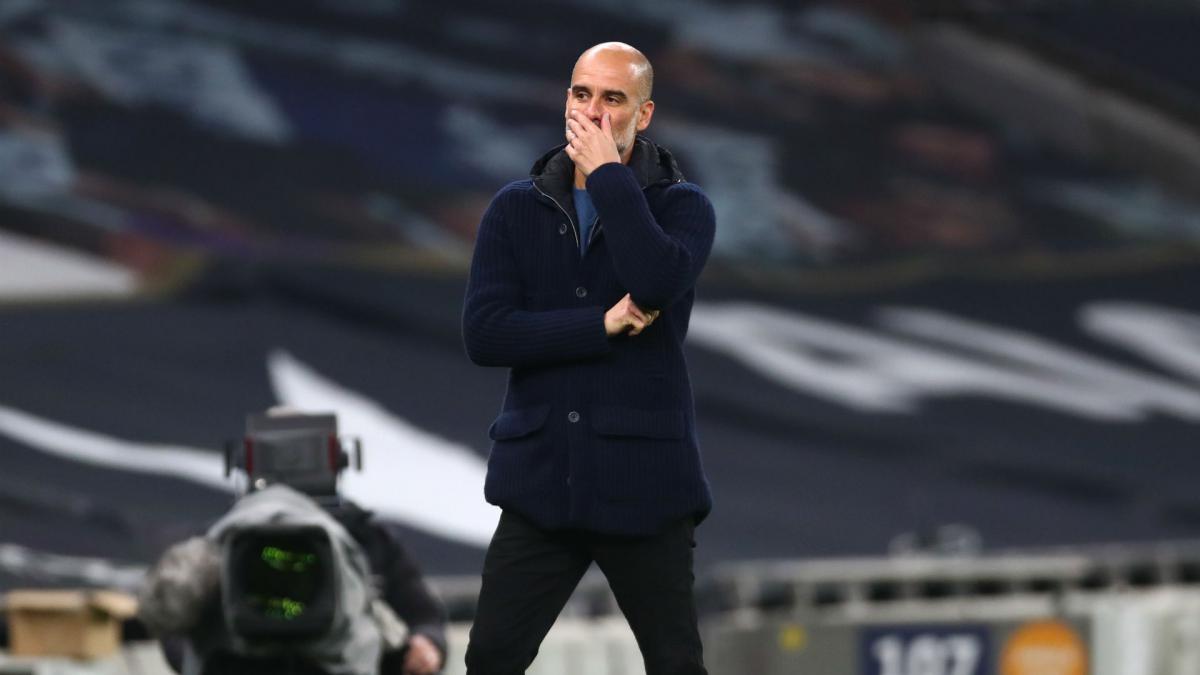 If Jose Mourinho could have scripted the perfect 45 minutes to celebrate his old adversary Pep Guardiola signing a new contract at Manchester City, it would probably have looked something like the following.
Guardiola with work to do at City
Tottenham allow City 11 shots and 69 per cent of the ball, don't concede and score from their only attempt. Oh, and every Spurs player's average position is inside the defensive half. Throw in a VAR disallowed equaliser for further "Mourinho masterclass" bonus points, if you like.
That's exactly what transpired during the first half of a fixture where Guardiola must curse his luck after another 2-0 defeat.
Under the modern interpretation of handball, the bouncing ball brushing Gabriel Jesus' bicep before he laid it back for Aymeric Laporte to lash home left Mike Dean with little choice. The Premier League's most camera-relishing referee could simply bask in the theatre of trotting over to the pitchside monitor.
A VAR intervention denied City an injury-time winner in a 2-2 draw between the sides that they dominated at the Etihad Stadium last season, Laporte and Jesus combining for the latter to have his celebrations curtailed on that occasion.
In 2019-20's corresponding fixture, Guardiola's men enjoyed similar statistical superiority, Ilkay Gundogan missed a penalty and they lost 2-0. This is before we consider the 2019 Champions League quarter-final, another missed penalty, Fernando Llorente, Raheem Sterling, VAR and all that.
However, as Guardiola begins what looks to be a third act of his City tenure, any sympathy should be qualified.
It is not an overstatement to say the way the Catalan sets up his teams, the way they effortlessly hog the ball and paint pretty passing pictures has changed football and how we understand it. A part of that is knowing Manchester City having in excess of 60 per cent possession is not exceptional. It is a given.
The true temperature check of how a team lying 10th and eight points shy of their opponents at the summit is what they do with it. The answer is, increasingly, not a great deal.
The majority of those 11 first-half shots were blocked (six) and three were on target. Although their unblemished Champions League campaign has been more free-scoring, the last time City netted more than once in a Premier League match was September's 5-2 defeat to Leicester City.
Even though Guardiola is typically a man to balk at simplistic suggestions put forward in press conferences - not without reason given his numerous pioneering thoughts on the game - the injuries suffered by Jesus and Sergio Agüero already this season must be considered a big factor in the scoring shortfall.
But as City once again approached the challenge of a packed, deep-lying defence with inverted wingers, it was easy to feel like you'd seen this one before. Mourinho certainly had. He could have written the script, right down to a counter-attacking second midway through the second half for Giovani Lo Celso. The result was in no doubt from that point.
35 - Giovani Lo Celso scored just 35 seconds after coming on as a substitute, the quickest goal by a sub in the Premier League since Bernardo Silva vs Brighton in August 2019 (17 seconds). Instant. pic.twitter.com/qEGDj23n3l

— OptaJoe (@OptaJoe) November 21, 2020
Ferran Torres operated on the margins after his stellar showing for Spain in midweek, Riyad Mahrez customarily underwhelmed and the City press was too easy to play through. The option of Leroy Sane tearing down the outside is sorely missed and Guardiola repeatedly fielding the same answer to that problem looks no closer to yielding results. He is one of football's great thinkers, but here he might consider Albert Einstein's definition of insanity.
Like Mahrez, Rodri and Joao Cancelo are major signings to have arrived for in the region of £60million since City's majestic 100-point title win in 2017-18, back when they scored a lot. Both were culpable on Son Heung-min's opening goal.
Rodri has been cast as a long-term replacement for Fernandinho despite having none of the Brazil veteran's combative streak, while Cancelo has found a home at left-back because Guardiola and director of football Txiki Begiristain have decided against specialist cover for the injury-plagued Benjamin Mendy. Mendy is currently injured.
Within this stew of general competence and obvious flaws, it was easy to conclude Guardiola's extended terms are motivated as much by the present malaise as the future potential of the likes of Torres and the perplexingly benched Phil Foden.
City look a lot like the trophy-less 2016-17 team Guardiola inherited. Talented, a handful for anyone but fatally vulnerable. Then as now, scraping a top-four place looks like the most sensible ambition.
The key, damning difference is he and Begiristain built every beam of this squad. Admitting he needs time to unpick the errors of the past 18 months might be the first step on what looks like a long road back to the summit of English football.