Lewandowski and Haaland duel for Bundesliga top goalscorer
Erling Haaland celebrated winning the Golden Boy award with a stunning four-goal haul in Borussia Dortmund's 5-2 win over Hertha Berlin.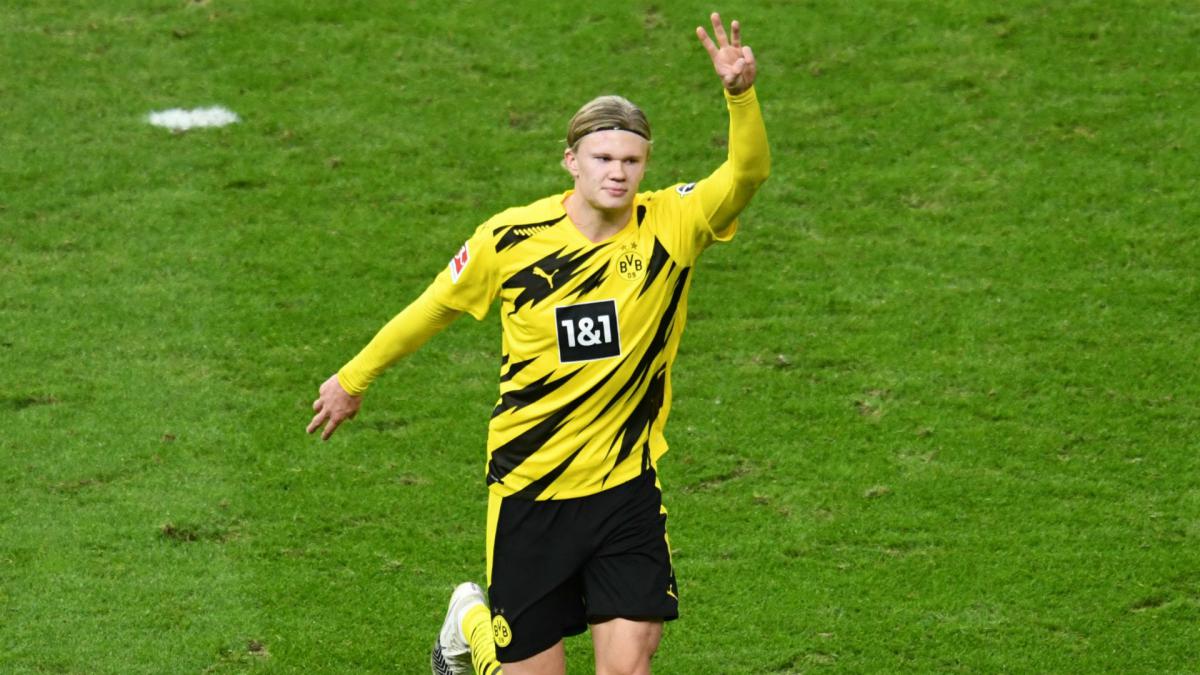 Borussia Dortmund sensation Erling Haaland enjoyed another unforgettable day in his young career on Saturday as he aims to take the Bundesliga top scorer title from Bayern Munich's prolific Poland international Robert Lewandowski.
The 20-year-old Norway striker was this week named as the winner of the prestigious Golden Boy award, which recognises Europe's outstanding player under the age of 21.
Just in case there were any doubting Haaland's suitability for the gong, he set about dismantling Hertha Berlin, scoring four times as a rampant Dortmund won 5-2 and closed to within a point of European champions Bayern Munich at the top of the Bundesliga.
Such exploits underline that Haaland is as much a player for the now as he is for the future and an Opta dive into the top marksman in Germany's top flight this season finds him rubbing shoulders with the best in the business.
Lewandowski looking over shoulder
Before his phenomenal goalscoring exploits fuelled Bayern's recent dominance at home and abroad, Robert Lewandowski was the toast of Signal Iduna Park as he led the Dortmund line with aplomb under Jürgen Klopp.
Haaland has the BVB faithful dreaming of a return to those glory days of back-to-back title triumphs they enjoyed in 2010-11 and 2011-12. If a return to the winners' enclosure is to become a reality it means one thing: matching Bayern.
Haaland is fulfilling his side of the bargain. A second scoreless outing of the season in the Bundesliga this term for Lewandowski in Bayern's 1-1 draw at home to Werder Bremen means his lead over the youngster at the top of the scoring charts was scythed to one, with 11 to Haaland's 10.
The Dortmund man has shown greater efficiency in front of goal. A total of 23 shots means a conversion rate of 43.5 per cent (excluding blocked attempts), while eight goals from 11 big chances amounts to a success of 72.7 per cent.
Lewandowski's conversion rate of 40.7 per cent is slightly down on Haaland (11 goals from 27 attempts, again excluding blocks), although he has missed six and scored seven of his big chances (53.8 per cent). Among players to have scored four or more Bundesliga goals this term, only Wolfsburg's Wout Weghorst has missed more big chances (eight).
Der Klassiker shootout
Each of Haaland's four attempts on target found the net against Hertha Berlin, with a further two blocked. In a frustrating outing against Bremen, Lewandowski failed to find the target with his two shots.
However, on the big occasion earlier this month, the 32-year-old gave the pretender to his throne a demonstration of his clinical efficiency.
Both men scored as Bayern held out for a gripping 3-2 win in Der Klassiker. Yet, Lewandowski required one fewer shot, had two goals disallowed for offside and also weighed in with an assist.
Fine margins could again be at play when the sides reconvene in Bavaria in a game slated for March 6.
In terms of goals per minute, Lewandowski remains the Bundesliga's best, striking once every 49.7 minutes this term. Haaland's one per 56.1 minutes comes in third behind Andrej Kramaric, whose seven for Hoffenheim have come along every 51.3 minutes.
No player has had more than the Poland superstar's 17 shots on target, while Andre Silva and Matheus Cunha (15) have each brought the goalkeeper into play once more than Haaland.
Still, there can be no doubt as to Haaland's skywards trajectory. As fans and elite clubs across Europe watch on with interest, the question over the rest of the season is simply quite how high he can soar.