Second stimulus check: will there be a new payment in December?
A recent study found that one in three Americans was struggling to cover basic costs - so will they be boosted by a second stimulus check before 2021?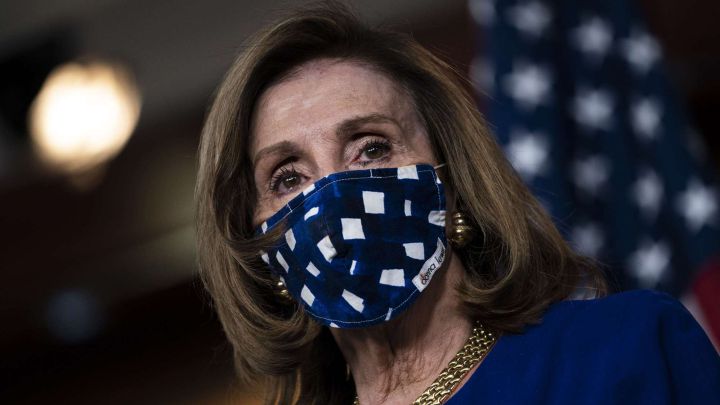 US President-elect Joe Biden says a bipartisan coronavirus relief package needs to be pushed through immediately, and that it should be in the mold of the HEROES Act, a $3.4tn aid proposal passed by Democrats in the House in May, but subsequently blocked by the Republican-controlled Senate.
"Right now, Congress should come together and pass a COVID relief package like the HEROES Act that the House passed six months ago," Biden tweeted last Monday. "Once we shut down the virus and deliver economic relief to workers and businesses, then we can build back better than ever before."
Like the CARES Act, a $2.2tn covid-19 aid package passed in March, the HEROES Act included provision for stimulus checks of up to $1,200 to be distributed to eligible Americans, to help them cope with the economic impact of a coronavirus pandemic that led to a sharp rise in unemployment in the US.
Right now, Congress should come together and pass a COVID relief package like the HEROES Act that the House passed six months ago. Once we shut down the virus and deliver economic relief to workers and businesses, then we can build back better than ever before.

— Joe Biden (@JoeBiden) November 16, 2020
Research shows many Americans need further stimulus money
According to research by Columbia University's Center on Poverty and Social Policy, CARES Act measures such as stimulus checks helped to curb poverty in the US by around 4%. However, millions of Americans are now desperate for further relief: indeed, a Center on Budget and Policy Priorities study found that one in three adults in the US had difficulty paying for food and rent in September.
So how likely are we to see Congress approve a multi-trillion-dollar stimulus bill and, with it, potentially a second stimulus check, in the coming weeks?
Negotiations between the Democrats and the Republicans over a fifth piece of covid-19 relief legislation have been at an impasse for several months. Although Democratic negotiator Nancy Pelosi and US Treasury Secretary Steve Mnuchin seem to have been in agreement on the need for another round of stimulus checks of up to $1,200, they have struggled to come together on many other aspects of an aid package, most notably its overall size and scope.
While Pelosi (D-Calif.) dropped the spend proposed in the HEROES Act to $2.2tn, Mnuchin raised the White House's offer from the $1tn in the HEALS Act - a bill proposed by Republican senators in July - only as far as $1.9tn.
After meeting with Kamala Harris, House Speaker Pelosi and Senate Minority Leader Chuck Schumer (D-NY), Biden doubled down on his urgent call for major stimulus on Friday. "President-elect Biden, Vice President-elect Harris, Speaker Pelosi, and Leader Schumer discussed the surges in COVID-19 infection rates and the corresponding economic strain that communities, working families, and small businesses are experiencing across the country," the quartet said in a joint statement.
"They agreed that Congress needed to pass a bipartisan emergency aid package in the lame duck session, and that package should include resources to fight the COVID-19 pandemic, relief for working families and small businesses, support for state and local governments trying to keep frontline workers on the payroll, expanded Unemployment Insurance, and affordable health care for millions of families."
However, recent remarks made by significant players on the Republican side of the process don't offer great cause for optimism over the prospects of a swift deal on a major bill.
McConnell, Mnuchin seek "targeted" stimulus bill
Current President Donald Trump took to Twitter earlier this month to call for a "big and focused" relief package, but Senate Majority Leader Mitch McConnell - who now looks to be taking the stimulus lead on the Republican side - only appears interested in fulfilling the second half of that description.
He has said he wants a bill to be passed before the end of 2020, but is targeting something similar in size to the two 'skinny', $500bn packages unsuccessfully tabled by Republicans in the Senate in the autumn.
"I don't think the current situation demands a multi-trillion-dollar package," McConnell said two weeks ago. "So I think it should be highly targeted, very similar to what I put on the floor both in October and September."
And despite previously offering Pelosi a spend of just under $2tn, Mnuchin was making similar noises to McConnell on Friday, saying he and the Senate majority leader are keen "to get a targeted bill done". Such a bill "isn't anything that we should even be looking at", says Pelosi, meanwhile.
Neither of the $500bn bills put forward by GOP senators included a second stimulus check, it should noted.
GOP stimulus reluctance heightened by vaccine news
Given the positive knock-on effect that the roll-out of a coronavirus vaccine would have on the economy, Republicans' belief that a major package is not needed will only be strengthened by the news that US firms Pfizer and Moderna have achieved an efficacy rate of over 90% in trials on their candidate drugs.
The first vaccinations could take place as early as the second week of December, Moncef Slaoui, a leader in the government's drive to produce a vaccine, told CNN's State of the Union on Sunday.
Wall Street analysts not expecting stimulus package in 2020
All in all, then, the prospects of a second stimulus check being approved as part of a bipartisan relief bill before the end of December don't look terribly great - not least given the fact that both houses of Congress are now on a week-long recess for Thanksgiving and will adjourn again for the last 10 days of 2020.
Wall Street analysts quoted by CBS agree that Americans should not expect a stimulus bill before 2021, with Deutsche Bank saying it views a "fiscal package legislated by [the first quarter of 2021] as reasonable".
Stimulus check as part of federal funding bill?
That said, there has also been talk that some coronavirus economic-relief measures could be included in a general federal funding bill that needs to pass Congress by 11 December to avoid a government shutdown.
First CARES Act stimulus checks took almost three weeks to arrive
But even if a stimulus check were to be approved by December, it's worth remembering that the cash would not necessarily land in people's bank accounts before the end of the year.
It was not until nearly three weeks after President Trump signed the CARES Act into law that direct-deposit payments began arriving during the first round of checks; what's more, those who received their money by post faced a longer wait of up to several weeks.

Assuming a similar timeline second time around, Trump would have to sign a relief bill by no later than mid-December for the first checks to drop in 2020. (You'll find a useful timeline of potential dates here).
Live coverage: US election and covid-19 crisis
You can follow live coverage of the covid-19 pandemic and the aftermath of the US election - as President Trump refuses to concede defeat - with our dedicated rolling feed.