QATAR 2022
Facts about Al-Bayt stadium, the inaugural venue at Qatar 2022
The venue which will host the first game of the World Cup on 21 November 2022 has a set of features and characteristics which make it unique.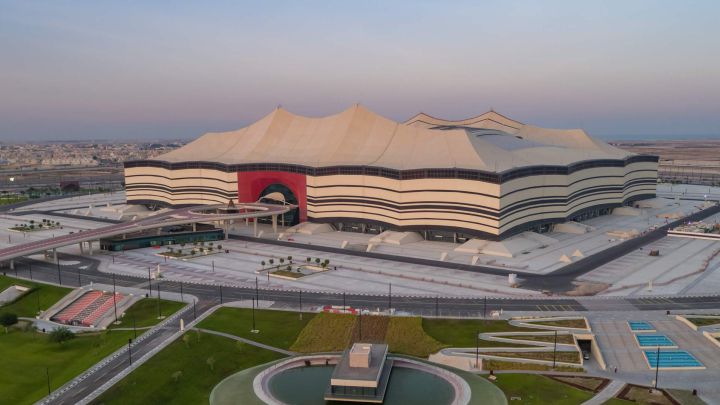 With less than two years to go before the start of the first World Cup to be played in the Middle East, Qatar the country that will host the 2022 finals, has assigned the venue which will hold the inaugural game of the event.Al Bayt stadium, one of the eight venues to stage matches at the World Cup, is close to being completed. So far, three Qatar 2022 stadiums have been inaugurated: Education City, Al Janoub and Al Khalifa International. Below, are some interesting facts and details about Al Bayt stadium.
Al-Bayt stadium has a capacity of 60,000 but that will be reduced to 32,000 after the finals when 32,000 seats will be donated to other countries. The stadium is due to be completed by the end of this year, which means that half of the World Cup venues will be completed and inaugurated well i advance.
Al-Bayt stadium desig
n
Al-Bayt will stage matches from the group stage right up until the semi-finals, when it will host two of the Last 4 matches. The design of Al-Bayt stadium was inspired by the traditional Arabian gazebos in which the people of Qatar in the Gulf region used to live in years gone by. It is a design which reflects both the past and present of Qatar.
Those responsible for the construction project of Al-Bayt explain that the ground will be taken over by Qatari club Al-Khor once the upper part of the stadium and seating is dismantled and removed after Qatar 2022; the surplus material will be recycled by being used in building other sports facilities in Qatar and other countries.
The upper part of the stadium will be put to use in various different structures after the World Cup finals - it will be used as part of the Saki Box section in one of the city's five-star hotels. After Qatar 2022, another section of Al-Bayt will house an office to be used by Aspetar, the specialist sports medicine and orthopaedic clinic.
In the area surrounding the stadium are green zones and parks, running tracks, bicycle lanes, play areas for children, restaurants and cafes. Al-Bayt is classified as a Grade A stadium according to the GSAS Global Sustainability Assessment System.