Trippier looking solid and settled at Atlético Madrid
The English full-back has been through a rough time but has come through it and is back at his best. He has played all of the possible minutes for Atleti this season.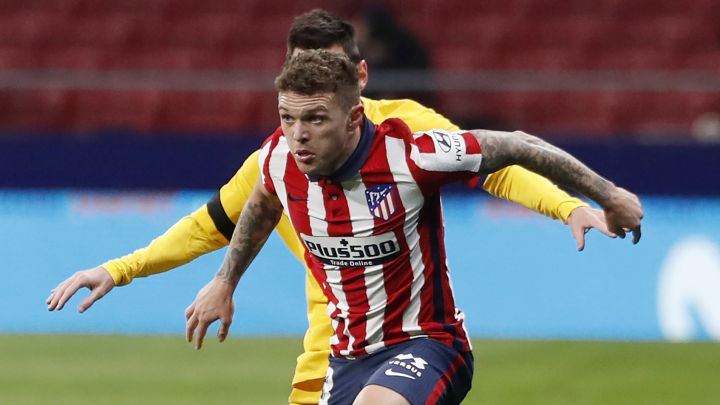 Kieran Trippier has rediscovered his form of old. With Vrsaljko out injured, the England international is the only available player for the right-back position in the first team squad, but the form he has been showing has left no one in any doubt that he is the right man for the job. He has played all of the possible minutes of playing time but suffered in defence in some of the earlier games - against Bayern and Betis, when he came up against wingers who were a bit of a handful which meant his forays into attack produced less danger than they usually do.
Trippier, Atleti's wi
n

g ma

n

Part of Trippier's change in fortunes have bee down to Simeone reorganization of the defence, with Hermoso out on the left which has allowed the coach to play three centre-backs alongside Savic and Giménez. That frees Trippier and also provides him with cover when he moves upfield. With Savic behind him, he has security to focus on opening up the right flank where he has forged an excellent understanding with Diego Llorente. The number 14 makes full use of his pace to get in behind rival left-backs and Trippier picks him out time and time again with his precision passing which gives Atleti a array of additional options down that side of the pitch right up to the by-line.
So Trippier is now in a more advanced role - similar to the position he occupies with England. It is where he can fully utilise his good touch and crossing to enter more in the team's attacking play. He is also a expert from dead-ball moves. Against Barcelona, he was the second Atlético player to dish out the most passes (49), equal with Savic and only bettered by Koke's 67. On top of that, he recovered five balls and won 66.7% of his one-on-one battles with opponents.
Despite being up against Jordi Alba and Messi, Trippier didn't suffer at all in his defensive duties. Whenever Koeman's team attacked down that flank, they were met by a wall - with Trippier, Savic or Llorente blocking the way. Today, the ex-Spurs defender is an undisputed first-choice for Simeone. Alongside Jan Oblak, he is the only Atleti player to have played the full 990 minutes of the season so far. Solid at the back and decisive going forward, Trippier is back in business, looking comfortable and playing a key role for the team.