ATLÉTICO 0-0 LOKOMOTIV | SIMEONE
Simeone: "It's not about the players who are missing, we have to get the best out of those who can play"
Atlético's coach looked back on the goalless draw against Lokomotiv. "We lacked sharpness when we close to their area even though we tried".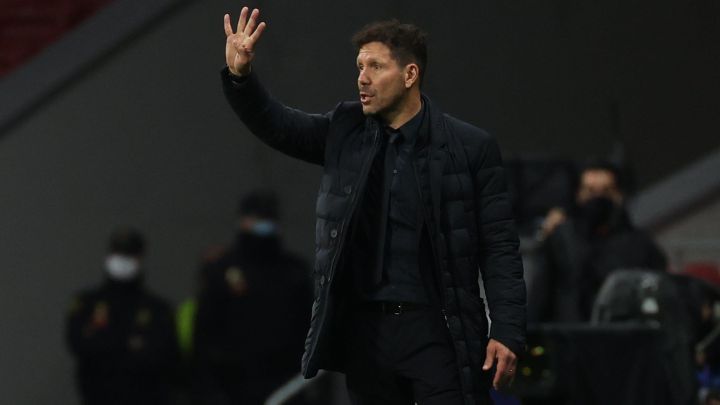 kDiego Pablo Simeone gave his thoughts on Atlético's 0-0 draw with Lokomotiv, a result which could complicate the team's chances of making the next round. Atleti remain second in Group A - just two points ahead of third-placed Lokomotiv. He also sent his condolences to the family and friends of Maradona.
How did you feel when you heard the news about Maradona?
It's difficult. When someone calls you on the phone and tells you that Diego has died, you think: 'Diego can't die...' A legend has left us, an Argentinean who transmitted all of his rebellious nature to fight with all of his positive and negative sides, but always going forward, looking for it to rub off on the rest of us younger ones - he was 10 years older than me but where we got our hope, our passion for playing football was just by looking at him. It was unbelievable how he took me under his wing at Sevilla; I was only young and he represented everything about the deep feeling for what it means to play for Argentina. So when you get a phone call and hear that news, it is unreal, you think 'it cannot be true, he can always come though'. But this time he couldn't. But he will always be with us, especially for Argentineans, he is a legend and the news makes us feel incredibly sad and empty - it's a strange feeling. I send a big hug to his family, I can't express how sorry I am.
Were Atleti too anxious tonight?
We worry about the Champions League, obviously it's a competition that interests us, we like it and we know that we have started with difficulties. In both of the last two games we created enough chances to win the game. We were a little bit shaper over there, today we lacked that sharpness even though we did what we could. In the first 20 minutes we had chances to go in front. Their goalkeeper did a great job and after that we were always up against the clock - our rivals closed down and we struggled to generate clear chances. A goal came, unfortunately it was offside. We're at home to Bayern next and that's a opportunity to put ourselves in a position to make the next round but we are going to have to work very hard for it.
Is part of the problem not having a regular striker?
We had chances on goal, Ángel and João Félix had a good game. We didn't have finishers and we cannot complain about something we don't have, we have to make the most of what we do have. It was the same against Osasuna but we managed to score goals. We shouldn't be looking at the players who are missing but getting the best out the players who are available to play.