Real Madrid: Erling Haaland 2022
Michael Zorc, Dortmund Sporting director: "I see him staying here for a long time". Real Madrid fans voted in an AS survey, choosing Haaland (64%) over Mbappé (36%).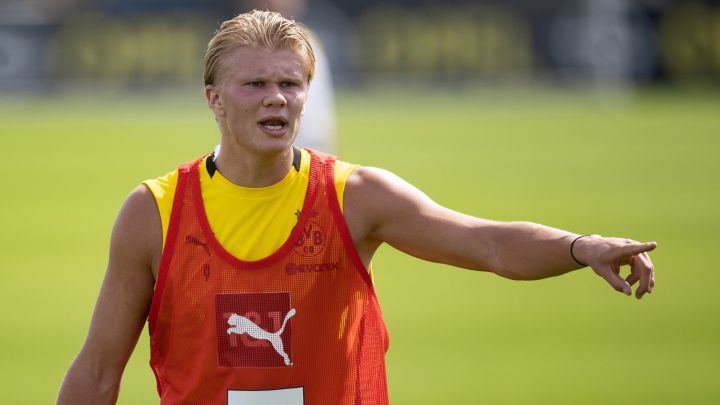 "I see him staying here for a long time". Borussia Dortmund's Sporting director, Michael Zorc, was asked on the eve of the club's match against Cologne on Saturday about the future of striker Erling Haaland. "We plan long-term with him. We don't even take all the rumours into account," Zorc said.
The Norwegian goalscoring machine has been on the crest of the wave since he broke down the door of Europe's elite with goals. In Dortmund, they were ahead of the rest, including Real Madrid, who ended up paying €60 million for Luka Jovic. However, his perennial state of scoring euphoria has kept him in Madrid's mind. The club's top priority is the purchase of Kylian Mbappé in 2021, and possibly Eduardo Camavinga, but by 2022 they plan to go for the young Norwegian. Real Madrid fans, in an AS poll, showed their preference for signing Haaland, with the 20-year-old receiving 64% of the votes to Mbappé's 36%.
At Signal Iduna Park, they are reluctant to think about the future without Haaland. He is their star, ahead of England international Jadon Sancho. Transfermarkt has both players valued at €100 million. Haaland was valued at €30 million just a year ago, in November 2019.
"He is leading the way, that is very good for us. I do not believe in artificially reducing his positive development," said Zorc, who congratulated him on his performances and avoided the topic of a future exit. The key date against which Dortmund must fight is the summer of 2022 because, as AS has already said, when closing the signing in January 2019, a verbal agreement was included between Mino Raiola, the player's agent, and the board at Dortmund, for which the striker will then be able to leave for €75 million, a figure that now seems low given his recent form and rapid development.
Madrid can expect plenty of competition for the Norway international's signature. Juventus see Haaland as the ideal replacement for Cristiano Ronaldo, just like Bayern see him as Robert Lewandowski's replacement.
Champions League record at 20
Haaland is still oblivious to all the rumours. He was recently named Golden Boy 2020 and, to celebrate, he scored four goals against Hertha Berlin on the same day. During the week, Club Brugge were his victim and he broke a new record as the fastest player to reach 16 goals in the Champions League. 16 goals in just 12 games, beating the previous record held by Ruud Van Nistelrooy with 19. This season, he has 17 goals in 13 games and 10 in the Bundesliga, where he is only one behind Lewandowski, his rival for the Golden Boot. With the German club, he has a total of 33 goals in 31 games.