Rodrygo's secret, the youngster that lives for Real Madrid
As a boy he always watched Madrid in the Champions League and celebrated Ramos' 2014 final goal. His early Champions League record beats Cristiano and Messi at the same age.
On Wednesday night, in the 59th minute in Milan, just 34 seconds after replacing Mariano, Rodrygo Goes doubled Real Madrid's advantage. It was the Brazilian's first touch on the pitch, another example of fine in-game management from Zinedine Zidane. The tricky forward, who on November 3, assisted by his friend Vinicius, had given Real Madrid all three points at Valdebebas, came up trumps again, this time in Milan.
Speaking after the European tie, Rodrygo admitted he is fond of Europe's biggest competition. "I have a certain affection for this competition. I always score goals or provide assists in it... I hope I can continue playing like this." The former Santos wideman had a point; in the Champions League he now has six goals and three assists in nine games, four as a substitute, with an impressive goal average of one every 48.89 minutes.
The Champions League top five, in their first nine games
| | | | | |
| --- | --- | --- | --- | --- |
|  Player (team) | Minutes | Goals | Assists | Goals per minute average |
| Cristiano (United) | 550 | 0 | 3 | 182,33 |
| Messi (Barça) | 537 | 2 | 2 | 134,25 |
| Raúl (Madrid) | 810 | 7 | 2 | 90 |
| Lewandowski (Dortmund) | 792 | 3 | 2 | 158,4 |
| Benzema (Lyon) | 612 | 6 | 1 | 87,42 |
| Rodrygo (Madrid) | 440 | 6 | 3 | 48,89 |
None of Cristiano Ronaldo, Messi, Raúl, Lewandowski or Benzema have come close to the start Rodrygo has on the European front. He is also the youngest player to score the perfect hat-trick (goal with right foot, left foot and header) in the competition. The 19-year-old took to social media after Madrid's midweek win. "I love you, Real Madrid! I love you, Champions League!", accompanied by a photo of his celebration.
Sergio Ramos' 2014 final goal
Those who know Rodrygo say that as a child he always watched Madrid, with special interest in the Champions League. One of his greatest memories came at the age of 13, Sergio Ramos' goal against Atlético Madrid in the 93rd minute to help Madrid clinch their tenth Champions League trophy. A young Rodrygo Goes celebrated by screaming, jumping and kicking everything in his path.
At that young age, advised by his father, Eric, his agent, Nick Arcuri, and his personal trainer, Marcel Duarte, he was already working on his finishing, trying to perfect shooting off both left and right foot, and his heading. He is a huge admirer of Ronaldo and Cristiano Ronaldo and would watch videos of the two Madrid greats as well as take the advice of the veterans of each team in which he played.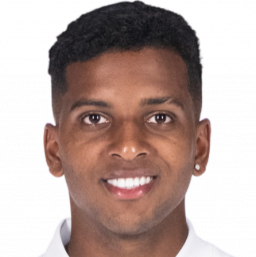 At Valdebebas, he relies a lot on Zidane, with whom he also has a special connnection. Ramos, Modric and Benzema have been particularly important at a crucial stage of his development at Los Blancos. Compatriots Marcelo, Casemiro and even Roberto Carlos, currently a member of staff at Madrid have offered their advice along the way too. Like plenty of successful players, he reviews his matches, taking note of any errors in his play.
This season, the second of his short career at the Santiago Bernabéu, is very important for the youngster, not only at club level, but with Brazil too. Next summer's calendar features two exciting events, the Copa America and the Tokyo Games. The madridista currently plays with both Tite's national team squad and and with the Brazil Under-23s.