Chivas came, saw and conquered the 'Clásico Nacional' to advance to semi-finals
With two outstanding goals from 'Chicote' Calderón, Chivas defeated América 2-1 in the second leg of the quarter-finals at the Azteca stadium on Saturday night.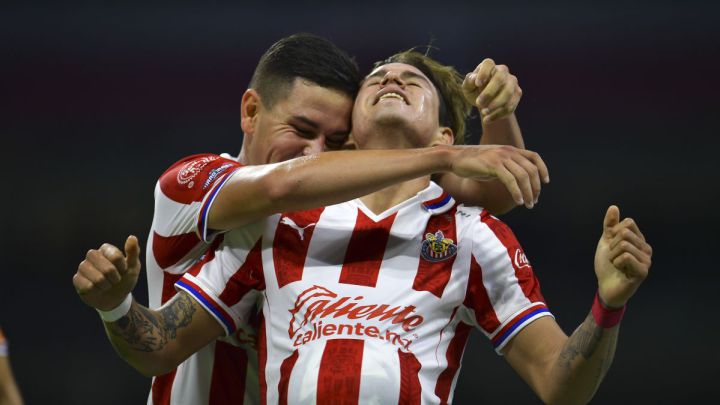 In the first leg of the quarter-finals at the Akron stadium, Chivas defeated América with a fantastic goal from 'Chicote' Calderón in mid-week. On Saturday the team from Guadalajara arrived with the confidence of having scored at home and they needed to complete the task in 90 minutes at the Azteca stadium for the second leg.
More injuries for Chivas
It was known that 'JJ' Macías and Alexis Vegas were not available for the quarter-finals due to an injury. Prior to facing América on Saturday it was confirmed that the striker Ángel Zaldivar picked up an injury on Friday and was not going to be available for the second leg against América. So Chivas head coach Victor Manuel Vucetich opted to put the veteran striker Oribe Peralta in the starting XI.
The game began with Chivas trying to impose their style from the first minute. A header from Jesús Molina almost found the back of the net in the sixth minute and América answered with a shot from outside the box from Giovani dos Santos, but the defense was able to block it.
Calderón the hero
Then the game got 'choppy' due to fouls and handballs and neither team was able to complete their offensive plays. It was not until the 31st minute that 'Chicote' Calderón shot a cannon with his left foot from way outside the box to beat Guillermo Ochoa and give Chivas the lead.
The first 45 minutes ended and América was feeling the pressure because they returned to their locker room knowing that they had to score at least three goals to eliminate Chivas. In the 52nd minute of the second half Henry Martín appeared inside the box to strike the ball, but Sepulveda blocked the shot on the line to prevent América from equalizing.
In the 71st minute Uriel Antuna led Chivas' counter attack and before entering the box he passed the ball to 'Chicote' Calderón who was feeling confident and shot powerfully with his left foot and for the second time in the game he scored an outstanding goal to give Chivas the lead 2-0.
América would answer back in the 75th minute when Martín scored the first goal in the entire series for the home team, but it was just too late. After 90 minutes Chivas beat América 2-1 at the Azteca stadium to advance to the semi-finals of the 2020 Guardianes tournament.