Real Madrid: Pochettino and Raúl - the pros and cons of the candidates to replace Zidane
The club has faith in Zidane, but if he is unable to get the team back on track, two candidates are in line to take the reins: the Castilla coach and ex-Spurs boss.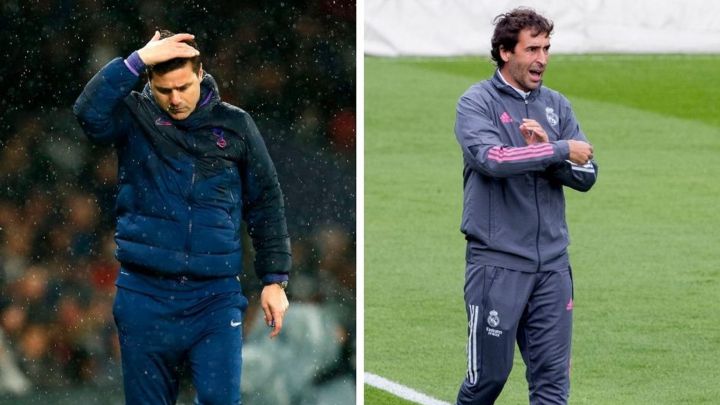 For Real Madrid, Zidane's position is not in question and directors are sure that he is capable of turning the situation around. But obviously, the club knows that they will need a contingency plan in place if results from the next few games provoke a crisis. It will be the coach who will step aside if he feels he is unable to put the team back in track. There are just two names on the table if such a scenario occurs - Mauricio Pochettino and Raúl González. Both coaches have pros and cons.
Experience
An area where Pochettino has a clear advantage. The Argentinean has accumulated vast experience of coaching at the top level - as he demonstrated at Tottenham, guiding the team to the Champions League final. In London, he found himself in a similar situation to the one which Madrid are currently in. He was unable to sign players for a while due to the club's financial restraints while the new stadium was being built. It forced him to adapt his own ideas about managing his squad which he did to great success. The problem he would have in Madrid is that here, he would be given less time to do that but he is a coach who is very clear about his ideas and understanding of the game.
Knowledge of the club and how it works
This favours Raúl. Joining with the season already in full flow and taking on a project which isn't his own would leave Pochettino little time to instil his ideas. The ideal situation for the Argentinean would be take over a squad at a moment when he is able to tweak it and adapt it to his style of play. On top of that, he would find himself trying to win over and convince a group of players who are 100% behind Zidane and who could view him with suspicion at a time when he would have little margin to make changes due to the current economic climate.
Raúl's appointment however, would be seen as some kind of logical progression. He already knows and has a good relationship with most of the squad, Madrid is his home, and the players would see him as a solution to take what has turned out to be a difficult season forward. Also, the eternal captain knows the pressure and drama of critical situations like this one because he went through several of them during his time as a player at Real Madrid. He will know to perfection just how the players will be feeling while this crisis drags on and the right way to approach it, tactfully, to get the team heading back in the right direction.
Similarities with Zidane
Zidane also took charge of Madrid's first team halfway through the season, managing to turn things around so skillfully that the team ended winning the Champions League and battling for the league right up until the final day. He had a season and a half coaching Castilla, just like Raúl has now. And both were club legends as players. In other words, it would be a repeat of the formula which brought success with Zidane in 2016.
Personality
Raúl's popularity at the club could work for him but just as easily, his charisma could work against him. If the situation reaches a point where Zidane has to leave, it would be with the understanding that the coach isn't the only problem. Many players might feel that they suddenly have a black mark against them and that the new coach either won't play them or be planning to move them on. In that area, Pochettino would find it easier to drop some of the older, more experienced players whose best days are now behind them. If the current project isn't working then it will become clear that the squad needs to be rebuilt. A coach with a lot of experience and personality, like Pochettino, would find it easier to make tough decisions with players who have won everything there is to win with Real Madrid. Up until now, Zidane has always stood up for some of the players who have been in the firing line. If Zizou goes, those players would lose that support and find themselves at the mercy of whatever decisions the new coach makes.
New style
It's obvious that the modern game has changed. The references in world football are now Liverpool and Bayern Munich. Both teams have a high-energy, physical style, high press football played at breakneck pace. It's a style which many Premier League clubs have tried to emulate, and which Pochettino knows inside out. That would favour the Argentinean, because Madrid will need to be at that level to recover their place in European football. If Mauricio arrives, he would be given full freedom to change training models, adapt them to how teams train in England to get the kind of results English teams have been getting during the past few years.