Real Madrid: How Florentino Pérez's mid-season sackings have worked out
With pressure growing on Real Madrid head coach Zinedine Zidane, we look back at the mid-season changes of coach made by Florentino Pérez in his time as Bernabéu president.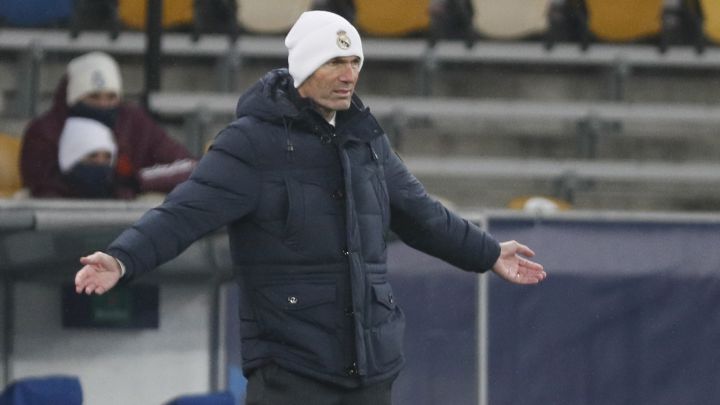 Real Madrid president Florentino Pérez is no stranger to sacking a coach mid-season - and with the exception of the dismissal of Rafa Benítez, it hasn't worked out well for him. While Zinedine Zidane's arrival in place of Benítez in January 2016 was followed by Madrid's 11th European Cup win, the three other campaigns in which Pérez has overseen a change of coach midway through have ended in failure.

José Antonio Camacho and Mariano García Remón (2004/05)
José Antonio Camacho actually resigned, but he was already in danger of the sack after a disastrous 3-0 defeat to Bayer Leverkusen in the Champions League, in which the former Spain boss substituted both Luis Figo and Ronaldo with half an hour still to play - a move that was seen by the club's hierarchy as a provocation. After losing away to Espanyol four days later, Camacho walked away.
He was replaced by another popular former Madrid player, Mariano García Remón, but he only lasted until the Christmas break before being fired, having fallen out with Pérez over his decision to leave David Beckham and Roberto Carlos on the bench for a match at Racing Santander. Madrid actually won the game 3-2, but García Ramón was given his marching orders nonetheless, and in came Vanderlei Luxemburgo as the club's third coach of the season.
Luxemburgo did draw a reaction from the team, but it was not enough to avoid Barcelona finishing four points ahead of Real Madrid to win their first LaLiga title for six years. Los Merengues also failed to make headway in the Champions League under the Brazilian, falling to Juventus at the last-16 stage.
Vanderlei Luxemburgo (2005/06)
The following season, Luxemburgo's stock plummeted as his famous 'magic square' formation failed to deliver results. With the death knell sounding on the era of the 'galácticos' - it would be Figo's last campaign at the Bernabéu - a string of reverses saw Madrid lose ground in the race for the league championship, the most notable of which was a 3-0 home defeat to Barcelona in which Ronaldinho was applauded by the Madrid fans. Pérez decided to dispense with Luxemburgo's services and, having caught the eye as coach of Castilla, Madrid's 'B' team, Juan Ramón López Caro was given the senior job, while Benito Floro replaced Arrigo Sacchi as sporting director.
However, the López Caro-Floro duo didn't work, and in the wake of a damaging defeat to Real Mallorca, the president himself chose to step down, admitting that he had perhaps overly indulged his players. For López Caro, meanwhile, the writing was on the wall after Madrid's Champions League elimination at the hands of a Thierry Henry-inspired Arsenal. Los Blancos finished second, a full 12 points behind champions Barça; Lopéz Caro was fired; and presidential elections were called. Ramón Calderón was chosen as Pérez's full-time successor as club chief, opting to bring Fabio Capello back to the Bernabéu for a second spell as coach.
Rafa Benítez (2015/16)
Benítez's sacking during the 2015/16 campaign represents by far Pérez's most successful mid-season change in the dugout. After seeing Real Madrid labour to an uninspiring draw with Valencia shortly after the turn of the year, the president again took advantage of the winter break to wield the axe on his coach, dismissing Benítez and promoting Zidane from the Castilla job.
The Frenchman's charisma, allied with his illustrious playing CV, saw both the dressing room and the fans receive him with open arms - and five months later, 'Zizou' steered Madrid to Champions League final victory over city rivals Atlético Madrid, Los Merengues claiming the trophy on penalties after a 1-1 draw in Milan. It proved the first of three consecutive Champions League wins under Zidane; no other coach has achieved that feat.
Julen Lopetegui and Santiago Solari (2018/19)
Madrid's appointment of then-Spain head coach Julen Lopetegui in summer 2018 sparked a furious response from Spanish Football Federation president Luis Rubiales, who promptly sacked Lopetegui four days before La Roja's World Cup campaign was due to begin in Russia. It was an inauspicious start to the former goalkeeper's tenure at Madrid - and he would go on to last just four months in his dream job.
Despite some encouraging early results, including an impressive 3-0 win over Roma in the Champions League, a 5-1 Clásico thrashing by Barça at the end of October spelled the end for Lopetegui. Pérez then struggled to come up with a suitable replacement (the players blocked the mooted arrival of Antonio Conte), before finally turning to Santiago Solari, who was in charge of Castilla at the time.
And although the Argentine made brave decisions that time has borne out - chiefly, dropping Isco and Marcelo - a catastrophic week in which Madrid's hopes were snuffed out in each of LaLiga, the Copa del Rey and the Champions League, cost him his job. In March 2019, Pérez called Zidane, who owed him one after walking out by surprise in the wake of Madrid's Champions League final win in Kyiv. The returning coach oversaw an utterly disastrous final few months of the season, however - although that didn't prevent him from staying on in the post, in which he remains.
Pressure on Zidane, but Madrid keeping the faith
Despite Real Madrid's poor recent run of results (the 13-time European champions' 2-0 defeat to Shakhtar Donetsk on Tuesday was their third loss in five games), the club still have faith in Zidane's ability to turn the situation around - but pressure on the boss is growing, with Mauricio Pochettino and Raúl González Blanco the chief candidates should a change be made.