Ferencváros 0-3 Barcelona: results, summary and goals Champions League 2020/21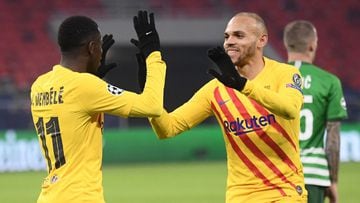 Ferencváros 0-3 Barcelona: Champions League as it happened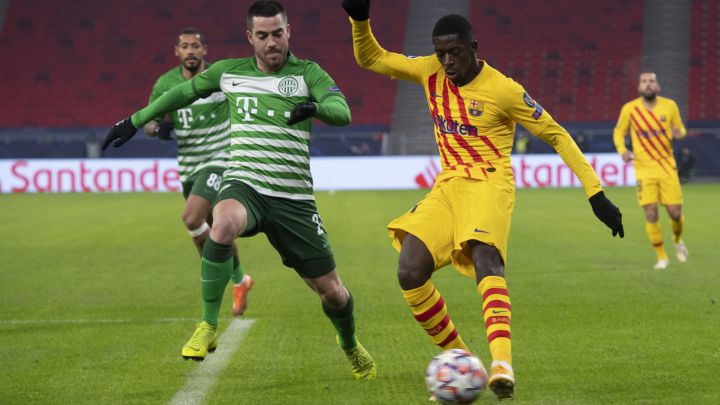 Peeep peeep peeeeep! That's full time in Budapest, where Barcelona have won very, very comfortably thanks to three first-half goals.
Antoine Griezmann, Martin Braithwaite and Ousmane Dembélé all netted in an opening 45 of overwhelming dominance for the visitors, who looked set fair to rack up an absolute cricket score at half time.
However, Ferencváros put up at least some fight after the break, and there were no more goals as Barça made it five wins from five Champions League group games for the first time since 2002/03.
Juventus' 3-0 victory over Dynamo Kyiv in Group G's other match tonight means Barça will have to wait until they face the Italians on matchday six to seal top spot.
A draw, or even a defeat by no more than one goal, will do Ronald Koeman's men, who now face Cádiz in LaLiga on Saturday.
That would have been a lovely, lovely goal! Puig feeds an inch-perfect through ball into Dembélé's run in behind the Ferencváros defence, and the winger lifts a first-time lob over the onrushing Dibusz - but the ball drops just wide of the post! That would have been the icing on the cake.
Three minutes of time added on at the Puskás Aréna.
Isael bends a free-kick into the Barcelona box, where the ball finally falls to Kharatin. The substitute gets two bites at the cherry, but sees his shot deflected wide.
It's been noticeably better from Ferencváros since the break, although that wasn't hard. They just didn't compete in the first half. Barça have still been in cruise control in the second 45, but there's at least been some resistance from the Hungarians.
Chances for both sides, particularly Barça.
First, Laïdouni barrels towards the visiting backline and into shooting space on the edge of the area, but can't beat Neto.
Seconds later, Puig picks Blazic's pocket and is suddenly through on goal. He advances towards the box before slipping the ball across to Dembélé in yards and yards of space... but rather than shooting, the Frenchman tries to play a cute return pass for Puig to tap-in, and Blazic gets back to intercept!
Barcelona bring on Konrad de la Fuente for Martin Braithwaite.
Ferencváros also make a change, withdrawing Somalia for Kharatin, who was the Hungarians' goalscorer in their 5-1 defeat to Barcelona at the Camp Nou.
Dembélé gets the ball out of his feet and pings one low at goal from range, but Dibusz parries relatively comfortably.
Moments later, Aleñá lays the ball off to Pjanic to strike from 20 yards, but the Bosnian fizzes his first-time effort just wide.
There's a good chance for one of the men just on for Ferencváros! With his first touch since his introduction, Baturina connects with an excellent left-wing cross that had plenty of pace on it. The 20-year-old directs his header well enough, but Neto is down quickly to grab hold.
At the other end, Trincao sends his shot wide when the ball falls to him in acres of space in the penalty box! Should have done better with that. Although Barça have been dominant, it's been a quiet night for the Portuguese.
Juve coasting past Kyiv
It's now 3-0 to Juventus in Turin, where former Real Madrid pair Cristiano Ronaldo and Álvaro Morata have both scored for Andrea Pirlo's side in the second half.
Two more Ferencváros changes: Mak is on for Nguen, and Baturina replaces Uzuni.
Trincao goes into the book for a late challenge on Laïdouni.
Dembélé is in the mood tonight. He nicks the ball away from Blazic and accelerates away from the defender, before cutting inside Frimpong and firing towards the near post... but he drags his strike wide!
Ferencváros make a double substitution, introducing Laïdouni and Lovrencsics for Heister and Siger.
Barcelona also shuffle their pack, throwing on Carles Aleñá and Riqui Puig and for Griezmann and Lenglet.
Aleñá goes into central midfield alongside Pjanic, while De Jong drops back to centre-back.
That's a second decent opening for Ferencváros. Nguen releases Isael into space in the right-hand channel, and the Brazilian drives into the box and shoots - but Firpo does well to block!
The hosts are going to make a couple of changes.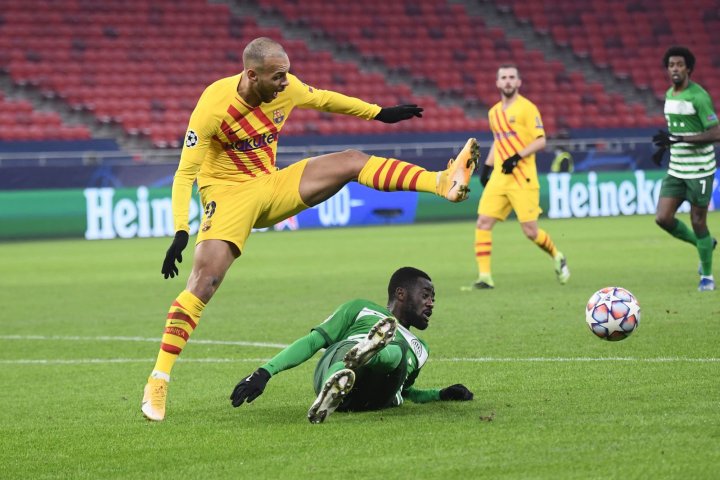 Barcelona's Martin Braithwaite vies for the ball with Ferencváros' Abraham Frimpong.
(Photo by Attila KISBENEDEK / AFP)
Oh, that's superb from Dembélé, but the finish is lacking! The Frenchman puts on the after-burners and leaves a gaggle of green and white shirts trailing in his wake as he speeds towards Dibusz's goal. Once inside the area, he cuts inside onto his right and shoots... but sends his strike into the side-netting! That's a shame, but by golly there's a player and a half in that lad.
That's better from Ferencváros. They create absolutely diddly-squat in terms of actual danger, but they at least keep the ball for a minute or so. That's got to be the longest they've had it all night.
Griezmann goes into referee Aleksei Kubalkov's notebook for bringing down Somalia as the Ferencváros man looked to drive towards the Barcelona goal.
Up the other end, Pjanic wins it back in shooting territory just outside the Ferencváros box, but blasts his effort well over the crossbar.
Trincao has a shooting chance blocked, before Ferencváros create by some distance their best attack of the game thus far. First, Heister fires in a dangerous low ball into the box that lands right on Nguen's toe, but Minguez is there to block.
The loose ball then drops to the edge of the box to Sigér, who tries to bend one into Neto's far top corner, but sends his effort a yard or so off target.
Barcelona have made two half-time substitutions, by the way. Frenkie de Jong and Junior Firpo have come on for Sergio Busquets and Jordi Alba, respectively.
Peeeep! We're back underway at the Puskás Aréna.
Barcelona break UCL penalty record
Here's a another good stat from Mister Chip: Barcelona have become the first club ever to win a penalty in five straight Champions League games, having scored from the spot in each of their Group G clashes so far this term.
Patient build-up worth the Braith-wait
According to Opta, Martin Braithwaite's strike this evening was the culmination of a 33-pass move - the longest to have led to a goal so far this season in the Champions League.
Peeep peeep peeeep! Half time in Budapest. It has been absurdly easy for Barcelona.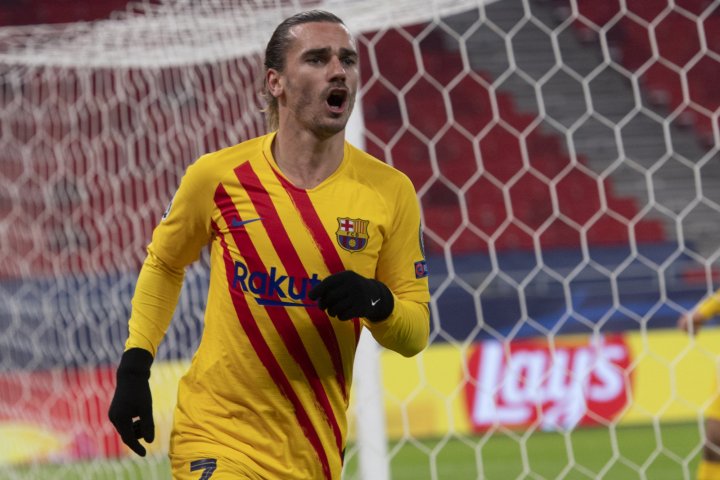 Griezmann celebrates opening the scoring for Barcelona.
(Photo: Rodolfo Molina/Diario AS)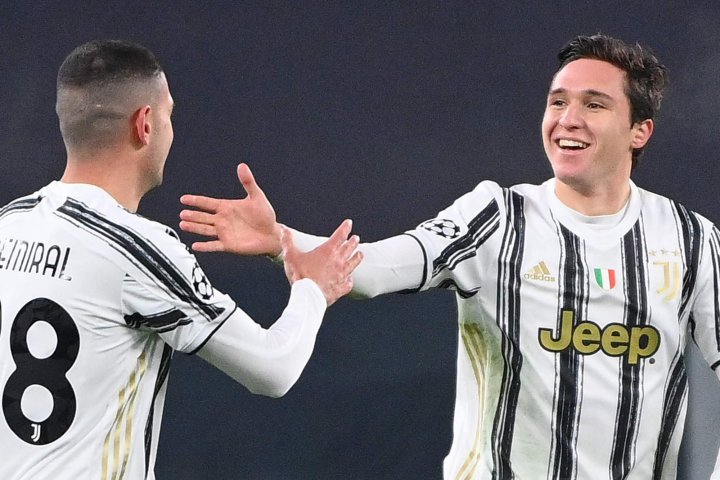 Juventus ahead in Turin
Juventus lead Dyanmo Kyiv over in Italy, by the way, courtesy of Federico Chiesa. If it stays that way at the Allianz Stadium, Barça will have to wait until their matchday-six clash with the Bianconeri to seal top spot in Group G.
Having beaten Juve 2-0 in their first meeting this season, Barça could afford to lose to the Italians by a one-goal margin and still win the group by virtue of their better head-to-head record.
(Photo: Vincenzo PINTO / AFP)
Ferencváros finally force Neto into action - but Blazic was offside, so it wouldn't have stood. Unzuni flights in a free-kick from the right, which is initially cleared before being turned back into the danger area, where Blazic controls, shoots and draws a fine stop from Neto. The defender was offside, though.
That would have been a peach of a goal. Pjanic clips and outside-of-the-boot pass into Alba's run into the box, where the left-back volleys it back to Braithwaite to strike. However, the Dane dallies just a second, and is hounded off the ball before he can pull the trigger.
A minute later, Barça again get Braithwaite into a great shooting position in the box - but he slices wide! Probably should have been four there.
Heister sends a cross into the box in what is an absolute collector's item of an attack, but it's easy for the Barcelona defence.
Moments later, Busquets deservedly goes into the book for a nasty challenge on Somalia. It may have been unintentional, but he caught the midfielder flush in the leg with his stud, and can have no complaints at all about that booking.
Penalty to Barça! Braithwaite streaks by Frimpong and into the box, and is felled by the Ferencváros defender! Dembélé to take...
Griezmann scores in three straight games for first time in nearly two years
Spanish football stats guru Mister Chip notes that Antoine Griezmann has now scored in three consecutive games for the first time since he netted in six in a row for Atlético Madrid between December 2018 and January 2019.
Also worth noting that Braithwaite now has four goals in three starts.
It is two now! Dembélé skins Botka on the left and fires low across the face of goal for Braithwaite to slide the ball across Dibusz and into the far corner!
This could be six or seven. Ferencváros are barely getting a sniff.
It could well have been two to Barcelona there. Once more Alba is a nightmare for the hosts' defence, exchanging passes with Dembélé before cutting it back to Trincao on the penalty spot... but the Portuguese turns his first-time finish wide!
Goal! Griezmann scores, and Barcelona take the lead in Budapest!
Alba is again involved, Dembélé releasing the full-back into crossing space on the left wing, where he pings a low cross to the near post for Griezmann to backheel beautifully past Dibusz! What a class finish.
It's no more than Barça deserve after an utterly dominant first 15 minutes.
There's a chance for Alba, but Dibusz saves! Ah, and the flag was up anyway.
Braithwaite finds Alba's run into the box with a neat first-time ball, but the left-back's low shot across the face of goal can't beat the Ferencváros goalkeeper. As I say, he was offside anyhow, so it wouldn't have counted.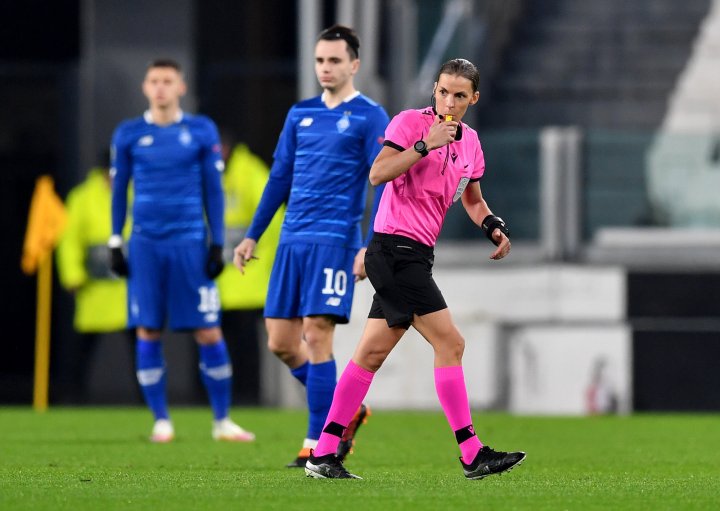 Frappart makes history in Juventus-Kyiv clash
Over in tonight's other Group G clash, by the way, France's Stéphanie Frappart is making history as the first woman to referee a men's Champions League match.
It remains 0-0 in Turin, where already-through Juve need to match Barça's result to take the battle for top spot to the final matchday of the group stage.
(Photo: Valerio Pennicino/Getty Images)
Ferencváros have scarcely been out of their half so far. Every time the Hungarians get possession, Barça are winning it back very, very quickly.
Close! Again Braithwaite is involved, and this time it's a really good chance to take an early lead!
Dest scampers past his man and towards the byline, before fizzing in a lovely low cross to the near post, where Braithwaite is arriving at pace - but he turns it just wide! Terrific service from Dest.
Almost an opening for Braithwaite, who's on a decent little run of form in front of goal. Busquets does well to win it back deep in the Ferencváros half, before feeding to Dembélé.
The Frenchman swivels and plays it into Braithwaite's run into the box, but the Dane is driven wide by Blazic, who gets a good block in when the striker pulls the trigger.
Peeeep! We're up and running in Budapest.
Out come the teams
The two sides are out at the Puskás Aréna. Anthem played, hands shaked, coin tossed...
Time to go! Our match referee will be Belarus' Aleksei Kulbakov.
Ferencváros vs Barcelona: (Mini) stat attack
This is the first time Barça have visited Ferencváros in a competitive match. The Catalans have won all five of their previous meetings with Hungarian clubs, including their 5-1 victory over Rebrov's side at the Camp Nou in the opening round of Group G games.
It's also worth noting that if Barça win tonight, it'll be the first time since the 2002/03 campaign, under Louis van Gaal, that they have claimed all three points in each of their first five games in a Champions League group stage.
Van Gaal's Barça actually ended up winning all six of their group matches - but in the interests of full disclosure, I should also point out that the Dutchman was out of a job by the end of January that season... so it's clearly not the be all and end all.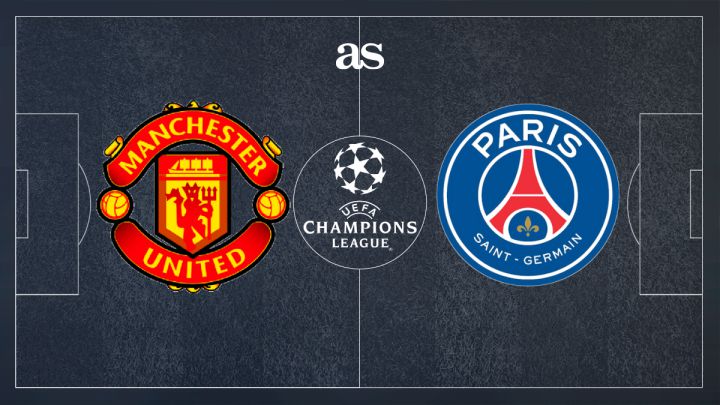 Manchester United vs PSG live online: Champions League 2020/21
Manchester United vs PSG live with AS English
Elsewhere in the Champions League, we've also got live-text coverage of Manchester United and Paris Saint-Germain's crunch Group H clash at Old Trafford.
You can join Cal for the build-up and all the action here: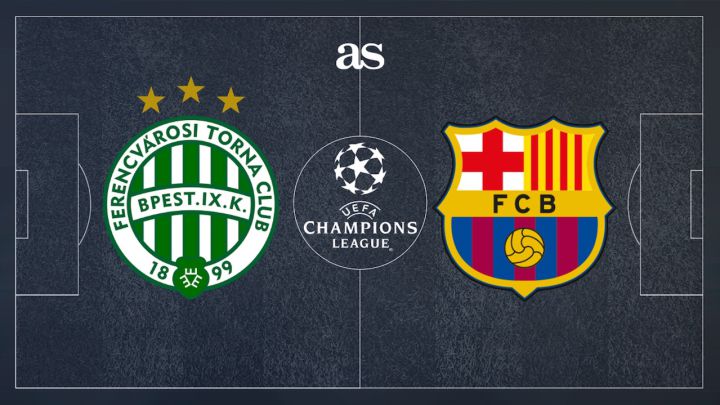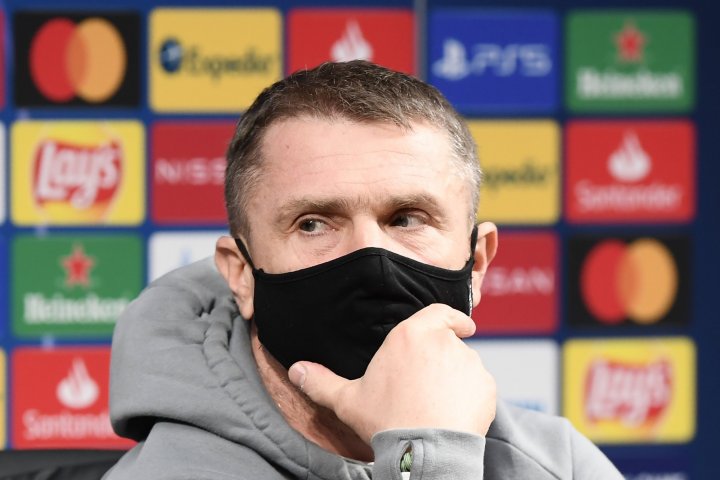 What the coaches said: Serhiy Rebrov, Ferencváros
"Barcelona pretty much played a reserve team in Kyiv but they were just as strong. They have fierce competition for places throughout their squad and no matter who plays, they are always competitive."
(Photo by Attila KISBENEDEK / AFP)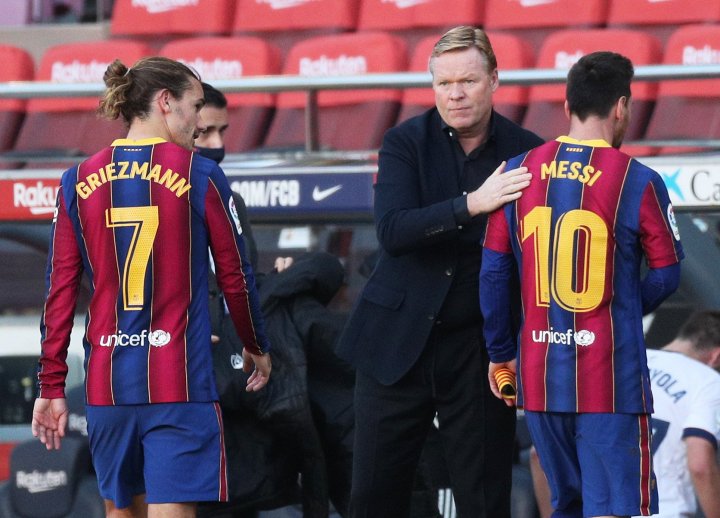 What the coaches said: Ronald Koeman, Barcelona
On Messi being rested again:
"It's not normal for Messi to be rested, I understand that. But in this fixture schedule there were two moments where he could rest and that's the games in Kyiv and tomorrow. We need to give other players opportunities and Saturday's game [against Cádiz] is very important. We need to win that one. There were two moments where he could rest and this is one of them. After tomorrow, he won't be rested anymore."
(Photo: REUTERS/Albert Gea)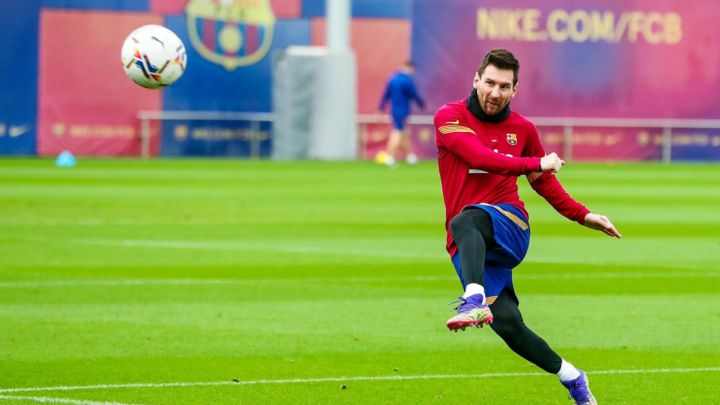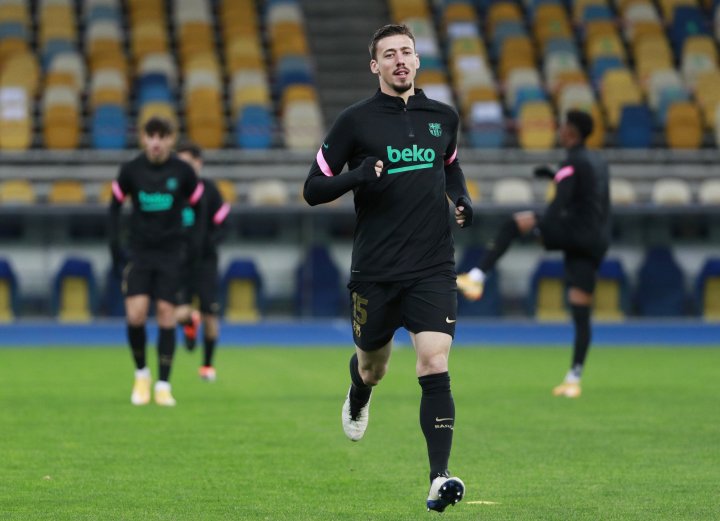 Lenglet fit to start for Barcelona
Ronald Koeman makes five changes to the team that started the 4-0 thumping of Osasuna in LaLiga at the weekend, as Neto, Sergio Busquets, Mirelam Pjanic, Ousmane Dembélé and Francisco Trincão all return to the XI.
With Barça already in the midst of something of a defensive injury crisis, centre-back Clément Lenglet gave Koeman a scare when he hobbled off with an ankle knock against Osasuna, but he has handed the Dutchman a boost by recovering in time to start tonight.
Lenglet is again partnered by youngster Óscar Mingueza, who starts his third straight game for Barça. Up top, striker Martin Braithwaite has scored three goals in his last two games, and keeps his place.
Having been rested for the win over Kyiv last week, Lionel Messi is also sitting out the trip to Budapest.
(Photo: REUTERS/Valentyn Ogirenko)
Ferencváros team news
Starting line-up: Dibusz, Botka, Blazic, Dvali, Frimpong, Heister, Siger, Somalia, Isael, Nguen, Uzuni
Substitutes: Szecsi, Ori, Lovrencsics, Kovacevic, Csontos, Haratin, Laidouni, Mak, Noli, Baturina
Barcelona team news
Starting line-up: Neto, Dest, Mingueza, Lenglet, Alba, Busquets, Pjanic, Dembélé, Griezmann, Trincão, Braithwaite
Substitutes: Aleñá, Puig, Pedri, Matheus, De Jong, Junior, Peña, Konrad, Tenas
Barcelona can win the group tonight - if Kyiv do them a favour
Having won four out of four so far in the Champions League group phase, Barcelona are already through to the last 16, booking their place in the knockout stages with a 4-0 thumping of Dynamo Kyiv last time out.
The Blaugrana can make sure of first place if they defeat Ferencváros tonight and second-placed Juventus fail to beat Dynamo Kyiv in the group's other fixture, or if they draw and the Italians lose.
Meanwhile, Barça's hosts sit bottom of Group G with one point and cannot now qualify for the next round. However, they are still fighting for a Europa League berth with Dynamo Kyiv, who they visit on matchday six.
Ferencváros vs Barcelona: welcome!
Good evening!
Welcome to our live coverage of Barcelona's trip to Budapest to face Ferencváros on matchday five of Champions League Group G - a clash in which Ronald Koeman's men can guarantee top spot.