Nadal, Iker Casillas and solidarity, the stars at the AS Awards Gala
Madrid's Royal Theatre was the venue for the XIV edition of the AS Awards Gala. Carlos Sainz, Joan Mir, Sevilla and the late Michael Robinson were among the winners.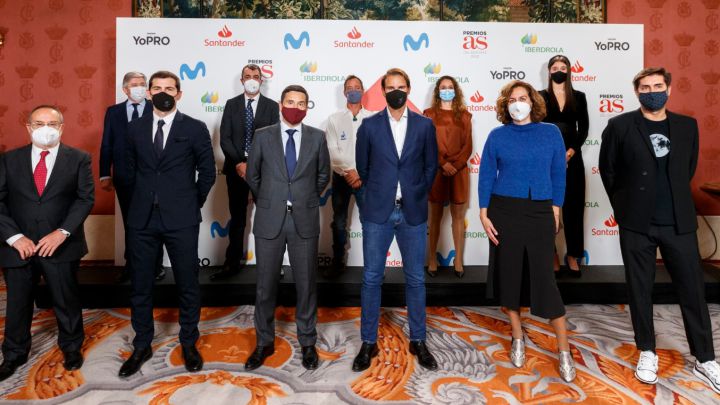 Rafa Nadal and Iker Casillas, the protagonists of some of Spain's greatest sporting successes of the past 15 years, were among the star guests at the XIV edition of the AS Awards Gala at Madrid's Royal Theatre this evening. During an extremely difficult year, marked by the Covid-19 pandemic, Nadal equalled Roger Federer's record of 20 Grand Slams while Casillas decided to hang up his gloves aged 39, bringing to an end a brilliant career which saw him lift the World Cup with Spain in 2010 in between the national team's Euro triumphs in 2008 and 2010 - on top of the three Champions League and five league titles won at club level with Real Madrid.
Nadal, Casillas, Pau Gasol
In 2010, the tennis star and goalkeeper both received awards at the annual AS Gala. That year, Nadal won three major tournaments (Roland Garros, Wimbledon and the US Open) while Casillas denied Robben with his unforgettable save in the World Cup final in Johannesburg. A decade has passed since then, and during that time, both have continued to enjoy great happiness in their chosen fields. Our gratitude to them will never be enough.
This year's AS Awards was different to all others because of restrictions relating to the Covid-19 pandemic (face masks, social distancing and an antibody test for all of those attending). Several of the year's major sporting events such as the Euros and the Tokyo Olympics were postponed because of the coronavirus crisis. AS Director Vicente Jiménez summed up what it means to be at the end of one of the most testing years in living memory: "During these dark times, of uncertainty, anguish and fear, the mere fact that we are able to be here, together, under the strictest health measures, but together nevertheless, is also a great success".
Solidarity in sport
Nadal, who was presented with the award for the best Spanish sportsperson of all-time during AS' 50th anniversary in 2017, picked up yet another award specially designed by Xavier Mariscal which this year, the focus was very much on solidarity as well as sporting achievement. Apart from award winners Nadal and Casillas, others who were presented awards at tonight's gala i Madrid included: six-time Europa League winners Sevilla FC (the award was accepted in Seville by president José Castro, Jesús Navas and Monchi), Javier Guillén, Iker Fernández, Mati Martínez, Saul Craviotto and there was also a posthumous award for the late Michael Robinson, the former footballer and television presenter who passed away in April - his award was picked up on behalf of his family by Alfredo Relaño.