MLS 2020 play-offs: schedule, games and dates
A long and complicated MLS season heads into the final stretch as five teams remain in the hunt to lift the MLS Cup 2020 in the 12 December final.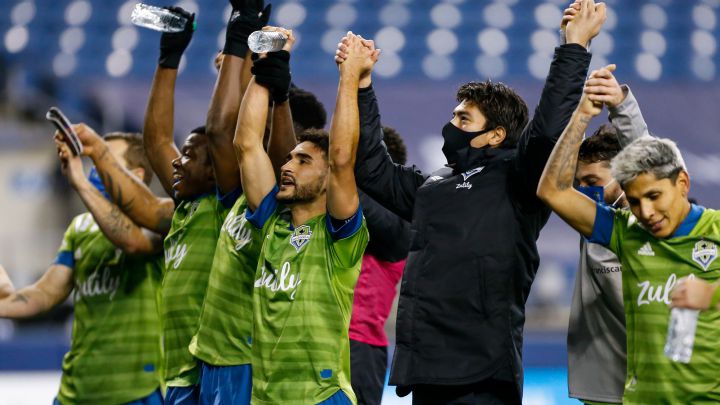 Defending MLS champions Seattle Sounders became the third side to claim a semi-final berth when they overcame FC Dallas earlier in the week with a 49th minute header from Shane O' Neill enough to put the side from Washington state through to the Western Conference final.
Brian Schmetzer's men now await their opponents in Monday's final with top conference seed Sporting Kansas City facing MLS relative newcomers Minnesota FC who have only participated in the league since 2017. This is the furthest the 'Loons' have progressed in the MLS Cup but will need to be at their very best as they face a solid Sporting KC side at Children's Mercy Park in Kansas on Thursday night (3 December) with a 20:30 ET kick-off.
Monday's (7 December) Western Conference final between Seattle and the winners of Sporting KC/Minnesota has yet to been handed a definitive kick-off time as the game will be played at the ground of the highest seeded stadium with Seattle or Kansas set to host the final and the game can be followed in the US via: FS1, FOX Deportes, TSN 1/5, TVAS.
Eastern Conference
After despatching of Orlando City and Nashville SC respectively in the semi-final, the New England Revolution will face Columbus Crew on Sunday at the Mapfre stadium in Ohio. Despite sneaking into the play-offs, the Revs have impressed surprising many with a win over MLS Supporters shield winners Philadelphia in the quarter-final.
The Eastern Conference final on Sunday (6 December) gets underway at 15:00 ET and can be followed in the US via: ABC, ESPN Deportes, TSN 4, TVAS
December 12 MLS Cup final
Despite the venue for the final yet to be decided (the highest seeded team will stage the match), the kick-off for the show-piece game has been confirmed with the action getting underway at 20:00 ET with the final being board cast via FOX, UniMás, TUDN, TSN, TVAS in the USA.