Casillas: "I never set out to screw over César, I'm not that kind of person"
In the third episode of Movistar+'s Iker Casillas documentary, the ex-keeper recalled his relationship with fellow goalkeeper César Sánchez.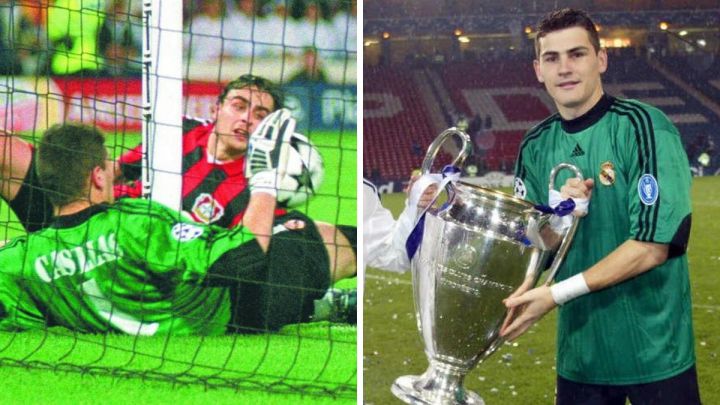 In the third episode of Movistar+'s Iker Casillas documentary, Colgar las Alas, the ex-Real Madrid star recalled winning the eighth and ninth Champions League crowns and the fierce competition he had with fellow goalkeeper César Sánchez.
Difficulties while starting out with Real Madrid: "I remember that the club had signed César but he was out on loan at Valladolid. I kept progressing too, game by game. I knew that he would be coming back, but deep inside I wasn't afraid. If he played brilliantly for Real Madrid, then I would want to do even better".
The road to the Octava: "We were at home to Manchester, the defending European champions. We got a good result from the first leg. Then we went to Old Trafford, and put in a complete performance. That day was as though we were playing at [regional Madrid club] Puerta Bonita's ground. After that we League faced Bayern. I'd never experienced a Champions League semi-final before and it was absolutely massive. I didn't play as a well as I had at Old Trafford, but it was unforgettable.
Final against Valencia: "It was as though we knew it was all going to turn out well. I felt I could handle the situation".
César Sánchez arrives, the rivalry begi
ns
Competition with César Sánchez: "That competitiveness we had is all in the past now. But the best thing that could have happened to me was to have to compete with César. It made me mature very quickly, he was 10 years older than me. It wasn't a healthy competition, but it was very good competition. It's difficult for goalkeepers to get on well when you are both competing for a place in the side. I was a little afraid of César. He had enjoyed several good seasons at Valladolid. But as it turned out, Madrid won the Champions League and a young lad like me lifted the European Cup".
Last month of the season: "Vicente (Del Bosque) opted for César. I don't know if it was because we were approaching the most important part of the season, but people had less faith in me. I knew that I lost my place in the side and I had no idea what would happen i the future".
Casillas and César, not a healthy relationship: "I didn't set out to screw anyone over. I was 20 years old, I wasn't an evil person. I wasn't someone who was out to ruin Cesar's life. It took its toll on both of us. We didn't have an easy-going relationship. In my case, everyone has known me since I was a kid. I am aware that he was having a rough time but I didn't feel as though I had done something wrong to get him out of the team; it's something that makes you grow up".
On the road to Glasgow and La Novena: "We lost the first leg 2-1 (quarter final against Bayern), in which César even saved a penalty and had a really good game. I remember the game at Camp Nou, in which Cesar had another brilliant game, and pulled off a great save to deny Kluivert".
The final against Bayer Leverkusen, César gets injured: "The doctor went on to treat him; it looked like he'd recovered... But Vicente turned around and said, "Iker, start warming up". I wasn't even looking, then I saw Manuel (goalkeeping coach) shouting at me. I didn't even have my boots on or my short-sleeved shirt on. My heart started racing at a thousand miles an hour, Vicente was driving me crazy, [Toni] Grande shouting at me… And I was trying to tell them that I couldn't go on with a long-sleeved shirt, in the end, they didn't cut off the sleeves. There's a moment which I don't like, when César is coming off injured and I seem a bit blasé with him, I give him a pat. I don't like watching that but it was purely out of nerves. I could hear the crowd chanting my name at Hampden Park. I hadn't played for two months; I didn't know how I would react. The first time I was called on, I put the ball out for a corner. From that corner, the ball went right across everyone in the box, and I think it was Berbatov who shot at an empty net. I don't know why, but I just knew that I was going to save it. I blocked with my feet and immediately, another corner. There was Fernando (Hierro) in the way, and I have no idea how I saved it, whether it was with my knee, my foot... So without even trying, I went from two months without playing to winning the Champions League. I'd been out for two months, I didn't know what I was going to do with my life. I was very down, I didn't feel part of the team. I cried and cried; I didn't do anything but cry. With so many tears, I didn't know how to really appreciate that moment".
Curiously, César Sánchez appearing as a guest in the series, made one of the most poignant comments of the third episode, admitting if he could go back in time, he wouldn't change a thing. "If I were able to change anything from that night, I wouldn't want to - I would get injured in exactly the same minute".