Egypt's Al-Ahly claim a historic treble
The African giants managed to win a historic treble after securing the Egyptian cup on Saturday with a win over Tala'ea El Gaish SC.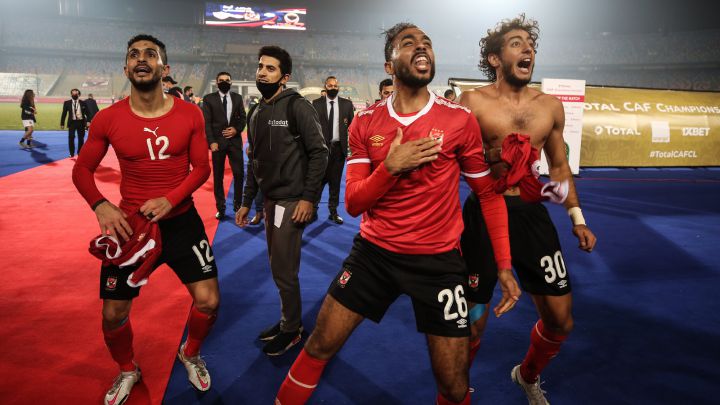 African Giants Al-Ahly managed to achieve a historic treble for the third time after beating Tala'ea El Gaish SC 4-3 on penalties in the Egyptian Cup final in a game that ended 1-1.
A long ball deflected by Marwan Mohsen enabled the substitute Mahmoud Kahraba to go one on one with the goalkeeper to score the opening goal for the African champions in the 65th minute before Tala'ea El Gaish's Nasser Mansi equalized with a header two minutes into injury time.
Both sides battled it out through extra time as the score remained level leaving the penalty shootout to decide the cup winner. Tala'ea El Gaish players missed three penalties as Al-Ahly's giant Mohamed Al-Shennawy saved one while two shots hit the post, while Al-Ahly's missed only two shots one of them was saved by Al-Gaish's shot-stopper Mohamed Bassam.
Al-Ahly had earlier decided the Egyptian league title a few weeks prior to the competition came to an end finishing the campaign 21 points clear of the nearest competitor the historic rival Zamalek while Pyramids FC came in third place.
The Red Devils later have further deepened the wounds of Zamalek by defeating them 2-1 in the final game of the CAF Champions League final in Cairo last month as they secured a record historic ninth CL title over the city rivals.
Al-Ahly can add more titles to their historic season:
Led by the experienced South African coach Pitso Mosimane, Al-Ahly have a golden opportunity to add more silverware to their trophy cabinet this season as they are set to take on the champions of the Confederation Cup RS Berkane of Morocco in the Total African Super Cup in Cairo next month in addition to the Egyptian Super Cup. The Red Devils will also participate in the club World Cup in Qatar early next year.
Al-Ahly who have 42 league title, 9 CL titles, and 36 Egyptian cup titles, realized that achievement once before in 2006.