Koeman on Barcelona-Juventus, Messi, Ronaldo, De Ligt...
Following Barcelona's defeat to Cadiz at the weekend, coach Ronald Koeman spoke to the media ahead of Tuesday's clash with Juventus in the Champions League.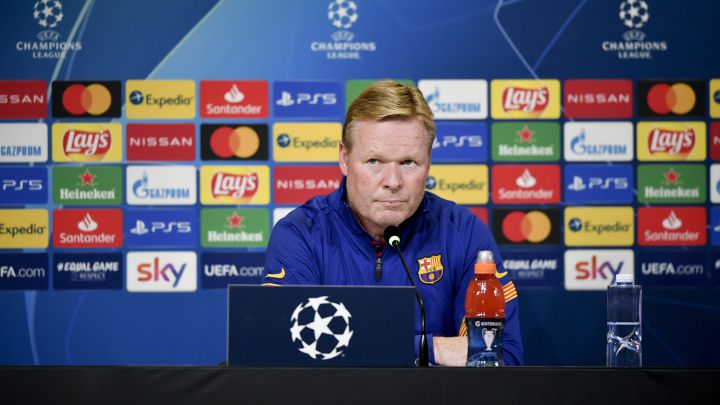 What goals have you set for tomorrow?
Our goal is to play well and finish top of the group. We have an advantage and we have a chance to finish top.
How is Dembélé?
It's a shame to lose another player. He felt some discomfort, thought it was nothing and continued. It's a pity. He has a past with injuries and that is why I complain about the match schedules, I think we are going to lose more players
How are you feeling regarding the situation in LaLiga?
I am unhappy. There is a difference between losing like on Saturday (2-1 against Cadiz) or how we lost against Atlético. We have to analyse how they mark us and create danger for us. I don't do theatre. If I lose I'm pissed off and I have told the players. Goals like the ones we have conceded cannot be accepted.
What message have you conveyed to your players?
It is a responsibility to be here. What is said inside stays inside. There are things that cannot be improved with training. You have to analyse and communicate to seek maximum effectiveness. You have to be more effective and make fewer mistakes. We have dropped too many points.
Koeman on Messi: I have no influence on what happens outside
Are you worried about the noise surrounding Messi?
I want to have communication with Leo about the game and things about the team like any player, not to put energy into what happens outside. I have no influence there.
In what position do you most prefer to have Pedri?
He has been the player who has participated in almost every game, which for a 17-year-old is a big thing. He has several positions and knows how to play in all of them. Where he plays depends on the opponent; it is a tactical issue. He knows how to adapt because he's a smart guy.
Are you thinking about changes for tomorrow?
We are missing important players like Ansu [Fati] and Dembélé, who give depth. You have to look for the best for the team tactically, but also in terms of fresh legs. We will put together a strong team to stay top in the group.
Is there a bottleneck in the centre of the attack?
There are many players who prefer to play more in the centre than on the wing, but they have freedom to move when they start from the wing like Coutinho. We can't play five down the middle.
Do you miss the players being cheered on during the game?
We don't need people in the stands to cheer on our players. We are more creative than other teams. I don't like yelling during the game, as a player I didn't like it either. What we have to do is take more responsibility on the field.
What would you say to those who think that Messi has not been so decisive?
He is the most important player in our attack. Our chances almost always come from him, but he is the easiest one to single out.
Koeman: Ronaldo doesn't bring extra motivation
Pjanic is always a starter in the Champions League, where you always win, and not in LaLiga, why is that?
They are tactical decisions. His role is different from Juve. We press higher. He hasn't been here that long and he will surely improve.
Have you noticed an improvement in Matthijs De Ligt at Juve?
Despite his age, he has a lot of experience. In his position he can become the best. He wants to improve. It's a shame that he's at Juve and not here.
Can Ronaldo add some extra motivation?
He does not add an extra motivating factor because he's playing. It is an important match between two very big teams. Cristiano is one of the best who always scores, always fights and remains in the elite. We know that he can hurt us and that is why we have to defend well and keep the ball.
What has the competition between Messi and Ronaldo contributed to football?
It is fantastic to have watched them over these years. They have been the best during the last 15 years. They are on a different level, they are incredible at scoring goals, winning titles. I admire them both. They have given us great nights and I hope we can enjoy watching them tomorrow.