Zidane press conference: Real Madrid vs Borussia Mönchengladbach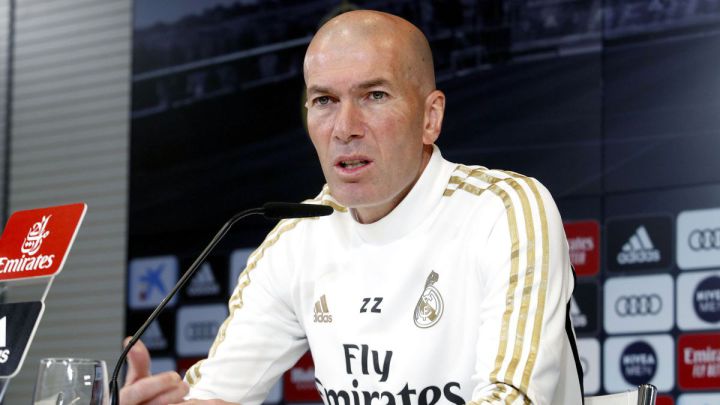 That's it, the end of Zidane's press conference. The majority of the questions were focused on what would be a major crisis at the club if Real Madrid don't go through in the Champions League, with Zidane likely getting sacked; Zidane's responses were all about being focused on the game and not thinking about anything else. His approach: if Real Madrid win they go through.
Is tomorrow the most important game of the season and how do you work under that pressure?
I don't think about anything else other than winning. Everyone else is talking about it. But we're just focused on the game. We're used to these big games in the Champions League. It won't be easy, we need to play well. And be happy afterwards with our performance.
Other game in the group:
We're focused on our game. We know there's another game. But we're focused on our game. We're only thinking about that.
Your opponents tomorrow:
Our rivals are a good team, they defend well, attack well. Good on the counter. They are physically strong. But we're going to prepare, taking them into account, but really thinking about what we want to do on the pitch.
Would you be sad if you're sacked tomorrow after all you've given the club?
What happened in the past is in the past. Tomorrow is a game to show what we can do. I'm sure we'll have a great game tomorrow.
Best performances have come against Milan, Barcelona and against Sevilla. Is that the effect of the pressure?
It's a bit of everything. I don't have time to explain it all here. But the players always try and do their best. There are a lot of factors. We know the situation. You're talking about Barcelona, Milan and Sevilla, but the main thing for us is to focus on tomorrow's game. And when we're together, defending all together, we know we can play well.
Valverde is out. How has his evolution been as a player?
Fede is better but he's not back with the team yet, but he's improving. He's had a tough injury but he's getting better.
If you don't go through would you expect to be sacked?
The club will do what it has to. I'm not thinking about that. I'm thinking about doing the best possible with my players.
A lot at stake tomorrow. What would playing the Europa League mean?
I'm not thinking about that. We're playing a Champions League game and we want to go through. That's all we're thinking about. You can think or opine, but we're focused on the game.
Are you worried about being blamed if team don't go through?
We are just thinking about getting through. I'm not thinking about other things. We're thinking about playing a great game and getting all three points.
Some people have said this week is a trial for Zidane. You won against Sevilla, if you win tomorrow have you won the trial?
I don't see it like that. We need to show what we can do and try and win the game tomorrow.
Everyone agrees tomorrow's game is the most important for the club:
Yes, tomorrow's game is really important. We know we want to win and top the group. That's all we're thinking about. Tomorrow is a good chance for us to show what we can do as a team.
Casemiro was having none of the debate over whether it would be better to finish last in the group and not play the Europa League if Madrid don't manage to qualify for the second round of the Champions League. Casemiro said he wants to play matches and if they finish third they won't be happy but will go out to win the Europa League.
Zidane not made it to the media room yet.
Casmiro's turn is up. He was very, very, very insistent that they didn't have a good pre-season and are struggling with injuries, due to playing too many games in such a short space of time. And tomorrow is "a final", the most important game of the season so far.
Europa League or better to finish last?
"No. Of course there are lots of possibilities. But if we can't play the Champions League I want to play. If we're third we want to win the Europa League. We wouldn't be happy, of course."
Casemiro being asked about the poor performances against Cádiz, Alaves...
"Tomorrow is a big rival. It's the Champions League. We had a poor pre-season, and have had injuries. All the teams are up and down. We need to try and improve. But with so many games it's hard."
Casemiro starting some games on the bench?
"We're not robots. I've started three or four on the bench. But we're all in Zidane's plans."
Casemiro now repeating once again that the pre-season wasn't good.
On Sergio Ramos:
"To talk about Sergio is an honour. He's our leader. Our Captain. He's been at the club for so long. But we need to look at the other players too. Varane is doing great for example. But it's really important to have Ramos back."
After the win in Milan, the team showed when they get stuck in they can do it. Why don't they get stuck in every day?
"It's not an excuse but the pre-season wasn't good. We're playing a game every two or three days. We don't have time to rest. We've got lots of injuries. It's not just Madrid. Lots of teams are up and down. But I'm not here to give excuses. We want a solution. We're not robots. We're humans. There's so many games, it's normal. The number of games leads to injuries. We're playing well, but it's impossible".
"Every game here is important, we're used to playing big games. Tomorrow's game is a big one. It's a final"
Casemiro is sticking to his "it's a final" line. Solidly.
Do you understand that if you don't go through it will be a huge failure?
"I don't think that question is strictly necessary. We know what the game means, but if we win we go through."
Tomorrow's game is odd because it would be the first time Real Madrid haven't made it out of the group.
"We know how important the game is. It's the most important game of the season so far. We need to give it our all. We need to give our opponents respect, but we know it's in our hands."
Is Zidane the best coach possible for this team? Was he close to leaving?
Casemiro: "What can you say about ZIdane. What he's won at this club. We won two trophies last year. This year is being very strange. Teams are up and down. We've got games every two or three days. The pre-season was strange. But we're 100% behind Zidane"
Casemiro: "Not just me, but everyone sees tomorrow's game as a final. You don't play finals at this club, you win them. We've prepared well. We're prepare tomorrow too. We need to give everything on the pitch tomorrow."

Casemiro is joining Zidane today. He's as solid a press conference performer as he tends to be in the midfield.
As usual, Casemiro goes first, followed by his coach.

This match of course is absolutely vital for Zidane. If Real Madrid slip out of the Champions League it's extremely unlikely the coach will continue at the club, particularly given the performances in LaLiga, where they sit fourth six points off the pace.
If Real Madrid go through though, the disasters against Shakhtar will be forgotten, and Zidane will head into 2021 with his job secure - until he has a couple of poor performances, of course.
No sign of Real Madrid TV heading over to the press room as yet. We're still watching them win the Champions League against Juventus...
Real Madrid squad updates
Here's Agustín Martin on the latest player news ahead of tomorrow's game.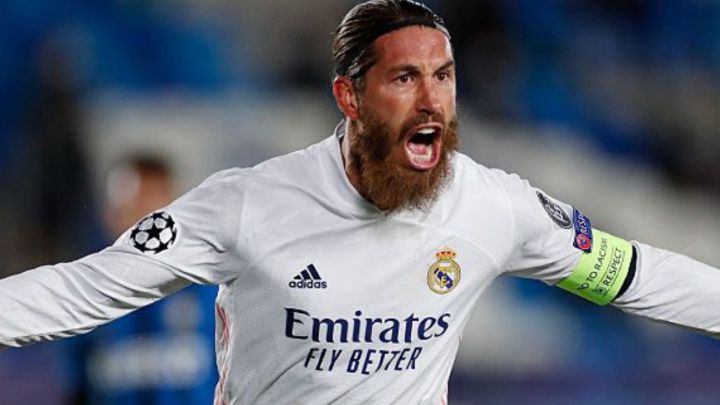 Jovic out for 2-3 weeks
The Serbian is out with a muscle spain in his right leg, meaning Benzema is the only out and out striker Zidane has, with Mariano also out. The Real Madrid coach may call upon Hugo Duro, from Real Madrid Castilla, the reserve team.
Carvajal ready
News from the Real Madrid camp is that Carvajal will be fit and ready to face Borussia Mönchengladbach on Wednesday night. He trained normally today at the Valdebebas training ground.
Sergio Ramos didn't get back to fitness for the win over Sevilla at the weekend but he's ready to face the German side. He should be in the centre of defence alongside Varane.
Odegaard though didn't train - he has a muscle strain - and Hazard, Mariano and Valverde are also still recovering from injury.
Real Madrid vs Borussia Mönchengladbach
Despite Madrid's disaster performance against Shakhtar in their last game, Inter Milan's win over Borussia Mönchengladbach means Real Madrid's fate remains in their hands going into the final round of Champions League Group B games.
Real Madrid will go through if they beat Mönchengladbach and a draw will also do them as long as Shakhtar lose against Inter. In this scenario, Madrid would finish level on eight points with the Nerazzurri, but their head-to-head advantage over Antonio Conte's side would see them qualify at their expense.
Madrid can even win the group, if they win and Shakhtar fail to beat Inter.
Madrid will finish third and go into the Europa League if they draw or lose and Shakhtar avoid defeat.
The Spaniards will come bottom of the group and be eliminated from Europe altogether if they lose and Inter defeat Shakhtar.
Hello and welcome to our live coverage of Zidane's press conference ahead of Real Madrid's final group-stage Champions League match against Borussia Mönchengladbach.
The press conference is live from the media room at Madrid's training facilities - Ciudad Deportiva, or Sports City as Madrid like to call it in English - and starts once this morning's training session is finished. Training started at 11:00, and the press conference is scheduled for just before 13:00, but Zidane tends to be quite relaxed about turning up on time, so it could be a little later.
.