Packers dreaming of Super Bowl success with Davante Adams looking invincible
Davante Adams has joined the elite group of players who make the incredible seem inevitable in what looks poised to be a career-best year.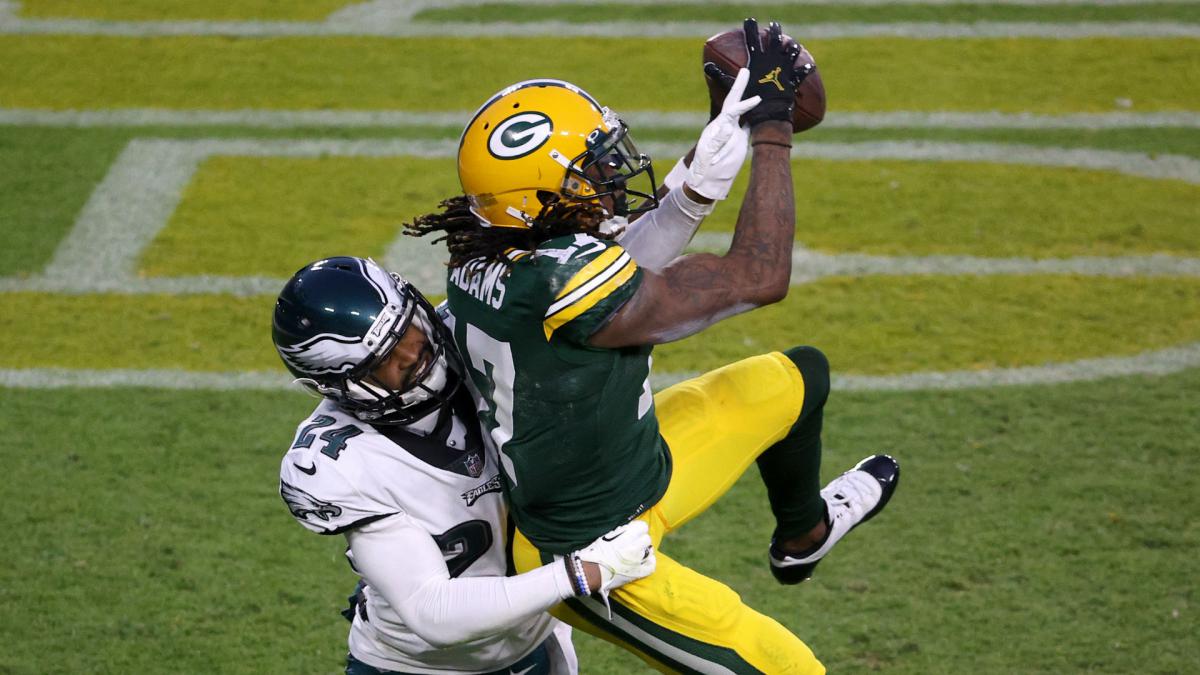 The best players in the NFL make the incredible seem inevitable.
It was that quality that defined the Kansas City Chiefs' run to Super Bowl glory last season, with Patrick Mahomes leading them to three successive double-digit comebacks in the playoffs.
For most of his storied career, Green Bay Packers quarterback Aaron Rodgers has held the same mystique as Mahomes as a player against whom seemingly no lead is safe.
Rodgers has been overshadowed in recent years as Mahomes and other young signal-callers have risen to promise and the Packers have been unable to climb the mountain back to the Super Bowl.
Rodgers back to normal services
In this strangest of seasons, however, Rodgers is back to what for him amounts to normal service.
He is performing at an MVP level as the Packers are in the thick of the race for the number one seed in the NFC and can credit much of his success to his ever-improving rapport with a player who has a strong claim to the title of best wide receiver in the NFL.
Rodgers and Davante Adams have demonstrated a near-telepathic understanding in 2020, with every pass thrown the way of the 2014 second-round pick appearing destined to drop into his lap.
Adams significantly improves the chances of Rodgers connecting with him by tracking the ball superbly and doing an excellent job of attacking it in the air. When he elevates for the ball, there is a palpable sense of inevitability that Adams is going to come down with it, which he has fostered by making increasingly spectacular leaping grabs.
He added another to his resume to get the Packers on the board with their first touchdown in a 30-16 win over the Philadelphia Eagles in Week 13.
Following that up with a spectacular show of concentration to haul in a 42-yard pass that Rodgers launched from his own endzone and a second score that marked his quarterback's 400th touchdown pass, Adams finished Sunday's encounter with 10 receptions for 121 yards and a pair of six-pointers.
Having missed two of the Packers' 12 games this season, Adams has 84 catches for 1,029 yards and a league-leading 13 touchdowns, 10 of which have come from inside the 20-yard line as he has established himself as one of the NFL's premier red-zone weapons.
Adams into the record books
Adams is the fifth player in NFL history with 1,000-plus receiving yards and 12-plus receiving touchdowns in his first 10 games of the season.
He is the third player in NFL history with at least five receptions and a receiving touchdown in seven consecutive games in a single season, joining Antonio Brown (eight games in 2018) and Terrell Owens (seven games in 2007) on that exclusive list.
Adams is also tied with Odell Beckham Jr. (four games in 2014) and Torry Holt (four in 2003) for the second-most games with at least 10 receptions, 100 receiving yards and a touchdown catch in a single season, having already registered four this campaign.
Only New Orleans Saints star Michael Thomas has more, putting together six such games last season.
With four games still to play, Adams has an opportunity to surpass Thomas in that regard and, despite being unable to complete a full 16-game term, is on course for a career-best campaign.
His league-leading yards per game average of 102.9 puts him on pace for more than 1,400 receiving yards while he is scoring at a rate that should allow him to move into a tie for the third-most receiving touchdowns in a season with 18.
Had he not missed time through injury, Adams would have been in a position to challenge Randy Moss' record of 23.
Overhauling Moss would have been a tough ask, but at this point in his career, Adams is a receiver who makes the tough look startlingly routine.
As long as he maintains that habit, a host of receiving records will remain within the grasp of a player whose ability to rarely let anything out of it has Titletown dreaming of another Lombardi Trophy.