Koke: "We go with respect, but no fear"
The Atlético Madrid captain shared his thoughts with AS ahead of Saturday's huge Spanish derby as Diego Simeone's men travel across town to play Real Madrid.
Jorge Resurrección, better known as Koke, is a veteran of Madrid derbies. The Atletico captain, who is third in the club's all-time appearance list with 473 games under his belt, has played against Real Madrid 26 times, and he spoke exclusively to AS ahead of the latest encounter.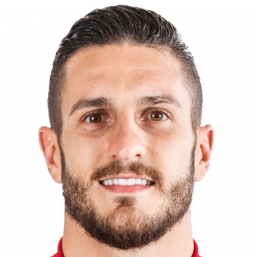 Real Madrid vs Atlético: Captain Koke on El Derbi
He is more than aware that a rojiblanco victory would enhance the title ambitions that are held across at the Wanda Metropolitan stadium this season, but his focus is on this match and no further. He says that they are facing this game with respect, but with no fear.
Here is what he had to say about the big game…
"It's an exciting game," Koke responded when asked about the standout fixture in LaLiga this weekend. "It's a day that you always mark on the calendar and you face it with enthusiasm and aiming to do things well. It's really special and we hope that things go well for us to win it."
And on Atleti arriving in better form than their hosts?
"At the end of the day, derbies are derbies, no matter what position you are in the table, and they are very special games.
"We'll do our best, just like the other games we've performed well in. It will be the first derby that will be played with no fans, so it will be a strange experience in the build-up, but you have to adapt."
These Madrid derbies are huge, right? It's not like you're going to forget your first one. Well, it seem that if you play enough of them you just might.
"I've played so many that it's hard to remember [my first one]," says Koke. "The truth is that I have experienced so many that I don't remember."
See also:
Those lost Champions League finals
Koke has been part of an incredible period under Simeone for Atlético, who ended their 14 years without winning the domestic title in 2014, but just how much did losing those two Champions League finals hurt?
"Reaching the Champions League final is spectacular. We didn't have enough luck to win either of them, but we were very close. Of course it leaves an impression on you but that's football, someone has to win and someone has to lose.
"I hope we can make the fans happy and win the Champions League, and hopefully I can be on the pitch doing it. If not, I will be there to encourage others to achieve it."
Koke disappointed about lack of fans
In some leagues, we have started to see supporters return to stadiums, albeit in socially-distanced and controlled smaller groups, but this derby will be played out at a virtually empty Alfredo di Stefano. Koke is disappointed but understands the importance of doing what is necessary to get through this pandemic.
"It's a shame, playing without people both at home and away. It's strange. At home you miss the people, and when you're away from home you also miss them…until you're whistled at.
"There won't be anyone, that's a pity, but I hope the situation will be resolved as soon as possible, that either we get a vaccine or that the number of covid cases drops. We have to adapt, it's a derby that we want to win, although it's true that it will be different. I played at Valdebebas when I was a bit younger and I didn't do badly there."