Zidane's engine room back to its best
Casemiro, Kroos and Modric have found some form as a midfield three in Zinedine Zidane's team, who are still competing on all fronts despite a shaky start this season.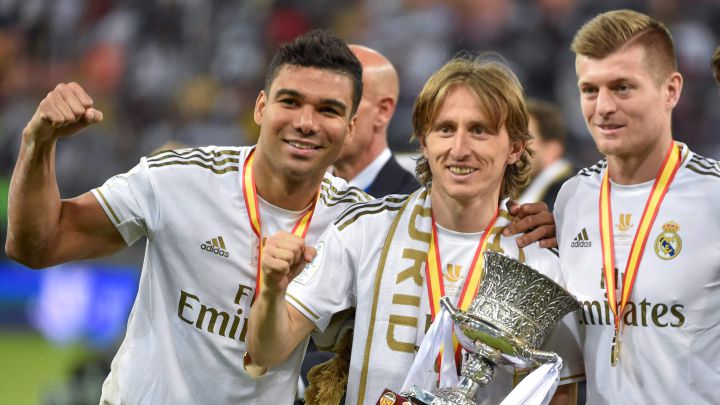 March 20 2016 was the first time that Zinedine Zidane set his midfield up with Casemiro, Toni Kroos and Luka Modric. The result was emphatic. A 4-0 win over Sevilla at the Bernabéu. An almost perfect performance, helped by his new-look trio in the engine room.
Zidane had a hard time finding his trusted midfield. At that time, the BBC (Bale, Benzema and Cristiano) was a non-negotiable in attack, while the coach was impressed by Isco's ability from the beginning. That caused Casemiro to be a substitute in the first eight games that the Frenchman took charge of. The Brazilian came in after a derby defeat to Atlético Madrid and became an ever-present member of the team's starting eleven ever since. And it was that day, against Sevilla, when Zidane found his best midfield three.
Then came the three consecutive Champions League titles and four and a half years later, the same trio is what helped Real Madrid to victory over Borussia Mönchengladbach and book a place in the Champions League round of 16.
Modric is 35 years old, Kroos 30 and Casemiro 28. However, these recent encounters have demonstrated that there is life in the centre of the park for Zidane's preferred midfield. Especially striking is the case of the Croatian, who despite his age is at his best, similar to his form when he was Ballon d'Or winner in 2018.
The emergence of Fede Valverde has raised questions of whether Modric, Casemiro and Kroos will survive together for the next couple of seasons. However, the competition brought by Valverde has served as a positive selection problem, especially this season with the intensity of the fixture schedule.
With Valverde injured, Zidane once again placed his faith in Casemiro, Kroos and Modric, who have not let the former attacking midfielder down. The return of Valverde from injury will allow Zizou to rotate the older two of the three, Kroos and Modric, with Casemiro's place in the team more important than ever, with the club still without a natural replacement in his defensive midfield position. But the three have shown that they still have it together, with Modric and Kroos outstanding against Mönchengladbach on Wednesday.